These days you see several products packaged in bottles coming in all sorts of shapes and sizes: packaging designers go out of their way to catch the eye of potential customers with bespoke packaging creations. The art of bottle packaging designs can often display some beautifully crafted projects using a great use of colour, design and style. Bottles are often created with visual experience and interaction in mind as a way to draw  customers in. For this reason bottle packaging designs are important, bland generic bottles don't sell as well.
Here are my 15 top picks of the best bottle packaging designs from around the world.
1. Samurai vodka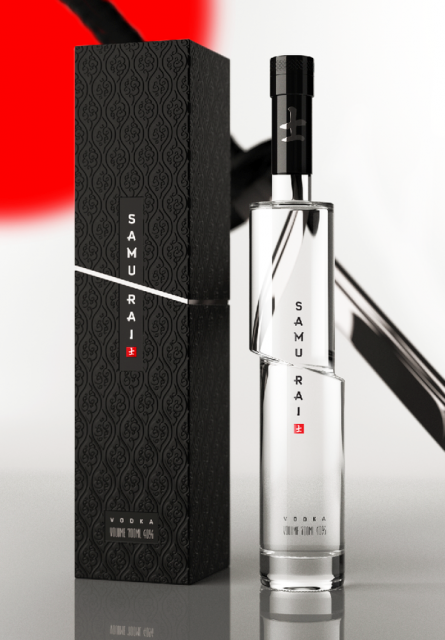 Designed by Russian Behance user Arthur Schreiber in June 2009, it was created to look as if it was split by a stroke of a samurai sword. The design translates this idea and the ethnic background of the product: this bottle design increased its popularity by going viral on Reddit. However, it is only a fictitious bottle and Schreiber has been open to offers for more than five years now from a beverage company that wants to use his unique design.
2. Jean Paul Gaultier 'Le Male' aftershave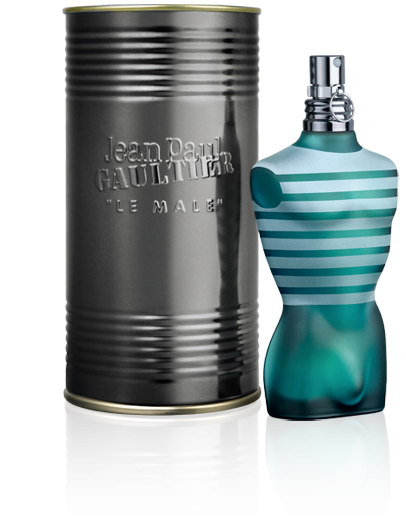 Jean Paul Gaultier's fragrances are popular for their unique bottle design and this one is created especially for 'the tough guy with a soft heart'. The Le Male seductive aftershave comes in a unique, body-shaped bottle that is dressed in the designer's emblematic sailor's jersey.
3. Isabela Capeto for Women perfume

Isabela Capeto by Brazilian designer Isabela Capeto is an oriental spicy fragrance for women. The unique bottle is in the shape of a girl with her arms raised and 4 symmetrically placed holes for her face and mirrors the brands logo. This is a great example of companies using bespoke design to represent their brand.
4. Diesel Only the Brave aftershave

This intense, masculine, aftershave from Diesel comes in a distinctive glass bottle sculpted in the shape of a fist.  The brand's logo is attached on the fingers shaped as either a large ring or small set of brass knuckles.
5. Manikay wine

Manikay Wine's have designed their bottles with hand drawn dotted patterns, representing the Manikay songs from the aboriginal people of Australia, a series of songs containing knowledge essential to the aboriginal way of life. The wines themselves are made by generations of family grape growers: using Australia's winemaking heritage, infused with a rich tapestry of tradition and unique spirit, their bespoke bottle design reflects this.
6. Blue Hugs Wine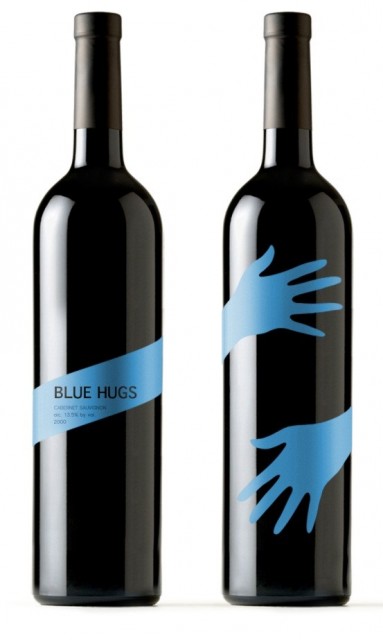 These wine bottle concepts were produced by Russian art director and graphic designer, Timur Salikhov, in 2012. The simple design of the wine bottled being hugged really stands out on the shelves from your average wine bottle, and who doesn't like to be hugged?
7. Smirnoff Caipiroska Vodka

Smirnoff created this bespoke packaging idea for their bottles for the launch of their new Smirnoff, Caipiroska, designing them with 'peelable' skins to imitate the fruit flavours: passion fruit, lemon and strawberry. The design gives consumers the feel of the unique experience of peeling a drink made of fruit. Smirnoff even sent the bottles in wooden crates to a select mailing list, imitating the way fruits are transported in the large produce markets..
8. Crazy Jerry's Brain Damage Hot Sauce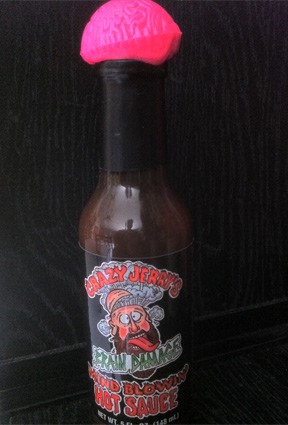 American's love their hot sauce and some of their bottles have great designs playing on this fact. Crazy Jerry's Brain Damage comes in a bottle designed with a whacky label helping it to stand out from the crowd further with a brain-shaped bottle cap.
9. Blair's Pure Death Hot Sauce

Another bottle design that plays on the love of hot sauce is Blair's Sauces and Snacks Pure Death Sauce. The design plays on the concept of death with a skull hanging from a chain, attached to the cap and with another skull in flames on the label. This design makes it eye-catching and certainly something that would stand out on the shelves.
10. 321 Water bottle

321 Water have created an interesting concept with their bottle design. You can fill up their special bottles with tap water and then cleanse it with their plunger as you put the lid on helping the water to 'taste even better'. The bottle design has been created to look clear and fresh, mimicking the  image of clear water.
11. Dumbbell Sports Drinks bottle

This clever plastic bottle from Chinese designer Le Jin kills two birds with one stone. It acts as a dumbbell when filled and then, once you've finished your work out, you can drink the energy drink inside. The bottle has been designed to be the perfect dumbbell shape and certainly is a bespoke idea.
12. Orange Drop Fruit Juice

Russian packaging design company Firma Packman have produced this bottle in the shape of a splash of water, or in this case, orange juice. The bottle design takes a creative play on the usual juice cartons and certainly makes it more visually appealing for children.
13. Good Day Milk Bottles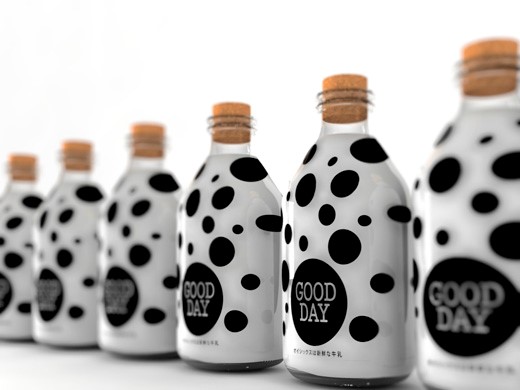 These milk bottles were released in 2012 as a limited product available for a fund-raising function in Japan. The bottle was designed for Good Day Milk for refugees  who aren't  lucky enough to have a good day every day. Good Day Milk was then created as a product to cheer up and encourage the refugees and  to hope that they have good days soon.
14. Cervecería Sagrada Beer Bottles

Cervecería Sagrada is a popular Mexican craft beer that captures the Central American country's Lucha Libre wrestling tradition of wearing  colourful masks. These bottles, designed by José Guízar, display  colourful masks paying tribute to Mexico's heritage. The packaging design of these bottles is simple  yet still  visually appealing with the bold colourful masks.
15. Kräftig Saft Bottles

These fruit juice bottles are designed by Isabela Rodrigues cleverly resembling the flavours they sell (Surinam cherry, blueberry, açaí and raspberry).  Despite the German-sounding name, Kräftig is a Brazilian juice with a focus on the German market ('saft' is the German word for 'juice').  The bottles are beautifully designed, looking more like works of art than bottles.