What makes a great school? After supplying school lockers to more than a thousand schools and other educational establishments, we're still not sure.
However, a few months ago we came across the first entry in this list: a group of teachers and volunteers had spent their summer crafting an 'Avenue of Literature' by painting a row of old lockers.
When asked why, one teacher responded: "Just because we love the students here and it brings interest and gets them excited about coming to school."
Suddenly, we were reminded of what we've seen in all the best institutions we've worked with. Every successful school proceeds with a gleeful determination to invest in itself, and the truly great do this with creativity.
Now, lockers may not be the usual creative outlet, but we thought such a unique form of expression deserves a little more recognition. So, in no particular order, here are our top ten works of school locker art:
1. Biloxi Junior High School – Biloxi, U.S.
First on our list is the example that inspired this article. Teachers and volunteers at Biloxi Junior High School transformed a corridor of 189 unused lockers into an 'Avenue of Literature'.

2. Everest Collegiate High School – Clarkston, U.S.
Christmas is a little way off yet, but seeing these saintly figures from the Everest Collegiate High School Art Club has got us feeling festive already.

3. Roosevelt High School – Portland, U.S.
This musically themed mural completely transforms these plain white lockers. Not only has it livened the place up but it also emphasises the importance of creativity to this school. We hope the extra effort inspires some budding young performers.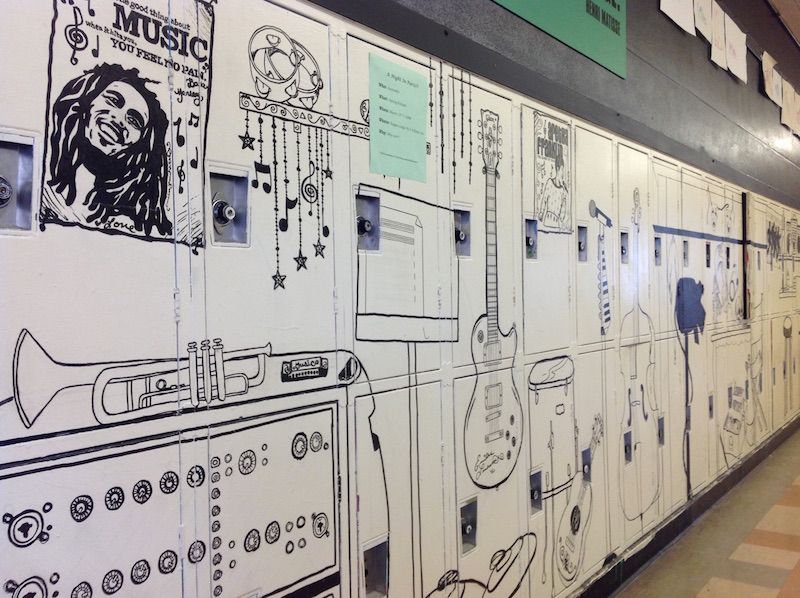 4. Unknown – Minneapolis, U.S.
Sadly, we know next to nothing about the origins of this incredible design, other than it's located in a public high school with a focus on arts education. Apparently, students can submit their own designs, which is a system that is clearly working extremely well.

5. Pinawa Secondary School – Pinawa, Canada
Our first entry outside the U.S. was conceived by a single student artist in Canada – apparently a most dedicated Whovian. The sense of depth is impressive and the personal touch really makes this one stand out.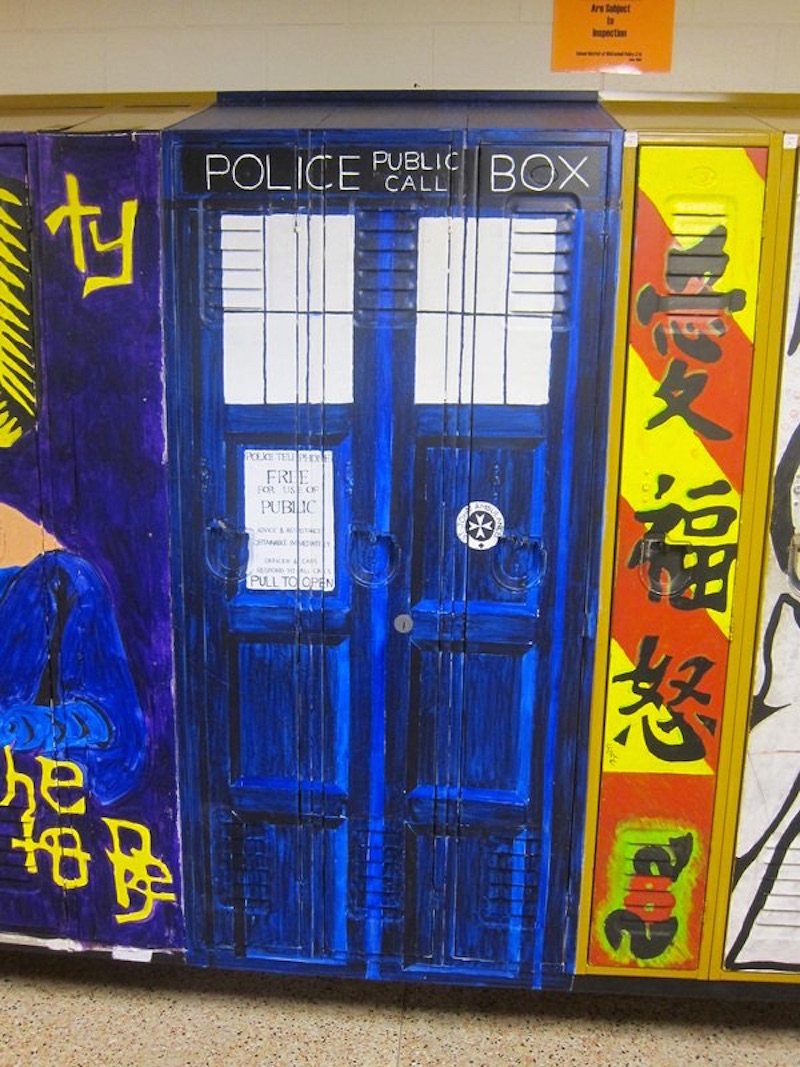 6. Jerry Brownell – Denver, U.S.
We're not sure whether these lockers are destined for a school or business, but we had to include them for the prodigious illustrative skills of graphic designer Jerry Brownell.

7. KatFolle – Canada
An exceptional imagination on display from KatFolle, an illustrator over on DeviantArt. What was once a pretty standard set of blue lockers is now a stunning work of art.

8. Chenderit School – Banbury, U.K.
Finally representing the U.K. is this heart-warming dedication to an art mentor. A perfect palette of colours and a truly inspirational message make this one of our favourites.
  


9. Central Visual and Performing Arts High School – Saint Louis, U.S.
When it comes to school locker designs, it's pretty difficult to top a near perfect rendition of Van Gogh's The Starry Night. Yet, not content with this masterpiece, the students responsible are now working on Dali's The Elephants for another set of lockers. No, that is not a joke.

10. Dreamathon – South Salt Lake, U.S.
Last but certainly not least, an art exhibition in a closed down school building features not one but three staggering examples of locker art. This is how it's done.



With so many countries underrepresented, we're sure there must be at least a dozen more spectacular examples of locker art from around the world. If you know of any that we've missed, or your school has its very own display of creativity that you'd like to share, please find us on Twitter @ActionStorage.
—
Tom Brialey is founder of UK-based storage specialists Action Storage and its Chinese subsidiary Shanghai Mammoth. Tom has over 35 years' experience supplying shelving, racking and lockers to businesses, schools and other organisations across the globe.