Parking is always very troublesome to everyone, and it becomes an actual daily life head ache. That's why Fiat decided to help drivers in the streets of a huge German city, Frankfurt. In the video above we see that Fiat installed a specially developed software that works with sensors which tracks where the car is to then further help the drivers park, keeping them from hitting neighboring cars.
To aid drivers, the Fiat billboard uses different people who motion in the screen how much space is left for the car to move in order to safely park in the spot. Fiat uses different actors, from a security guard to a sexy dressed woman and a happy child, all motioning with their hands to indicate the distance left for the driver to work their way in.
Great parking directions, few first impressions
The first thing that is evident from the ad is a problem in terms of clarity. Throughout the images in the billboard, nothing in particular is advertised besides the fact that 'this interactive billboard was brought to you by Fiat', leaving the viewer to wonder – were they advertising the Fiat brand as a whole, a specific car or even a feature their new models have? Unfortunately, despite the cool idea the billboard was perhaps too vague at the beginning and didn't explain how exactly are Fiat solving the parking problem in big cities except for the interactive billboards in Frankfurt, which aren't a product Fiat is selling either.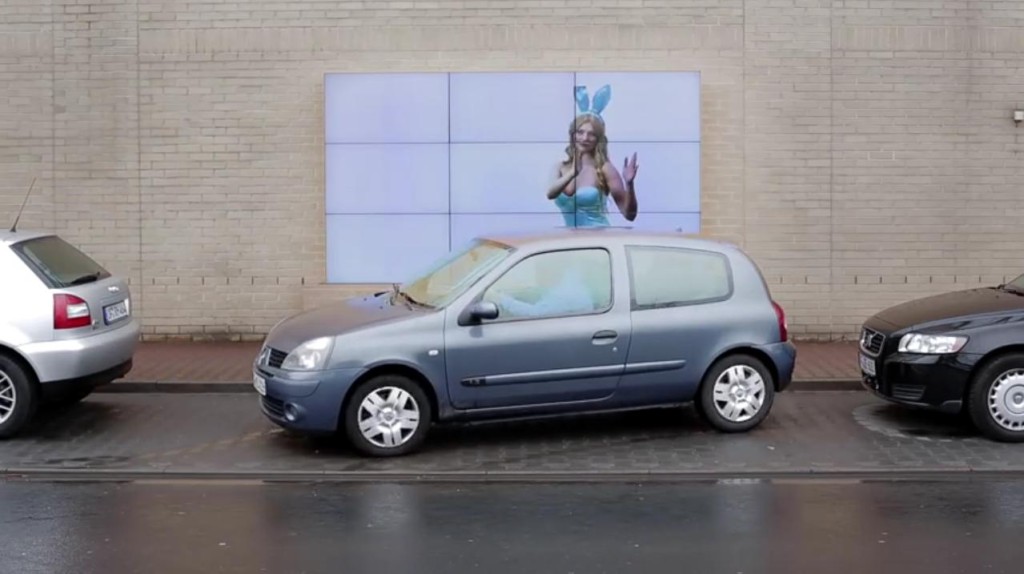 Turning it around
On the other hand, once you're past the confusion and understand that it's just a small nudge to buy Fiat cars, it becomes clear that the advertising campaign is actually really good. It focuses on an actual problem their customers face, making it clear to the viewer that Fiat are together with you on this daily problem. It's always important to make sure that an advertisement finds focus in the field where their products are being sold. This is where this campaign really hit the nail on the head.
Also, they made sure that every single one of the actors who were helping were unique, which made it a great touch. Starting from the little girl, who is a child in a world where children will always sell with their cuteness, the sexy woman who just confirmed that sex sells, the security guard who was a clever touch with some humor as he was there to make sure that you're safe, and the stylish man in sunglasses giving it a trendy touch – each one of them came with their own body language tagline making parking ' child's play', sexy, safe and stylish.
The verdict
The advert is effective because it focuses on the Fiat brand and problems which car owners face every day, making them question if perhaps they should change their car to a Fiat instead.
On the other hand, the ad by itself is also rather vague, causing confusion and being just a general advertisement to the brand rather than anything else, which is a good and a bad thing at the same time.
Either way, Leo Burnett Germany have found a very unique and creative way to advertise cars, one which will surely be memorable a interesting ideas and interactive ones specifically tent to stick to people for long.
Credits
Advertising Agency: Leo Burnett Germany, Frankfurt, Germany
Creative Director: Andreas Pauli
Art Directors: Daniela Ewald, Helge Knees
Copywriter: Benjamin Merkel
Creative Technologist: Viktor Kislovskij
Client Service Director: Kirstin Schmitt
Account Director: Alessia Bellini
Agency Producers: Claudia Müller, Thorsten Zeh