From shoppable windows to products that come alive in your hand; the worlds of augmented reality and retail have collided spectacularly in recent years.
The retail landscape is overcrowded and customers are becoming desensitized to traditional marketing methods. That's where augmented reality comes in. As shoppers turn to a blend of online, mobile, and bricks-and-mortar shopping for their convenience, brands and retailers are having to think of new and innovative ways in which they can capture customer attention.
Augmented reality – or AR – has the power to bring an image, product label or even shop window to life. Customers can see brands and their stock in a new way and engage with them on a completely new level.
It's creative, innovative, and it works. Customers are lapping up AR integration in store and brands are beginning to take note. Here, we take a look at 10 innovative examples of AR in retail:
1. Topshop Kinect Dressing Rooms
Trying on clothes can be pretty off-putting for many shoppers, especially those in a hurry. Always one to test the boundaries of technology, Topshop has partnered with Kinect to created AR dressing rooms. This allows shoppers to virtually try on their purchases quickly and easily. Topshop also experimented with virtual reality further at London Fashion Week 2014.
2. Shisedio Makeup Mirror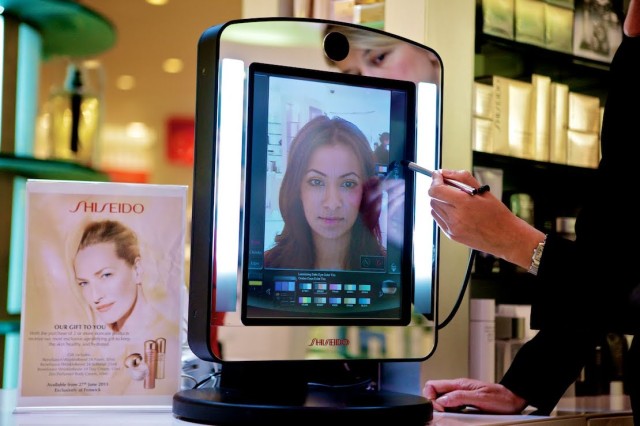 Image via I am Fabulicious
Many women struggle to find the right shades of makeup or want to know how things will look before they commit to a purchase. The augmented reality makeup mirror from Shiseido takes an image of a shopper's face, before showing them what the latest cosmetics products will look like on their face.
3. American Apparel Colour-Changing App
American Apparel is renowned for their colourful product collections, so have turned to augmented reality to make finding the perfect product in the right colour easier than ever before. To find out what it involves and how it works, read Creative Guerrilla Marketing's full post on this here.
4. De Beers 'Forevermark Fitting'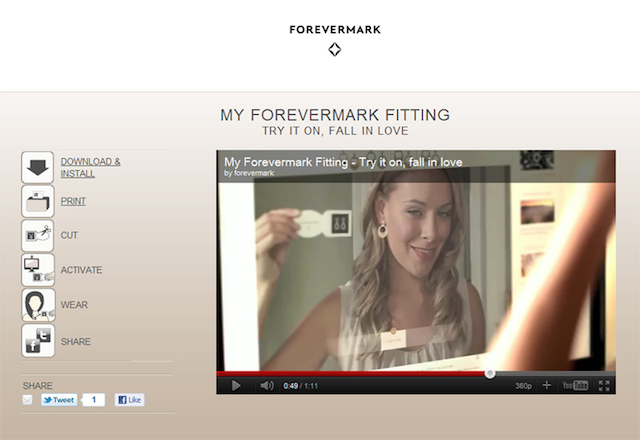 Diamonds may be a girl's best friend, but choosing the right ring for a loved one can be a difficult task. That's where 'Forevermark Fitting' from De Beers comes in. The AR download allows shoppers to try on the Forvermark collection through their webcam, and see how pieces would look in certain lights and against certain skin tones.
5. IKEA AR Catalogue
In the summer of 2013, IKEA launched their augmented reality catalogue to enable shoppers to visualise how certain pieces of furniture could look inside their home. Not only that, but the app measures the size of the products against the surrounding room and fixtures to offer a true-to-life size where possible.
6. Sayduck Furniture Visualizer
Sayduck have also released a similar mobile app that helps users visualize what certain products and fixtures would look like in their homes. The AR app displays items in real size by projecting a visual replica though the camera on a smart phone. You can reposition the items to any angle and really see how it could look in the space you have at home.
7. IBM App
Research by IBM showed that 58% of consumers want to get product information in-store before a purchase, and that 19% of customers will browse mobile devices whilst shopping. To address this consumer need in a way they are using, IBM launched their AR app. Acting like a personal shopper, it uses augmented reality technology to provide shoppers with personalised information whilst browsing the shelves.
8. Converse Shoe Sampler
The Converse Sampler iPhone App uses augmented reality to allow shoppers to virtually try on any trainer from their range, simply by pointing their phone at their leg. Customers simply select a shoe from the app's catalogue and see it appear on their foot. Customers can even buy directly thorough the app meaning they don't need to leave their homes.
9. Burberry Beauty Box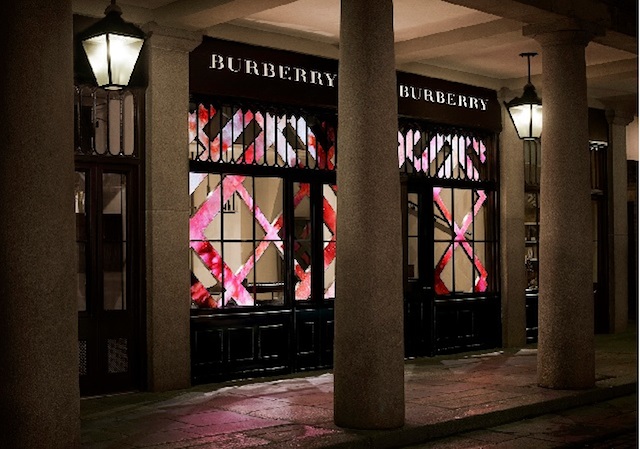 Another beauty example now, and the Burberry Beauty Box store in Covent Garden, London uses AR in a number of imaginative ways. The most prominent is their nail bar. Here, customers can select their skin tone and then place different polishes on the bar. The display then shows how the polishes look in real life.
10. Moosejaw X-Ray App
Our final example – if you are that way inclined – is the Moosejaw X-Ray App. The outdoor apparel brand lets customers see much more (or less depending on which way you look at it!) that the sweaters and jackets donned by the models. Simply scan the models with a smart phone, and the AR technology undresses the models.
As we can see then, there are a whole host of examples of augmented reality being used in retail. Whether it is to sell a product or simply have a little fun, AR is something all brands and retailers need to be taking note of.
—
Clare Evans is the Marketing Executive for Green Room; a leading experiential, digital and retail design agency. To find out how you can incorporate AR into your corporate environment, visit their website and read about their multichannel design services.