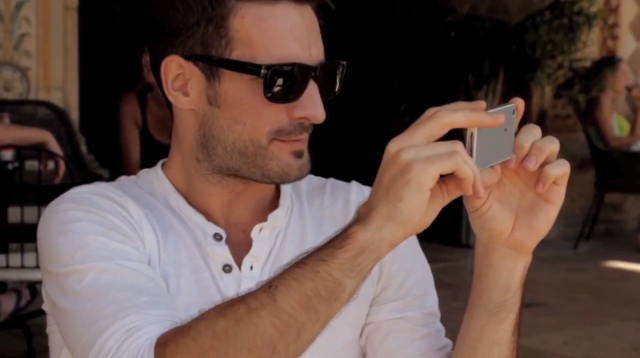 It's all in the name.
Augmented Reality (AR) is really supposed to improve your reality, make your experience things you definitely can't in reality. That's is the charm of AR. It gives products the chance to fulfil the fantasies of consumers.
ARWorks is an AR agency who specializes in using AR  as a marketing tool. Three of their most recent projects included an up close and personal encounter with Olympic medalists, feeding people to sharks, and driving a race car… all in AR of course.
The Projects
Hunt For Olympic Champs is an app for Deutsche Telekom that allows subscribers find floating photos of 5 Deutsche-sponsored Olympic medalists by pointing their camera on the different areas their store. after collecting the 5 photos subs must register to collect their prize.
[youtube http://www.youtube.com/watch?v=6NkA0UXqrAI&w=560&h=315]
Ursus Rally Driver allows customers to superimposed their image on Romanian rally driver Bogdan Marisca, making it appear they are actually behind the wheel. Customers just need to download the app that will give them an image of the car. They can then ask their friends to take a photo of them and it will automatically appear behind the wheel.
[youtube http://www.youtube.com/watch?v=AgJ_Vpq4Des&w=560&h=315]
The Shark Week App, probably the most entertaining, allows you to download a moving image of a shark. You can then point your camera on other people and it will look like the sharks are eating the humans. A really nice app if you have enemies.
[youtube http://www.youtube.com/watch?v=HXM2n-kIHOc&w=560&h=315]
The Good
First, The consistency between the target market and the apps is right on. The 18-35 demographic is the same market that is most likely to use technologies like AR. This is the same market that Deutsche Telekom, Ursus, and Shark Week are gunning for.
Second, The mechanics are simple. Each of the app requires no more than four steps before the customer gets what he wants. When using technologies like AR as a marketing tool, many companies either create an overly complicated process that discourage consumers from participating or they make it too simple that it becomes just one of those promo clichés in the market.
These apps did it right. The mechanics was simple enough that anyone can follow while offering a fun experience.
The Bad
They are all well-made but it doesn't offer anything new and unique. They offer something fun but nothing unique. We've seen dinosaurs breath fire, Victoria's Secret models flirt with people, cars drive around people, and other crazy stuff.
The market has been awed and amazed. Anything less than a 'wow' won't leave a mark.