1.Vacuum cleaners
Made by Students from Miami Ad School. Clever way to find out how Hoover's vacuum cleaners really work.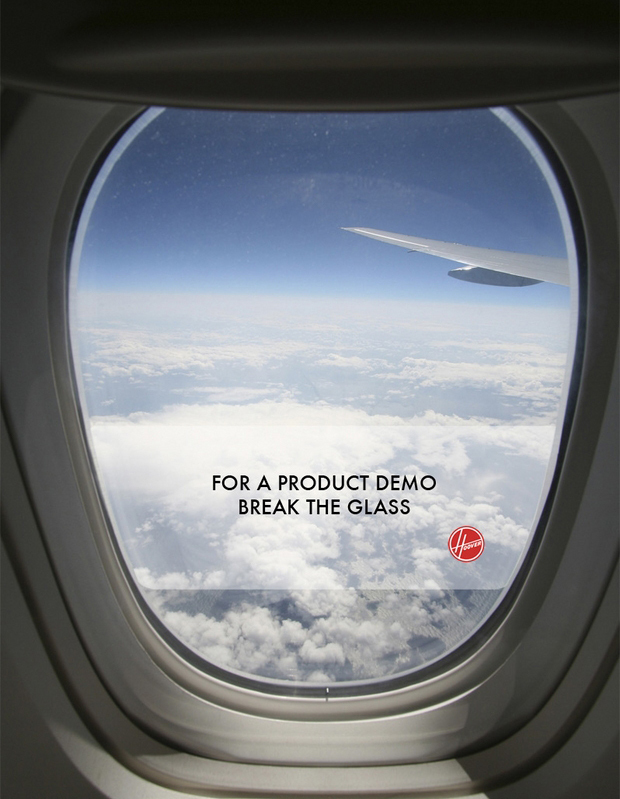 2. Have fun
Made for Oohtique.com in Singapore by JWT agency.
This is a simple, creative and very cheap campaign with awesome results.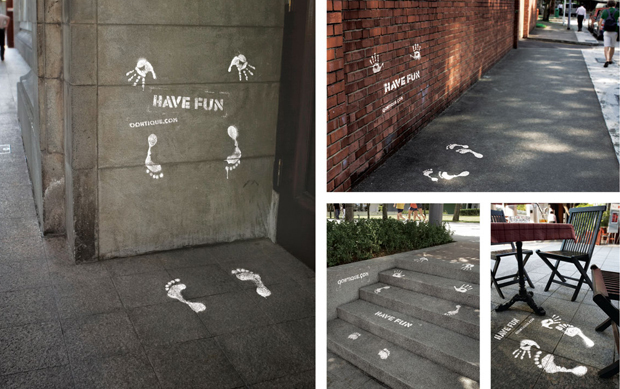 3. Missing a piece?
Alchemy Partnership worked on this creative project for Think Centre in Singapore. Clear message that gets your attention.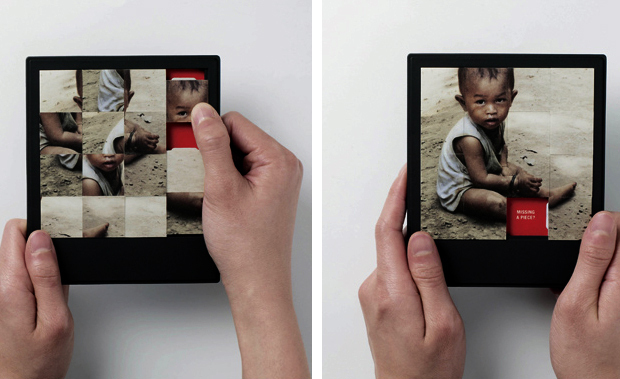 4. Plastic surgery
This ad has some years now. Created by DDB in Toronto, Canada.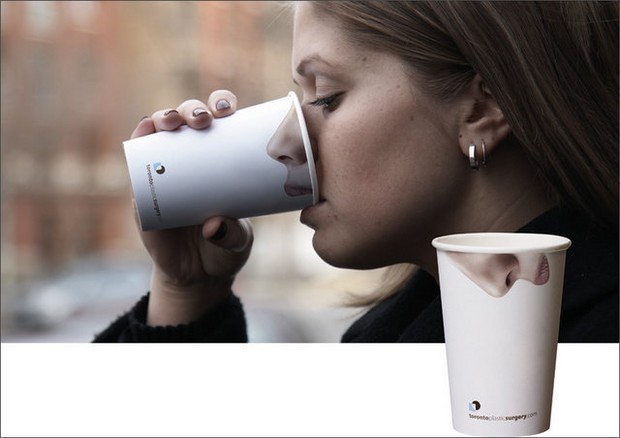 5. Papa John's Pizza
Adaptation by Saatchi & Saatchi, this time in Peru.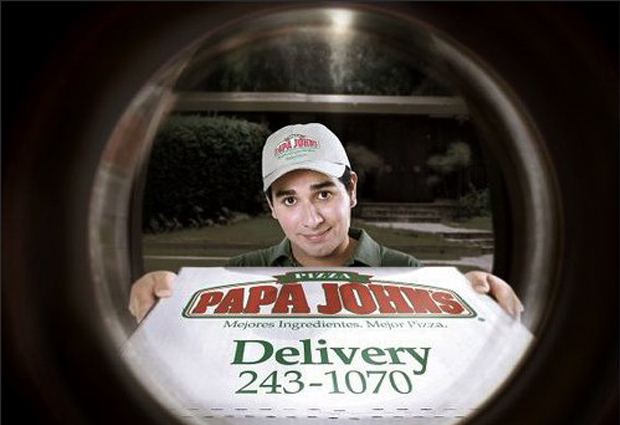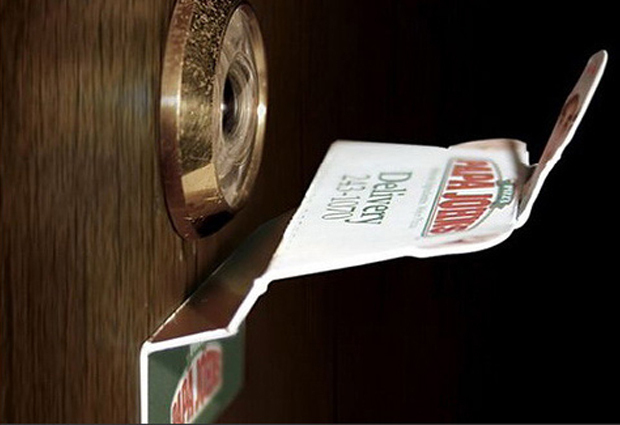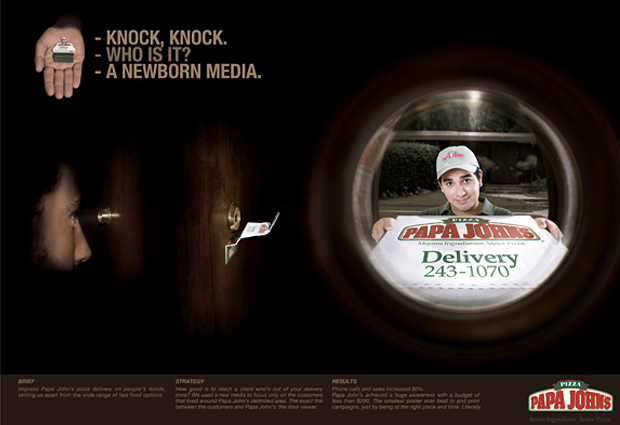 And some other company that took the idea for itself.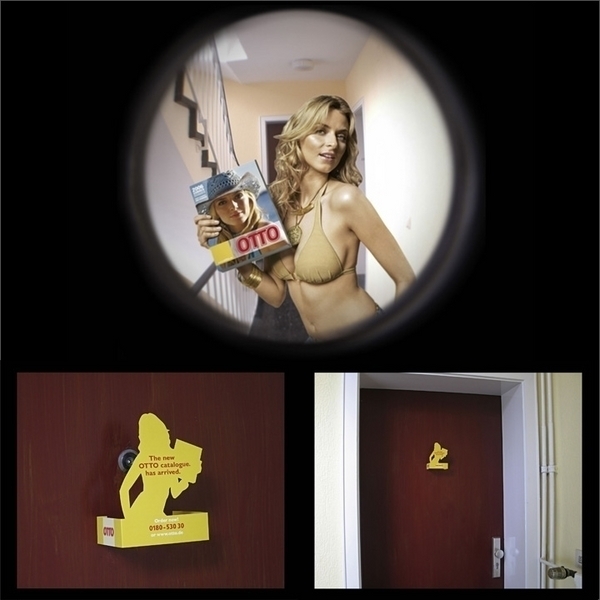 6. Playboy
Argentine agency Grey came up with this brilliant idea for Playboy magazine.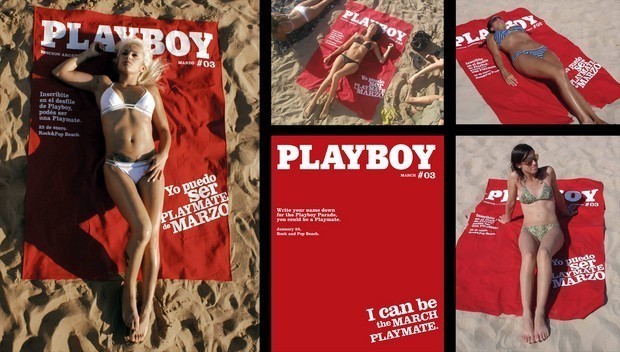 7. World AIDS day
Denmark people get the word out. The objective of this air bubble is to make society think about the prejudice toward people affected with AIDS and social isolation being one of the worst effects of getting this contagious disease.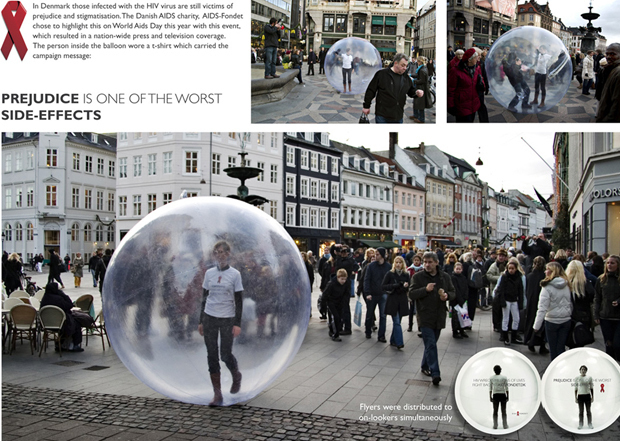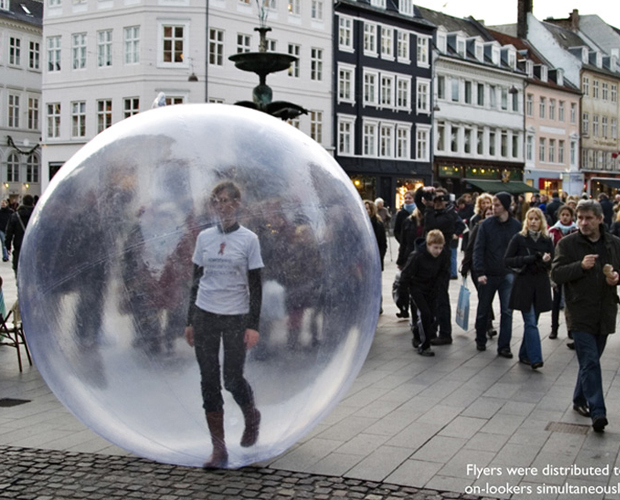 8. Vitae Shelters
For Vitae in Portugal.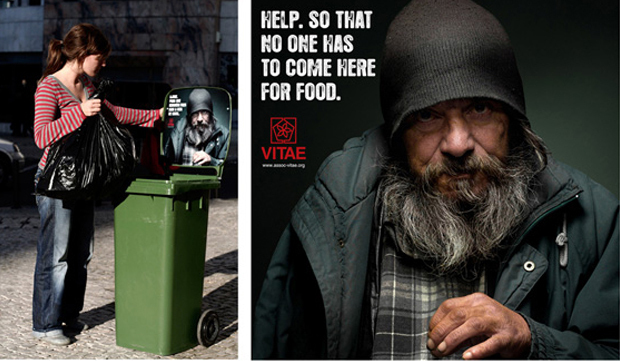 9. Amnesty International
Agency Saatchi & Saatchi once again. This time has conducted a campaign for freedom of expression.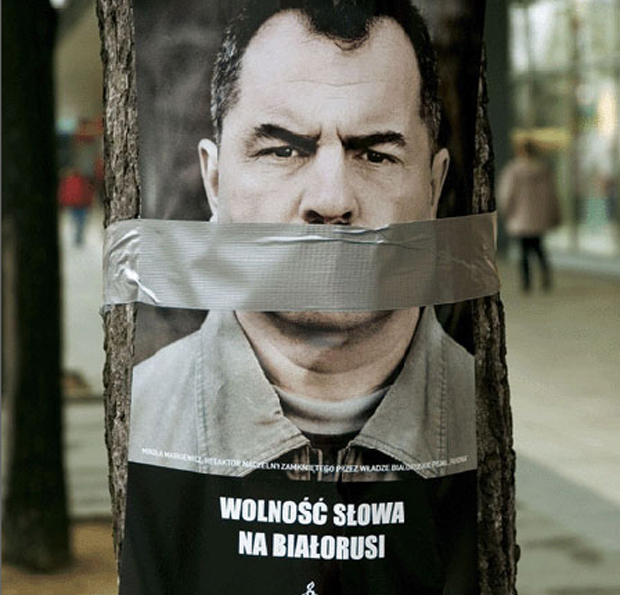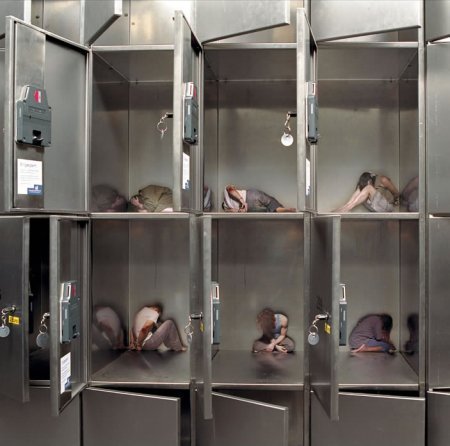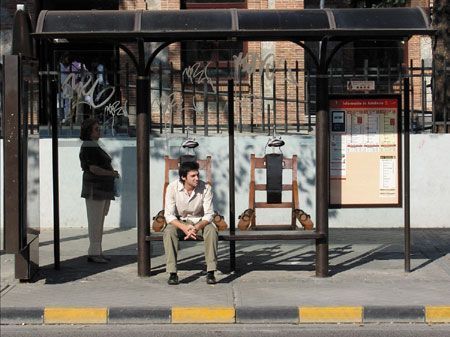 10. Seramis
A message to increase sales of bamboo's fertilizer Seramis.
Agency Scholz & Friends, Hamburg, Germany.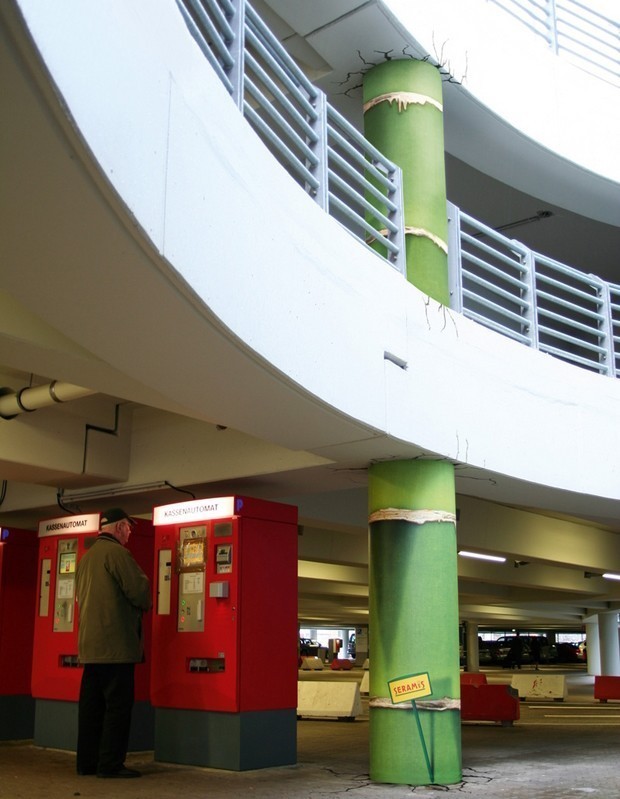 11. The Sopranos
Campaign for HBO Television Network in New York taxis to promote The Sopranos. It has to be disconcerting to find an arm hanging from a trunk.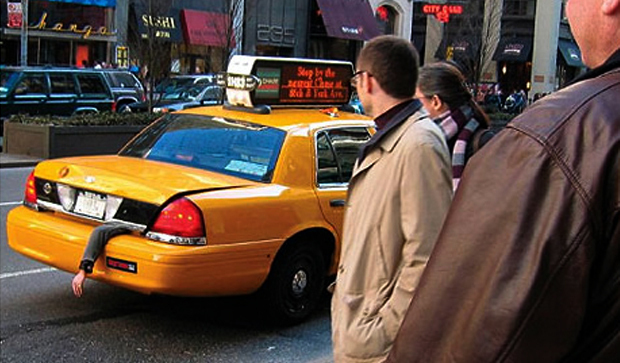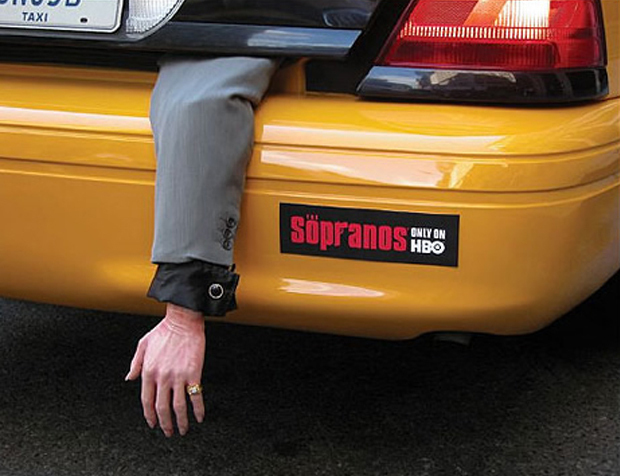 12. Ultra Slim Sony Cyber-shot T1
This is such an original and cheap idea for Sony cameras. I can imagine people pulling the strap to see if there really is something down there.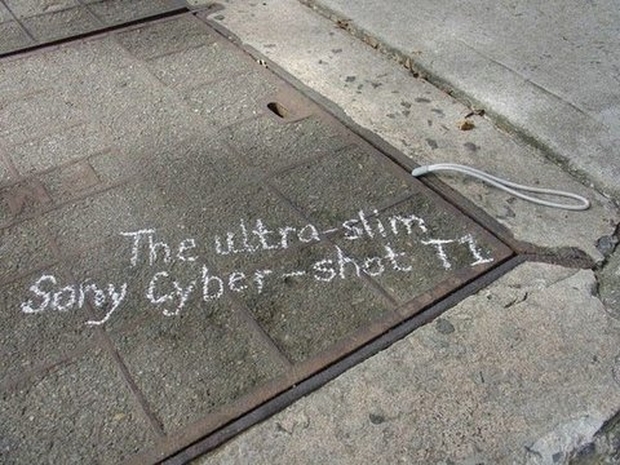 13. Don't drink and drive
Pretty straightforward message. You get to see how your car is going to look like.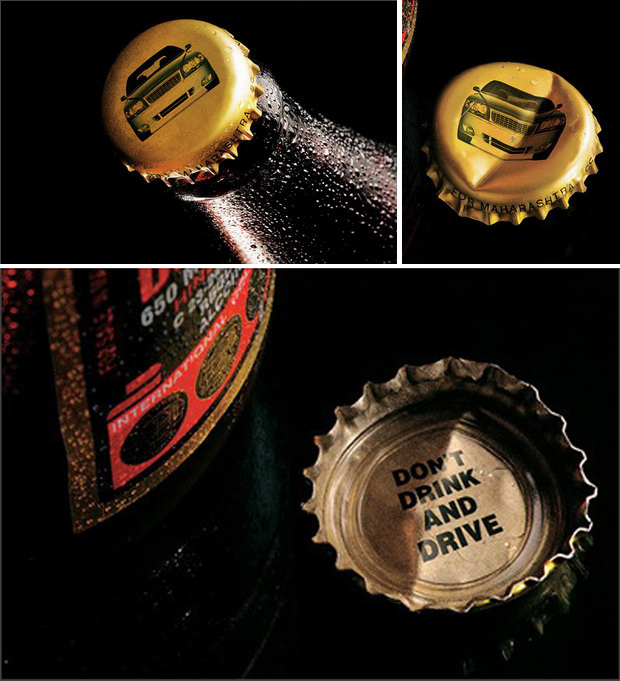 14. Leica Cameras's Zoom
Agency Young & Rubicam in Switzerland highlighted the main attribute of Leica cameras, its 12x optical zoom.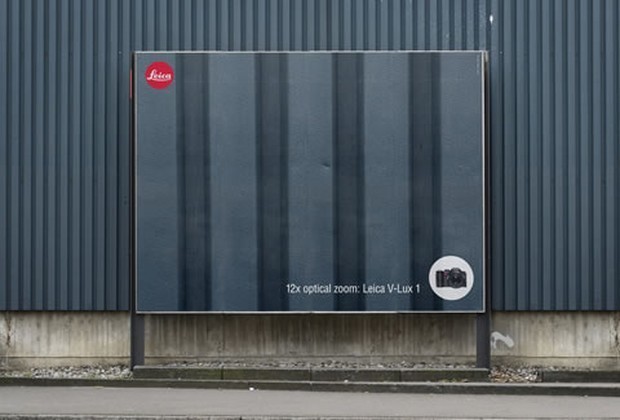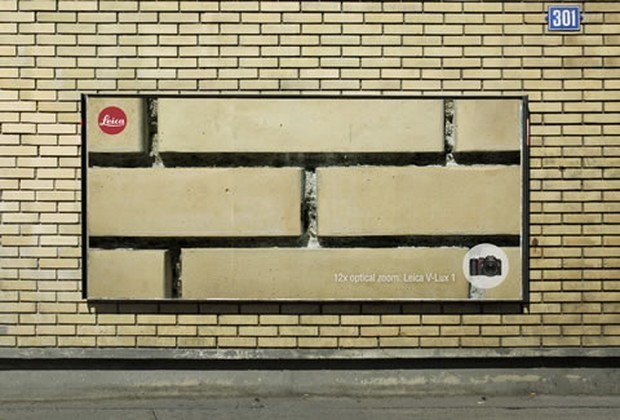 15. Ultra Thin Macbook Pro
A magazine ad. People is kinda tired of this stuff now and this ad in particular is not a huge deal, but curious none the less.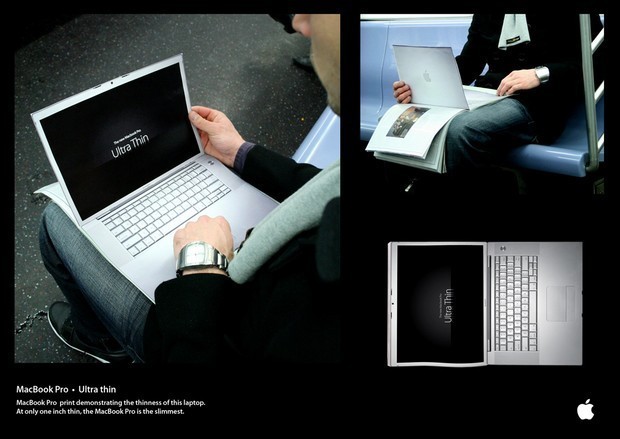 16. Life's too short
For jobsintown.com. Life's too short for the wrong job.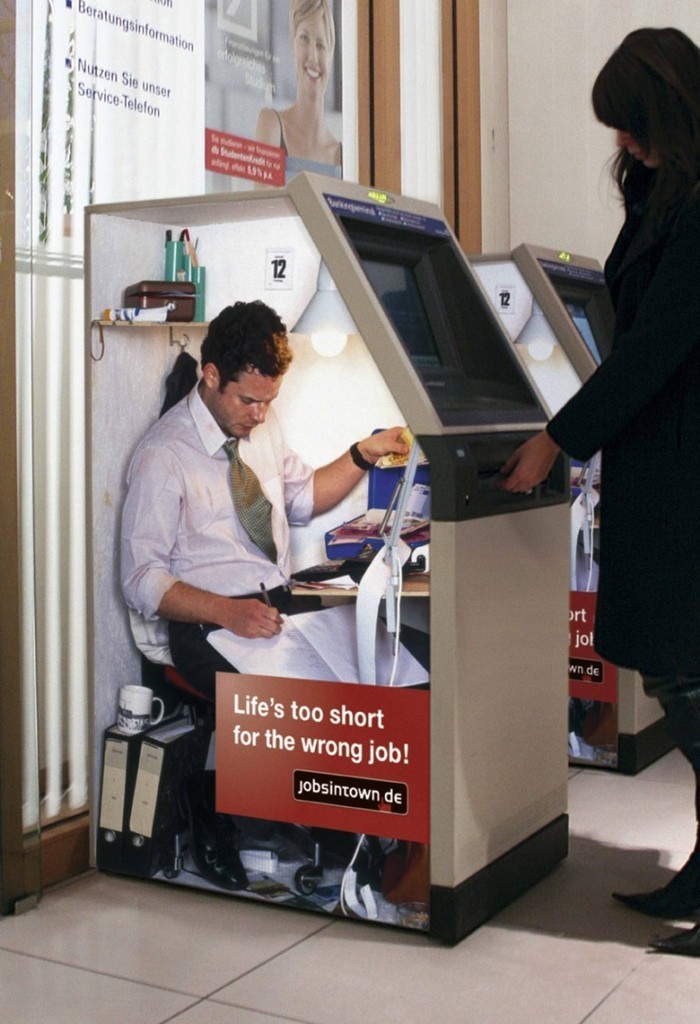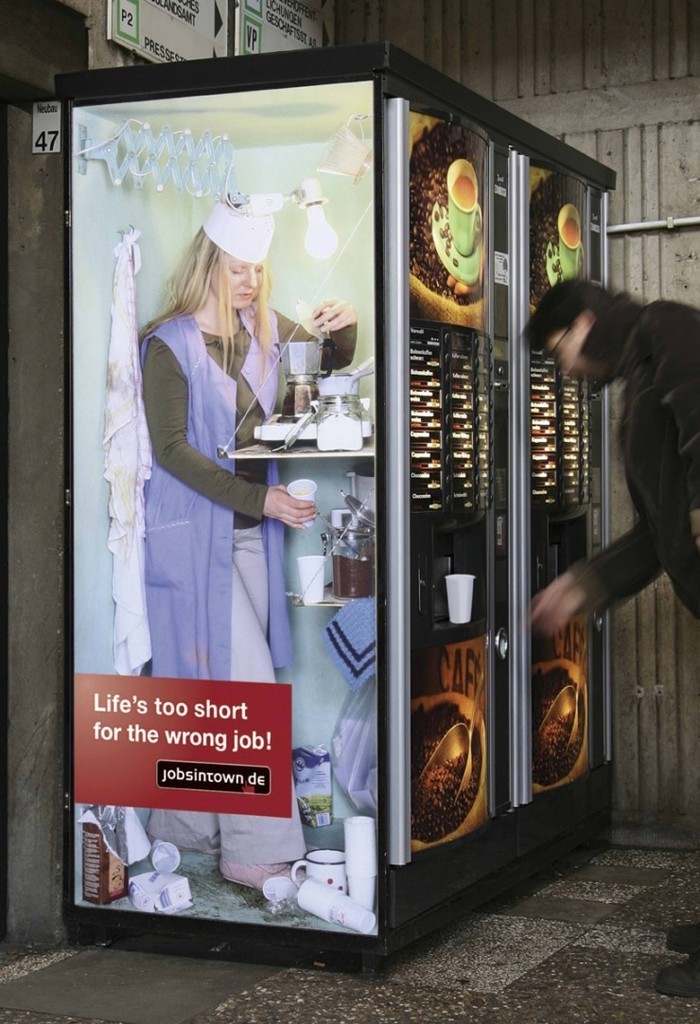 17. Small screen, small movie
For Megastar Media.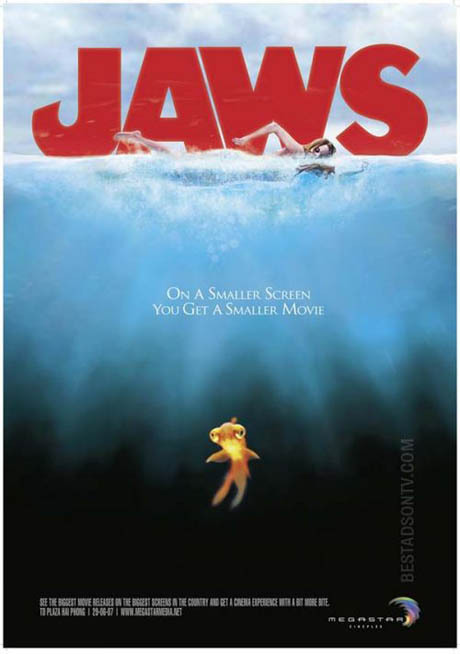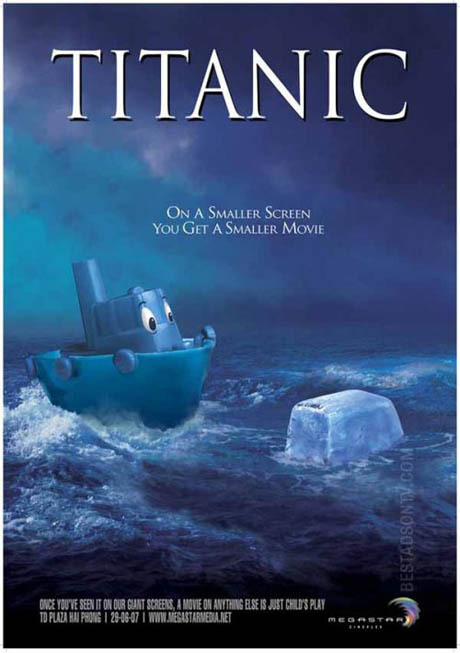 18. Unstick your style
Dove's Volumizing Mousse applied to cartoon girls.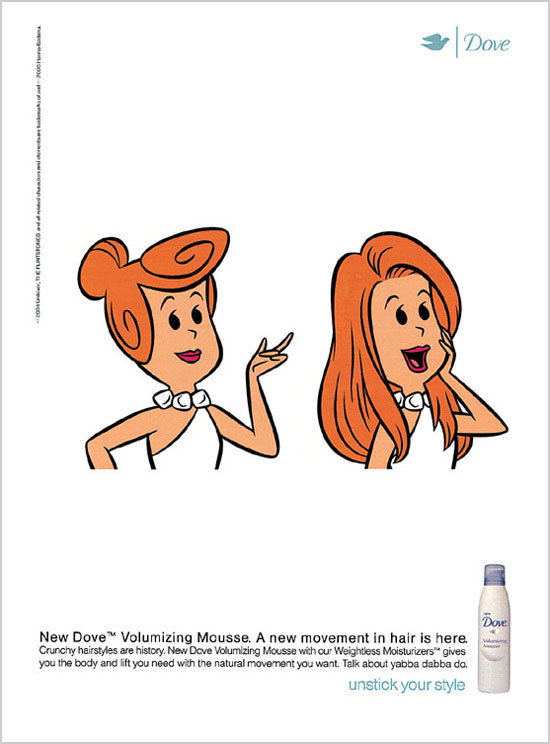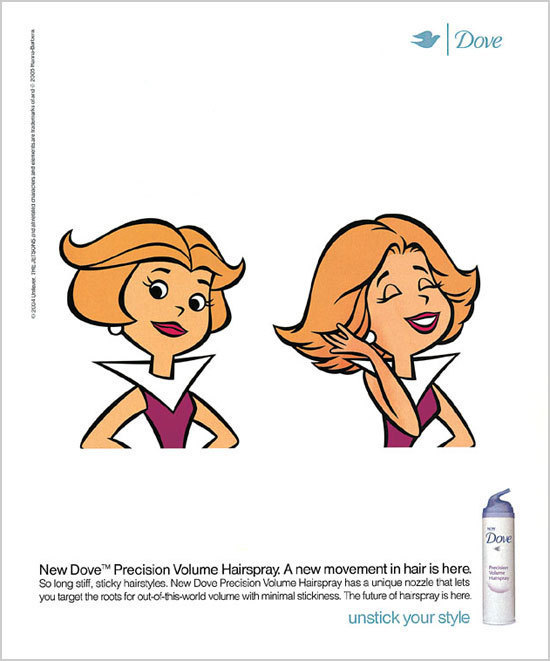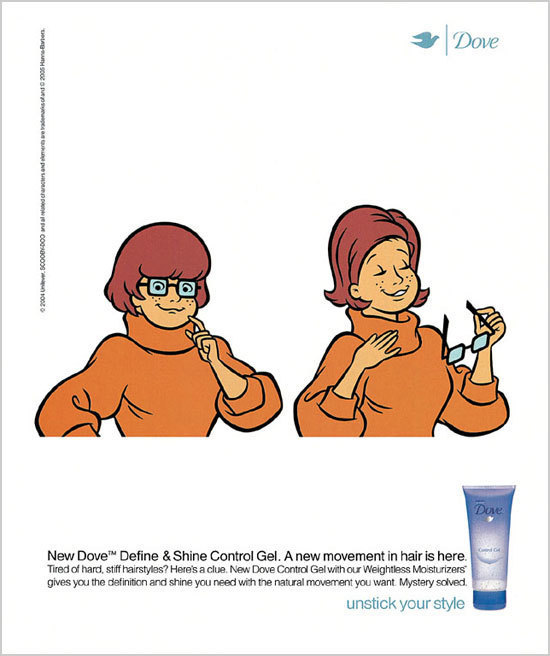 19. Easy to get in – Frankfurt Saatchi
You can't smoke in Germany's train stations except inside the yellow squares. Agency Frankfurt Saatchi & Saatchi was approved by the company who made these squares to make a maze so you can find your way to the ashtray.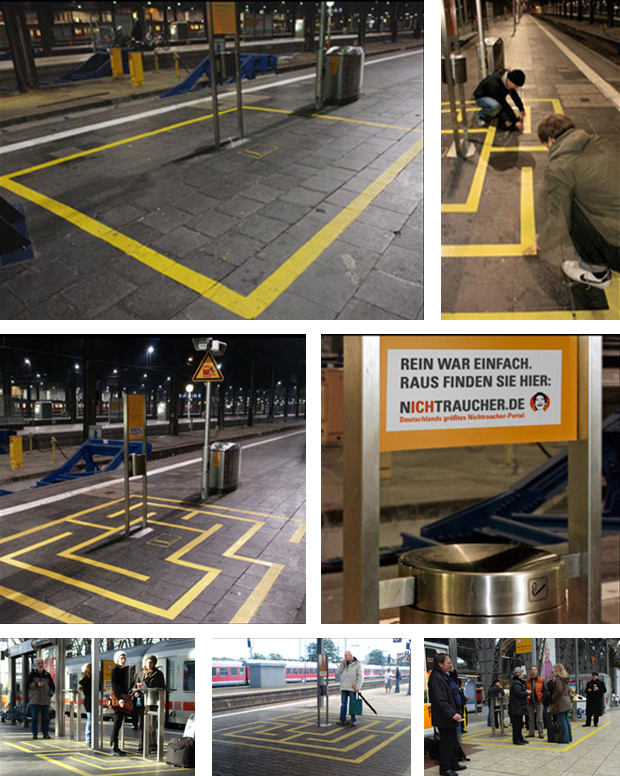 And i leave you with some more i like (yeah, I'm an ad freak)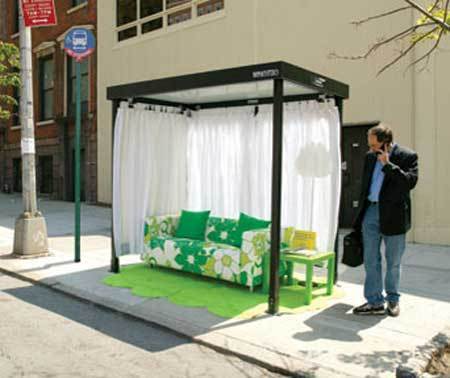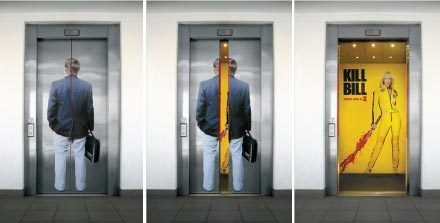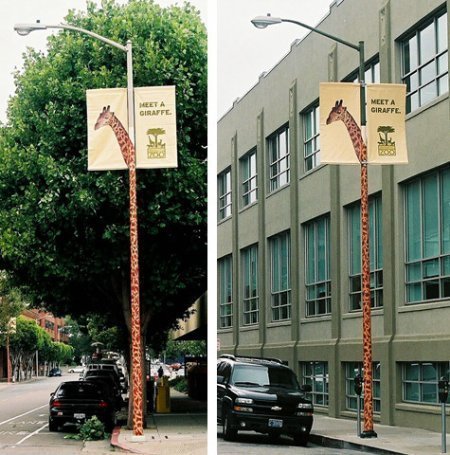 This giant napkin dispenser containing napkins made from the original material you find in McDonalds napkins. It is a marketing effort by the famous hamburger chain to promote the Big 'N' Juicy burger.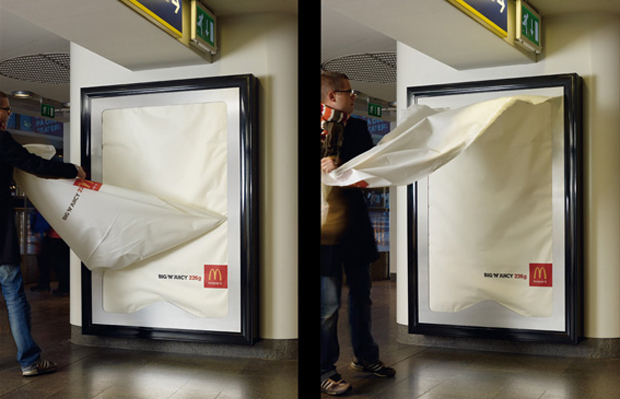 Announcing the next Nemo movie.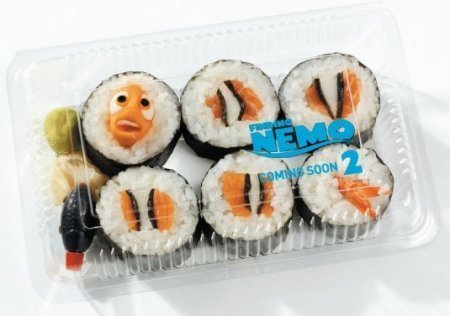 Stop smoking.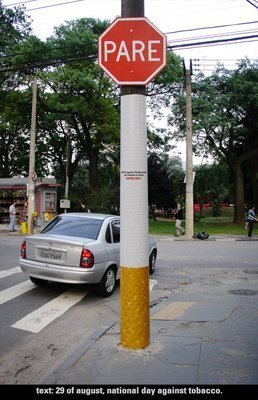 Mini Cooper Subway entrance.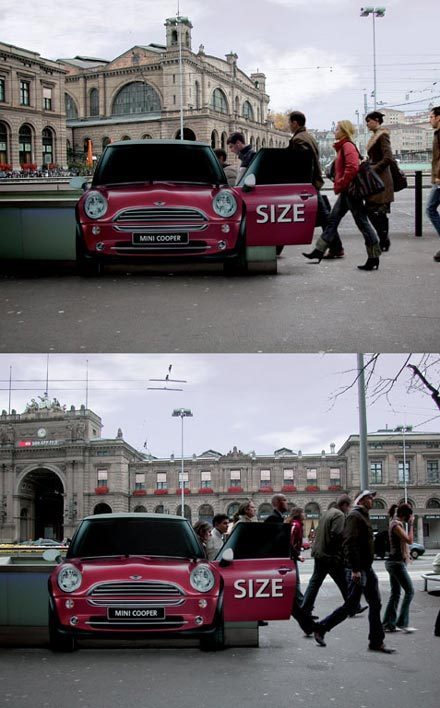 Resident Evil for Nintendo DS.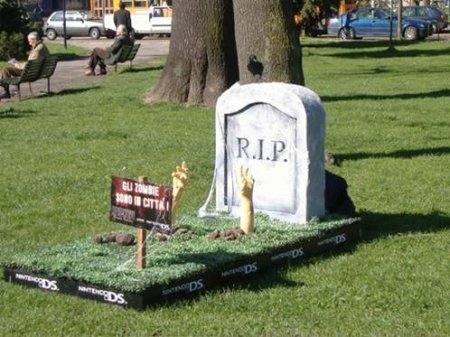 Superman movie.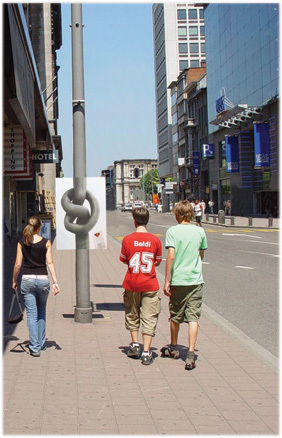 Some ads via [quierosercreativo]