Projection mapping has been a popular form of ambient advertising for awhile now. This form of advertising is effective because it breaks the mold of more traditional advertising and has a viral nature online. 3D Projection mapping draws a crowd. In this day in age, many individuals will use their smart phone to capture the event and post it to their social media sites. Although 3D Projection Mapping can sometimes be relatively expensive and not a suitable option for small businesses, the stunt itself can yield tremendous results such as free media coverage, increase in brand equity and good organic publicity.
Here are some really cool recent 3D Projection Mapping examples. Let us know what you think by commenting below!
Bombay Sapphire Projection Mapping Example
Hundreds gathered on the banks of London's River Thames to watch, for the first time since 1975, Battersea Power Station come alive once more with a monumental 4D projection-mapping spectacle from Drive.
Super Mario Galaxy 2 Projection Mapping Example
The Ice Experience Projection Mapping Example
As part of the launch of the new S-MAX, we teamed up with Ford to produce two ground breaking multi-sensory projection events. On the 9th and 11th of September, we took over Senate House in London's Russell Square and Liverpool's St George Dock Ventilation Building for a truly extraordinary event.
Hyundai Accent 3D Projection Mapping Example
Wow…this was an awesome video created for the Accent. Check out the cool graphics. It highlights the new slogan "New Thinking. New Possibilities." and showcases the Accent in many way. Enjoy this clip!
Johnnie Walker Projection Mapping Example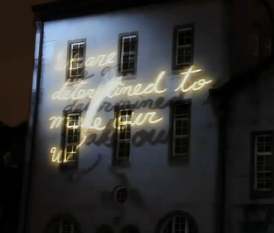 Johnnie Walker celebrated the launch of a new Green Label bottle with a first ever Johnnie Walker Green Label 3D projection event.
JL Design rose to the challenge of creating the content in 4 weeks from pre-production to effect testing to the delivery of a visually stunning 5-minute film. The client had a fixed idea of how the four core flavors of the Green Label were to be presented. Our team, despite the restrictions, produced the striking CG effects.
The historical building in Huashan1914, Creative Park, Taipei, became the architectural canvas for the projection of the Johnnie Walker Green Label film that saw history and technology come together in a splendid visual-audio display.
Credits
Design & Event Company: Big Bright Room Co.
Creative Director: I Ju Huang
Storyboard: Chi Yao Wang
Technical Consultant: Tien Hung Wang
Project Coordinator: Chia Hao Yang
JL Design
Creative Director: JL
Executive Producer: Angela Moo
Art Direction: JL
Project Manager: Shirley Yang
Head of Production: Chih Chung Tso
CG Lead: Zoe Tsai
Designer / Compositor: Showy Lin, Utsuo Chen, Lance Wei
3D Artist: Chih Chung Tso, Zoe Tsai, Gilbert Chu, Chan Chia Chang, Weiting Chen
Original Music: Rockid Lee
Sound Effects: Peter Pan
5 Gum Projection Mapping Example
If you enjoyed this example, be sure to check out 12 Must See Guerrilla 3D Projection Mapping Examples