When you think about guerrilla marketing, what do you think about? Probably something low-cost, unconventional, and localized. Something that you know will make a big splash on a small budget. Guerrilla marketing is all about targeting your dollars to a great, attention grabbing, headline making, "gotta see it" campaign. The specific campaign your company uses needs to be tailored to who your company, and who your customer, is. If you make cheap frozen dinners, you don't want to advertise in the fine dining section, and if you're a guerrilla marketer for those frozen dinners, you don't start handing them out in front of a fancy restaurant. (Knowing your customers is important!!!)
Small spaces are perfect for guerrilla marketing and other nontraditional advertising. The key is to think outside of the box! Here are seven nontraditional ads for small spaces, inspired by guerrilla marketing:
1.  Use public garbage cans to post your message loud and clear! Garbage cans are all over our streets, and people look at them all the time – especially the tops. Try to incorporate the circular shape of the top into the design of the ad for a really stop in your tracks effect.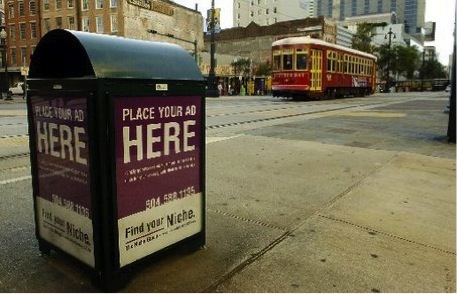 Source: http://www.matrixmedia.com
2. Â Sponsor public seating somewhere. It can be as simple as upgrading a park bench into something eye catching that has to do with your company, or installing an all new specially designed seat. People are always looking to sit down – make them think of you when they do.


Source: http://www.creativecriminals.com
3. Turn your car into your mobile mascot by dressing it up top to bottom, front to back. A pet grooming shop could transform their car into a giant dog. A pest controller could turn his van into a giant cockroach! Get creative and have a good time with it.

Source:Â http://travelingchemist.blogspot.com/
4. Another place that a lot of people look is the backs of other peoples' seats. These spaces provide the perfect spot for some advertisements – think of it as the back of a t-shirt. Different but sometimes equally as important as the front.


Source: http://www.avstop.com
5. When you go to the grocery store, do you use a cart? Think about all that advertising space being seen by grocery shoppers every day! The bottom of the grocery cart can be particularly effective – imagine an ad that is a photograph of a diamond glowing from inside a deep cave. The depth of the cart's bottom will heighten the effect!


Source: http://www.shoppingcartads.com
6. Anywhere that people are looking in the bathroom is a place that a lot of people are looking! Think of the inside of doors in women's rooms and the space in front of the urinals. Small spaces that get a lot of eyeballs on them – it's just nature. Take advantage of it and put something up in the space that will only need about 10 seconds or less of attention.


Source: http://www.matrixmedia.com
7. Â The square of pavement outside every front door is a small slab with a big impact. Businesses should play up this space if it meshes with the business's purpose, products, or services.


Source: http://www.coloribus.com
These are just a few nontraditional small spaces that can be used for advertising. But if you are a real guerrilla marketer, you'll start seeing them everywhere.