I thought this was an interesting way to market carrots as a healthy snack that you can eat like junk food.
It is a cliché of junk-food advertising to brand one's product as "radical" or "extreme," usually in the loudest, most obnoxious terms possible. Such claims are laughable enough when applied to a nacho-flavored snack chip; but applied to baby carrots, they qualify as actual comedy.
Or at least Bolthouse farms hopes they do. The nation's largest producer of baby carrots and its new ad agency, Crispin, Porter and Bogusky, have launched an advertising campaign positioning baby carrots as the extreme new junk food, a purposefully over-the-top effort that includes an iPhone game, a Web series and extensive social media outreach (and a lot of wailing guitar noises).
The idea of using junk-food tactics to sell baby carrots rose out of the observation that "carrots are crunchy, orange, disposable, munchable and portable," said Omid Farhang, VP and creative director at CPB. "They basically share all the exact same qualities as some of the more insidious junk foods. The only thing that was missing is the marketing."
What's more, "nothing you're going to tell people about baby carrots will undo the knowledge that they're healthy," he said. "Why waste your breath telling people something they already know?"
The centerpiece of the $25 million campaign is BabyCarrots.com, where users can download the game, watch the webisodes, view commercials, and examine the new chip-like packaging. In the background, a chorus of voices chants "Baby! Carrots! Extreme!" over an epic-sounding heavy metal riff.
There is also a twitter feed and a Facebook page, where followers can keep up to date on the Web series or enjoy more of the campaign's humor (a typical tweet reads: "Any more crunchy and we'd be wearing dreads and hosting drum circles." (Currently, the Twitter feed has less than 600 followers, and the Facebook page is "liked" by about 1,430 people, though the campaign hasn't yet officially launched.)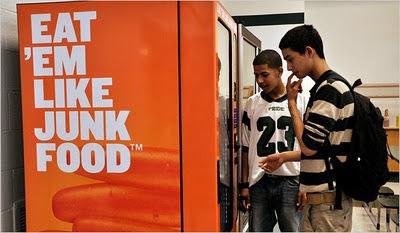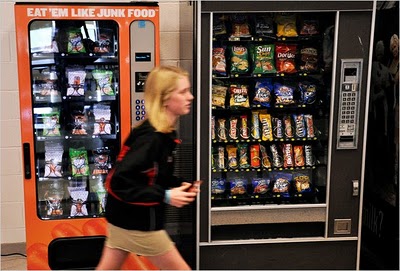 [Read the full article here]