Coca-cola has a way of spreading happiness around the world. This time, they decided to go about it by making the city a little less gray.
Wieden + Kennedy in Amsterdam recently ran this awesome campaign in which a Coca-Cola truck rolled out a coke bottle shaped piece of grass in the middle of a busy city center. A simple sign encouraged onlookers to kick off their shoes and enjoy a cool and refreshing coca-cola on the turf. A special vending machine dispensed free soda to those who took off their shoes.
They also had a tree with many toys that people could enjoy.
All I have to say is…Coca-Cola, you've done it again!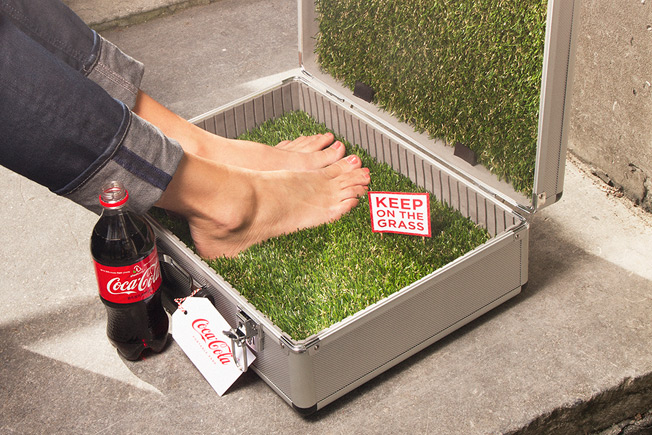 CREDITS
Client: Coca-Cola
Global Group Content Director: Guy Duncan
Global Digital Brand Strategist: Christy Amador
Agency: Wieden + Kennedy, Amsterdam
Executive Creative Directors: Mark Bernath, Eric Quennoy
Creative Director: Edu Pou
Art Director: Max Gebhardt
Copywriter: Max Arlestig
Head of Production: Erik Verheijen
Agency Producers: Judd Caraway, Lars Fabery
Group Account Director: Kirk Johnsen
Account Manager: Alex Allcott
Business Affairs: Emilie Douque
Production Company: Brenninkmeijer & Isaacs, Amsterdam
Director of Photography: Clemens Baumeister
Executive Producer: Jelani Isaacs, B&I
Producer: David Leite, B&I
Production Designer: Martin Krejzlik
Line Producer: Gerda Serbentaite, Grandma Films
Editing Company: The Gentlemen's Club, Amsterdam
Editor: Benjamin Putland
Audio Post: Audentity Music and Sound, Amsterdam
Sound Designer, Mixer: Niels den Otter
Music: Niels den Otter
Postproduction: Darlings Post, Amsterdam
Executive, Post Producer: Sander Brenninkmeijer, B&I
Compositing, Finalizing: Robert Okker, Darlings Post
Color Grading: Robert Thomas, Darlings Post