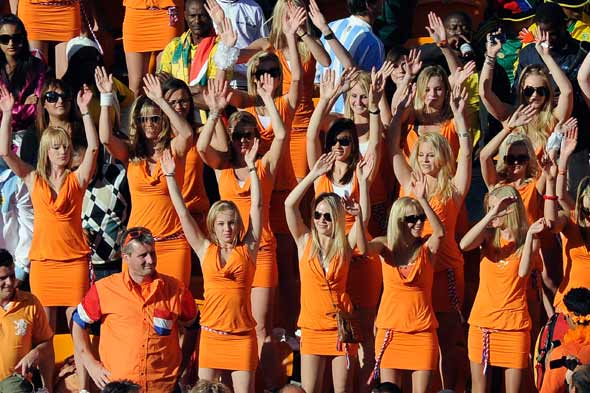 Remember that Bavaria's orange dress campaign during the FIFA World Cup? Well we sure do! Unfortunately so do the authorities.
I felt it necessary to follow up with several questions regarding guerrilla marketing tactics and any repercussions this form of marketing may have. There have been several reports of how guerrilla marketers have been slammed.
Let's rewind back to last year's football World Cup in South Africa. Anyone watching this popular sporting event was subject to a ingenius yet unauthorized "ambush marketing" stunt that merely involved the expense of placing 36 young women wearing bright orange mini-dresses in the crowd of one game.
Bavaria, a brewing company based in the Netherlands, stole the light of the FIFA game and everyone would be thinking of these scantily clad women dancing in their miniskirts for several days. Since the stunt, Bavaria received threats of legal action after breaching rules laid down by World Cup organizers FIFA. The 'Bavarian Babes' were taken to the police station for several hours of questioning.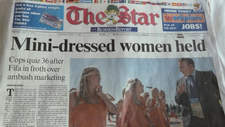 "We were in the stadium, having fun. Singing and we were being photographed. And then in the second half, this FIFA dude came up to us and said we weren't allowed to wear the Bavaria dresses in the stadium. He gave us a choice: go voluntarily or else the police would be ordered to arrest us," said Barbara Kastein, one of the 36 Bavarian Babes.
"I told the guy that they couldn't do that on the basis of our dresses but 40 stewards surrounded us and pushed us and pulled us off the stands. One of the girls fell of the stairs, even!".
[pullquote]Bavaria's ranking leapt by 41 percent, according to Nielsen. The stunt even earned the firm a nomination at the Cannes Lions International Festival of Creativity.[/pullquote]
Some of the girls were questioned for hours and all the passports were taken. "One offices told us that we could be charged and jailed for six months! For wearing an orange dress!".
Nevertheless, for a fraction of the cost of a slick television or online marketing campaign, they generated enormous publicity.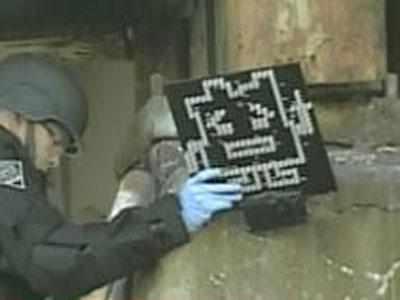 Not all campaigns end positively. In 2007, a guerrilla marketing stunt by the Adult Swim cartoon channel, owned by CNN's parent company Turner Broadcasting Systems, backfired when promotional devices placed around Boston sparked a bomb alert.
While the troubled stirred by the Boston incident shows the gray area that guerrilla and ambush marketing can occupy, some authorities have chosen to allow some types of unorthodox advertising methods in the hope of better controlling them.
This is true of reverse graffiti, a technique by which artworks are created by cleaning away accumulated grime on walls and sidewalks.  A more recent example would be of the streetvertising done during the Stanley Cup playoffs.
In Tampa Bay, Florida, Memories from a Lightning playoff run may be slowly fading away, but other reminders near Downtown aren't fading nearly fast enough. Television network Verses did a guerrilla campaign in which they either powerwashed the hockey team logo or used a chalk-based paint on the major streets of South Tampa by use of  stencils.
Illegal hockey ads dot Tampa sidewalks
Versus, which said it was responsible for 50 to 100 of the ads, says it launched the guerilla marketing campaign in nine different cities. The ads were painted about two months ago using a chalk-based paint that's not permanent. The major issue that occurred during this campaign was that the television network, Versus, never contacted the city to get approval for the campaign. Or perhaps it was because they knew they wouldn't get the approval.
"Anyone who does anything in the right-of-way is required to get a right-of-way permit," said Debbie Harrington, the Traffic Engineer for the City of Tampa.
Harrington said had Versus tried to get a permit, it would have been denied.
"We do not give out permits for advertising in the right-of-ways," she said.
Several days after first contacting Versus about the ads, the network – owned by NBC Universal and Comcast – said it would dispatch pressure-washing crews as soon as possible to remove any remaining ads.
So the lesson learned from this is to think outside the box with your guerrilla marketing, but be sure to check the legalities first! What do you think?