It's not that your product is so good that people will do anything to have it. It's just that people are always looking for an excuse to do silly things because silliness makes them happy and people like being happy.
That's one of the many things that many brands still don't get about customers. It's never about the being number or giving huge discounts. It's just about giving people a chance to have fun and they'll do anything for your product.
Fantastic Delites get it.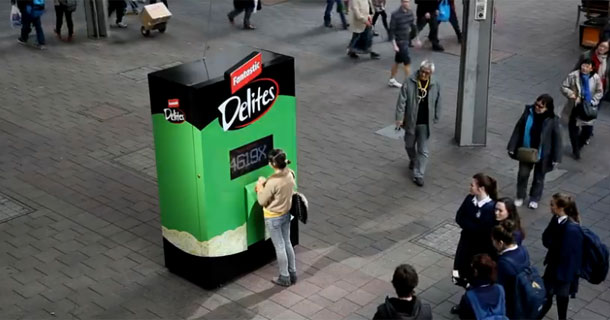 The Concept
It's really nothing new. Coke has essentially made a living out of their vending machines. It has become their mascot, the brand ambassador, their image model. They send it to different countries making people happy because that's what Coke is all about.
It's the same principle.
Instead of deploying people to get other people to try their product, Fantastic Delites deployed a vending machine that asks people to do silly things for them to get a prize, a box of Fantastic Delites.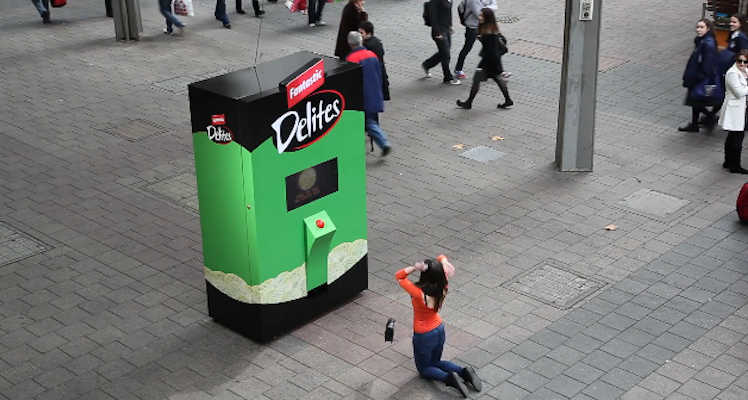 Make Them Work for It
The objective is obvious. They want people to try their product. The traditional route is to have other people to give it away who are willing to take it.
The reason it doesn't work? No relationship was developed between the customer and product and the customer didn't spend time with product.
The Fantastic Delites successfully did both. By asking people to do silly (but easy) things, they gave people an excuse to have fun. It subliminally conditioned people into thinking that the brand is fun.
It was also wise to escalate the challenges, going from pushing the buttons 100 times to 5000 times (yes, someone took the challenge) to kneeling down to worship the product to dancing to lying down on the ground. It made things interesting which drew more people in.
The harder, more like sillier, the challenges become, the better the feeling when the reward is given.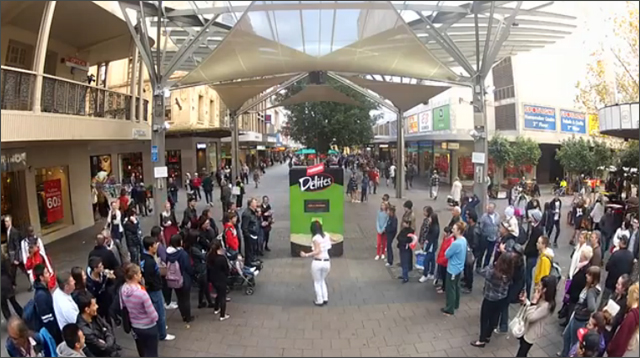 The Result and The Lessons
Aside from videos of people acting like dorks, which is priceless, they have people kissing their product, waving it around like a trophy, rejoicing over it, and getting other people to take a challenge so they can also get free Fantastic Delites.
They got their customers, who they just made work to get their product, to be their product's marketing agents.
Contrary to what other marketers say, mascots are still in. You just need one that has better sense of humor.
[youtube http://www.youtube.com/watch?v=R8RIqJLUYSE]
Play the Delite-o-matic online athttp://on.fb.me/LZPCm1 and win tasty prizes. Like us on Facebook at http://www.facebook.com/fantasticcrackers – For more videos of the Delite-o-matic check out http://bit.ly/Qlrufa