Is it a bird, is it a plane… it's a pink Fiat 500 floating through the Amsterdam Gay Pride!
The advertisement was made by Saatchi & Saatchi Leo Burnett for Fiat to advertise their limited edition Fiat 500 in Pink whilst Gay Pride was held in the canals of Amsterdam. Because it's a car, the idea was that the car would float with the rest of the parade, which it did, adding a cool shock factor and prompting people to share the amazing pink floating car on their Twitter accounts.
Over the course of time, humanity as a unit has grown, but we have not grown as humans as we wish we had. Gay Pride is one of the reminders of where the human mind becomes narrow, as many countries still ban gay marriage, gay adoption, deny the rights of transgender people, many countries see being gay or transgender as illnesses. Gay Pride becomes a marketing event itself for people to state that there is nothing wrong with love and being who you are.
The ethics of advertising during human rights celebrations
Marketing products and brands during Gay Pride is a rather controversial topic among the LGBT community (to whom Fiat is trying to advertise to here). Due to human ignorance many people boycott brands if they are LGBT-friendly, with a famous instance being some people who boycotted Burger King due to its Gay Whopper. This makes LGBT-related advertising a way to shoo out everyone who would not buy it just because it supports human rights, a practice which itself seems as risky – but is it though?
Statistically, LGBT people make a large percentage of the population (without accounting for the fact that most polls are by large underestimations of the actual number). Without doubt, LGBT people (as any group) is expected to be more interested in brands which actually support them over ones who play anti-LGBT stunts (remember Barilla, who had to apologize then took a positive U-turn on their stance).
On top of the 'yes, look at us, we're accepting' factor, what really does add a name and a reputation to companies like FIAT is the fact that they are the sponsors of Gay Pride. These events cost a lot of money and the more sponsors you get, the better and bigger they can be.
So, is cashing in from a human rights celebration an actually bad thing?
No, it's not. In our day and age, where the media wipes off LGBT characters and statistics, it becomes even a nice gesture for a car to state that it's from a gay-friendly brand. Now, what do they do? Do they help shelters? They're sponsoring Gay Pride, and that's already good enough.
Why pink?
When it comes to the Pink color and its hashtag, it can be taken both ways: either a stab to the macho culture of "not wearing pink" (which is a big contradiction, considering the days where pink was actually a masculine color), or/and a shout out to an actual cause since back in WWII gay people in concentration camps would have a Pink Triangle on their clothes, pink becoming the gay color ever since.
Either way, pink is the right color indeed, but it singles out the audience. When it comes to a brand who actually steps up and states that they believe in Equal Rights (even if the brand doesn't actively do much), it's still a strong message and they still funded Gay Pride. They do cash in with that ad, but all ads cash in – that's the purpose of every single ad after all. But we'd all rather cash in from an inclusive ad than an ignorant, outdated or repetitive one. By the end of it, the product sells, everyone is happy (besides homophobes), and it just becomes a regular ad which managed to sell the product.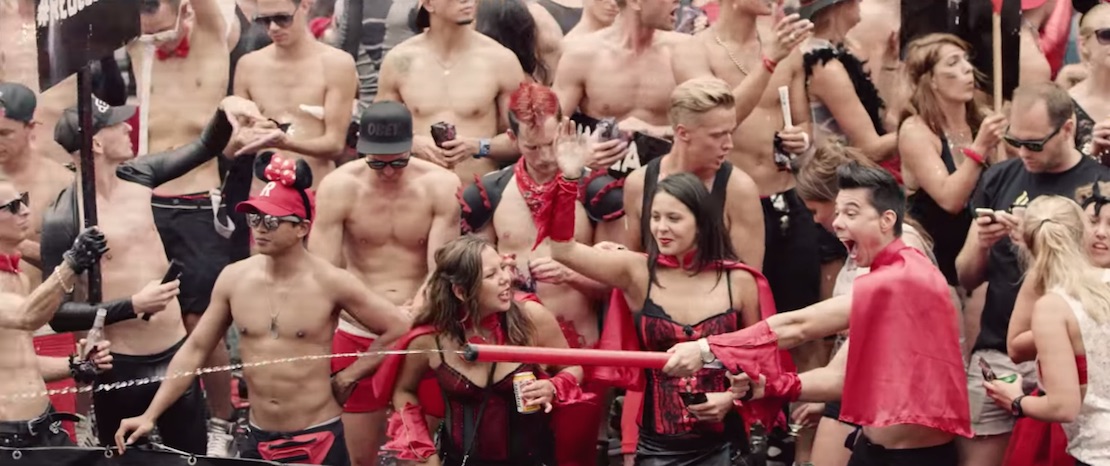 Credits
Advertising Agency: Saatchi & Saatchi Leo Burnett, Netherlands
Concept: Jan Bosch, Tim ten Dam
Art Director: Tim ten Dam
Copywriter: Jan Bosch
Account: Mathieu Veldhuijzen, Vanessa Snoeij, Simone Ottenbros
Production: Matemade / The Floating Company