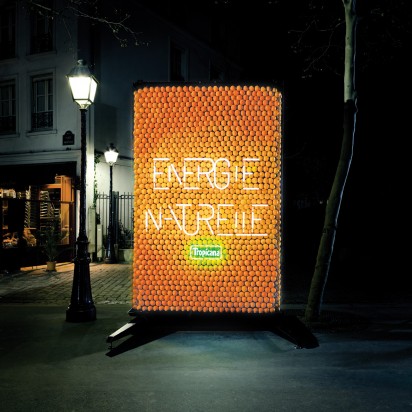 Recently, there has been some really good guerrilla marketing campaigns that have been produced. Did you know that over 2,500 oranges have enough natural energy to power a light fixture or than 1 out of 5 people suffer from a mental disease?
Through guerrilla marketing, we learn the solutions to many challenges an can educate our audience through the use of creative marketing tactics. Like all guerrilla marketing campaigns, the major challenge is getting buzz around a product or an idea without having to invest a lot of time or money.
Below are 15 of the best guerrilla marketing campaigns that were recently captured and documented. It is really exciting to see the thought process behind each camptaign that you would not normaly get from seeing a still photo.
Let us know which is your favourite and what you think is the most effective by commenting below!
---
Encontrar+se: UPA Guerrilla Sticker Art Book
Advertising Agency:Â Lowe Ativism, Lisbon, Portugal
Creative Directors: João Coutinho, Susana Albuquerque
Art Director: Ana Magalhães
Copywriter:Â Tiago Vital
Illustrator: Ana Magalhães
---
Tropicana: Billboard powered by oranges
We created a billboard that harnesses the energy from oranges to illuminate a neon sign that reads "Natural Energy" & the Tropicana logo. Through several thousand spikes of copper and zink, a lot of wiring and 3 months of testing we managed to make a giant multi-cell battery powerful enough to light up a billboard. The custom build was produced by Unit9 in collaboration with director Johnny Hardstaff who created the accompanying 90second film.
Creativity Online reports that 2,500 oranges were used and fitted with zinc and copper spikes, and "the orange juice dissolved the metals, causing their electrons to create a current."
Advertising Agency:Â DDB, Paris, France
Executive Creative Director: Alexandre Hervé
Creative Directors: Siavosh Zabeti, Alexander Kalchev
Art Directors: Alexander Kalchev, Siavosh Zabeti
Copywriters: Siavosh Zabeti, Alexander Kalchev
Director: Johnny Hardstaff
Account Director: Julie Régis
Agency Producers: Guillaume Cossou, Florence Gabet
Production Company: Unit9
Executive Producer: Piero Frescobaldi
Producer: Michelle Craig
Production Design: Alex Marden
Installation / Special Build: Artem UK
Sound Production Company: THE
Editing Company: Final Cut
Editor: Ed Cheesman
Grading: MPC
---
Guronsan: The hangover Monster
Advertising Agency:Â Lowe Ativism, Portugal
Creative Directors: Joao Coutinho, Susana Albuquerque
Copywriters: Susana Albuquerque, Sofia Menezes, Vasco Cardoso
Art Directors: Joao Coutinho, Pedro Santos, Nuno Pinto
---
Wonderbra: Trampoline [NSFW]
Wonderbra has the reputation of a no nonsense approach of promoting their products. Many women who want to wear a strapless bra with their dress are left feeling unsupported and often fall victim to the 'nipple-slip' effect. Wonderbra created a special dressing room fit with a trampoline to let women test the effectiveness of their new product.
**UPDATE: Unfortunately we had to remove this video as requested by the producing agency.
---
bauMax: If you're out, you're not at home
Advertising Agency: PKP BBDO, Vienna, Austria
Creative Director: Christian Gosch
Art Director: Robert Dassel
Copywriter: Christian Gosch
---
Auditiva – Subtitled park
Advertising Agency: Awesome pomegranate, Copenhagen, Denmark
Art Directors / Copywriters: Nicolas Rafn, Kenneth Kaadtmann
Published: June 2010
---
Vancouver Whitecaps FC: 3D projection mapping
Advertising Agency: Slingshot communications, Vancouver, Canada
Design & Visual Effects: Jump Studios
Projections: The Media Merchants
---
Amnesty International: iPad Ad
Advertising Agency: TBWA, Berlin, Germany
Executive Creative Directors: Kurt Georg Dieckert, Stefan Schmidt
Creative Direction: Dirk Henkelmann, Philip Borchardt, Frederik Frede
Account Management: Maike Schröder, Christoph Erdmann
Design: Chehad Abdallah
Programming/Prototyp: Kay Siegert
Technical Concept/Direction: Torsten Bergler
---
McDonald's: Dip Dip Nuggets
Advertising Agency: Leo Burnett, Shanghai, China
---
Kit Kat: Klock
Ad campaign for Kit Kat shown in various places across London.
Advertising Agency: JWT, London, United Kingdom
Executive Creative Director: Russell Ramsey
Creative Director: Jason Berry
Creative Team: Hugh Todd & Adam Scholes, Richard Buchanan
Producers: Toby Clifton
Footage: Grant Raphael
Motion Graphics: James Ireland
---
Teddy Bear Museum: The footprint poster
Advertising Agency: Supernormalvoice, Seoul, South Korea
Account Executive: Saeyoung Kim
Creative Directors: Swan Song, Saeyoung Kim
Art Director: Swan Song
Copywriters: Saeyoung Kim, Swan Song
Photographer / Filming : Kisam Kim
Others: Junghyun Kim, Youngtae Lee, Yeonyi Yoo
Published: August 2010
---
Heineken: Tastebuddies
Tastebuddies by Heineken is a concept that we created for Flow Festival in Helsinki. It was a show where two top designers with conflicting tastes were locked in a container. They got a a brief and 30 minutes to solve the problem. Did they walk out with a product that could actually be made? See the ideas and plenty of other stuff in campaign blog at tastebuddies
Advertising Agency: 358, Helsinki, Finland
Creative Director: Antero Jokinen, Erkki Izarra
Art Director: Maria Fridman
Copywriter: Antero Jokinen, Erkki Izarra, Valtteri Väkevä
Agency Producer: Sami Alppiranta
Designer: Ville Kovanen
Illustrator: Parra (Pieter Janssen)
Agency Producer: Petra Hakala
Director: Miikka Lommi
Client: Ossi Ahto, Brand Manager
---
Nestea: Wonderful Machine
Advertising Agency: Publicis, Tel Aviv, Israel
Chief Creative Officer: Enon Landenberg
Creative Director: Dudu Dahan
Account Supervisor: Danit Raz
Account Manager: Ofri Liran
Art Director: Yaron Sagy
Copywriter: Yulia Flerov
Web Designers: Ilia Guseinov & Eran Yammer
Programmer: Odelia Talgawker
Technological Developer: Ofer Leshem
Content Media Managers: Idan Kligerman, Yuval Gross
---
Voyages-Sncf.com: The Escape Service
Advertising Agency: DDB, Paris, France
Executive Creative Director: Alexandre Hervé
Creatives: A. Kalchev, S. Zabetti
Agency Producer: J. Mathiot
Account Director: Stéphane Hardel
Account Manager: Fabien Donnay
Account officer: Hélène Lardier
Production : Henry
Directors: Pleix
Construction of the boxes: Guillaume Amossé
---
AXA Bank: Giant QR Code
AXA declares 2011 as the year of renovation.
And for the launch of their respective renovation loan, AXA has again come up with a – for the financial sector – awesome campaign. They have created one of the largest and possibly also one of the most beautiful QR codes in Belgium. They have achieved this by placing thousands of different colours of tins of paint to form a gigantic QR code.
Anyone who would like to see these gigantic QR codes for themselves can find them in the Dansaertstraat or the Charles Quint Avenue in Brussels from 23 February 2011.
Advertising Agency: Duval Guillaume Antwerp/Modem, Belgium
Creative Directors: Geoffrey Hantson, Lansen Walraet
Art Directors: Ad Van Ongeval, Kristoff De Prins
Copywriters: Dieter De Ridder, Philippe Blonde
Production: Moker
Account Director: Dimitri Mundorff
Account Manager: Bart Verschueren, Kristoff De Coninck
Online: Christoph Boost, Stijn Janssens
Chief Technology: Steven Pauwels
Design: Wim Sels
Director / Video: Wouter Lierman
---