The Brief:
Every year in Germany, more than 100,000 children and young people are reported missing. So, on behalf of "Initiative Vermisste Kinder" (Missing Children's Initiative), we launched a unique campaign designed to track them down: Deutschland findet euch (Germany will find you). The brief was to quickly establish the Facebook page as a high-profile cause. For this, we started a promotion with focus on people living in the Germany/Austria/Switzerland region.
The Implementation:
At the football match FC Bayern Munich versus Real Madrid, Bayern captain Mark van Bommel entered the playing field without a child mascot holding his hand to accompany him. Instead, the Munich player was carrying a poster with a photo of the missing girl Debbie and a reference to the website www.deutschland-findet-euch.de.
The Results:
Broadcasted live in over 40 countries, the kick-off put the fate of missing children at the forefront of public attention nationwide for the very first time. The game was watched by 15 million TV viewers, followed by more than 40,000 new Facebook fans recruited. There were uncountable reports in numerous print and online media, including all main TV channels. Today, over 100,000 Facebook fans are currently participating via "Deutschland findet Euch". • 15,000,000 Euro Media coverage. • 40,000 new Facebook fans in one week. • A total global exposure of 55,000,000. • 69,000 viewers in the stadium. • 15,000,000 TV viewers worldwide.
The Explaination:
Without any budget we wanted to get as much attention as possible. So we used the famous football match between two of the world's best football teams: FC Bayern Munich versus Real Madrid. The game was also realised in honour to football legend Franz Beckenbauer. The perfect stage to spread our message. So, the media had already been informed in advance and sports reporter Béla Réthy informed viewers live in 40 countries about the "Deutschland findet Euch" campaign.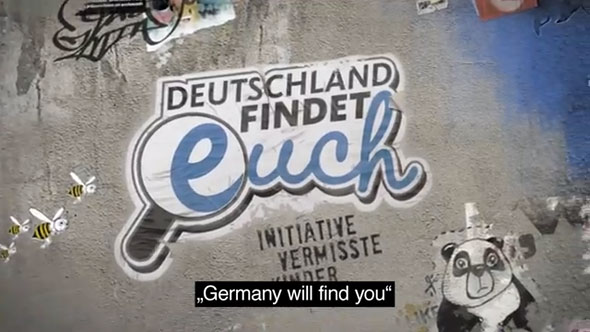 Advertising Agency:Â Kempertrautmann, Hamburg, Germany Creative Director / Account Manager: Marcell Francke Creative Director/Account Manager/Programming: Patrick Matthiensen Art Director/Graphic Designer:Â Leif Johannsen Copywriter:Â Sebastian Merget Graphic Designer:Â Bruno Luglio Account Managers: Carolin Panier, Biljana Retzlik Production: Alexander Kate / cmp Involved Agency: fischerappelt
Winners of the 2011 Cannes Lions International Festival of Creativity
via AdsoftheWorld and Cannes Lion