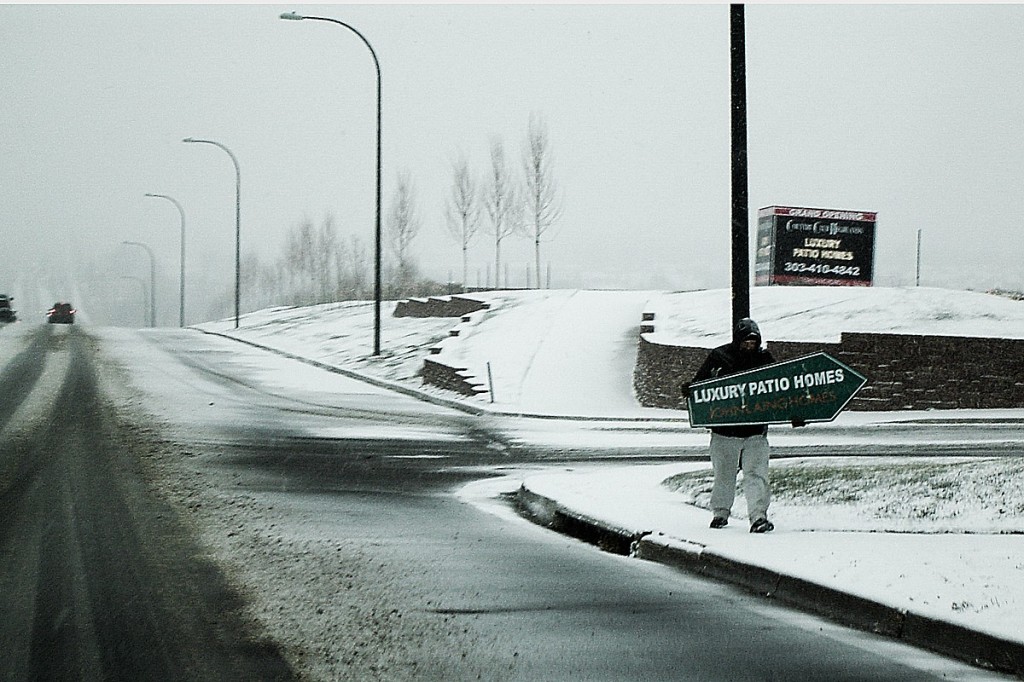 Planning effective guerrilla marketing is difficult at the best of times. If you live in a city like I do (Toronto, Canada) then it is made all the harder in the winter months for a variety of reasons. Prospective client's expectations are no different in June than they are in December (for good reason). However, active guerrilla marketers can testify that the variables can make planning a little more difficult than usual.
Here we have some examples of important variables at this time of year, and more importantly, how to counter them and use them to your advantage.
Your Newest Partner…..
Ok, so Al Gore is on to something, global warming is upon us. Subsequently just because there was never snow in December when you were 10, doesn't quite mean you can ensure the same outcome now. Let me therefore introduce your newest asset….your TV.
The weather network will become your trusty friend on days leading up to an event. Keep tracks on what the weather is supposed to be like. No matter what you are promoting, and how amazing the offer/product is, if it's a blizzard or minus 20, people will not be willing to stop and hear about it no matter how brave your staff are. They'll just want to get home and in the warmth. Therefore plan an alternative day 1-3 days later. When scheduling, let staff know they must be available for this day in case of cancellation.
The Dreaded Morning Cancellation
My high school teacher used to say exam time was a dangerous time for grandparents, as it seemed every year a few would pass away with students looking for extensions!
We all know our staff are great, but the cold weather often brings the same type of excuses out of them. It can't be coincidental on a cold day in December a few members cancel because they have a mystery virus, when you went all of July with no cancellations. Plan for this! Campaigns which only require a few people should not be problematic. But if you need 20 ambassadors for example then schedule 22. Build it into the cost. It will ensure any last minute cancellations are covered. Worst case scenario you will have an extra pair of hands if there are no cancellations.
Look After Your Staff
This time of year offers a little less job satisfaction for staff. It's cold and not as easy to keep motivated as it is when it's 30 degrees in June.
Make sure you plan a little more break time than usual to enable staff to stay warm and refreshed throughout the campaign. Shorter shift time or split shifts is also advised. Working outside for 8 hours in June is a luxury, and a perk of the job, however 8 hours in the middle of winter is verging on torture! Also, don't be a scrooge, dig into your pocket and spend $15 on buying coffees for everyone at the beginning or end of the shift. Little gestures can go a long way in ensuring you get the best out of staff in these colder months.
Promo That Makes Sense
If you have a budget that allows it, and are looking to distribute promo, distribute promo that makes sense at this time of year. Great items for the cold weather include toques, scarfs, mittens and gloves.
I currently have a client sponsoring an upcoming 'Polar Bear Dip' in January. Over 600 people will run into a freezing cold lake for charity. Following this, ambassadors will be on hand to distribute branded scarfs to every participant. Its great exposure as everyone will get use of the product that day, thus it will create a strong visual. Lots of photos will be taken as well as potential media that the branded scarf may appear in. Distributing seasonal promo makes more sense than handing out candy 12 months of the year. There is a great chance the promo will continue to get used for the rest of the winter.