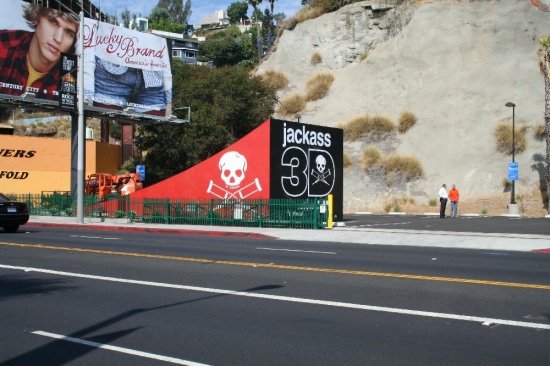 There has been a surge of 3D movies recently as the technology is becoming more widely accepted and used. With that being said, what is the best way to market a 3D movie to the public and bring them the 3D experience without actually seeing the movie?
The Jackass crew, notorious for their outlandish stunts and crazy antics, recently filmed Jackass 3D.This is their first 3D film in their arsenal so Paramount decided to do something a little different.
A Jackass 3D stunt billboard was set-up at Sunset and La Cienega in Los Angeles to promote their upcoming film. This was a great way to generate buzz and bring the 3D experience to the public. It captured the 3D nature of the film and brought viewers to the theaters. Check out the rest of the photos below and let us know how you'd go about promoting a 3D film by commenting below!