Show the benefit. Dangle the carrot. What's in it for the consumers?
These are the most common sentences you will hear when someone is creating a marketing campaign. It is for a good reason. It is the benefit that pushes a consumer to buy or use something.
Where it usually fails is the execution. It is easy to think of the benefit and it is easy to come up with even more benefits. The hard part is actualizing those benefits especially if the benefit is more than just money.
OBI and the Challenge it was Facing
Many Do-it-yourself stores close last year. It was a result of both economic challenges and the over abundance of DIY stores. People had a choice and it was forcing DIY stores to pull their prices down. Only those that could fight the price war survived. OBI, Germany's largest DIY-store chain, didn't want to join the price war but also didn't want to lose out.
Jung von Matt came up with an innovative and new form of advertising.
The Insight
They wanted to look for creative solutions instead of doing some sales efforts. Naturally, they observed how competition was doing it and they didn't like what they saw… literally. Ads of DIY stores advertised equipment that were supposedly meant to be used to renovate or or create things that could make a home beautiful but the advertising itself was  aggressive, blatant and rather ugly.
They cannot continue creating billboards that show nothing but the product with a huge copy painted or plastered against an ugly wall. They had to distinguish itself from the competitors' low-budget advertising?
Solution
The solution came with a simple question: "Why promote things that make our homes more beautiful, with advertising that makes everything look uglier?"
Instead of advertising products such as hammers, saws or paint Jung von Matt shows the benefit of the products by actually renovating the walls of the most rundown houses closest to their stores. After that, they pasted their logo at the bottom part. However, they only renovated as small part of the wall, as big as the size of the billboard. This allowed for a direct comparison on what people can achieve with the products they sell.
The concept was simple. They literally showed the benefit of the products they were selling on their stores. The result: More beautiful houses and more beautiful advertising.
OBI Renovated Billboards is an outdoor campaign created by German advertising Agency Jung von Matt/Elbe.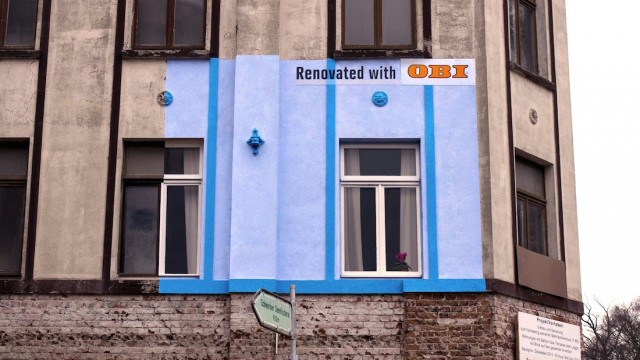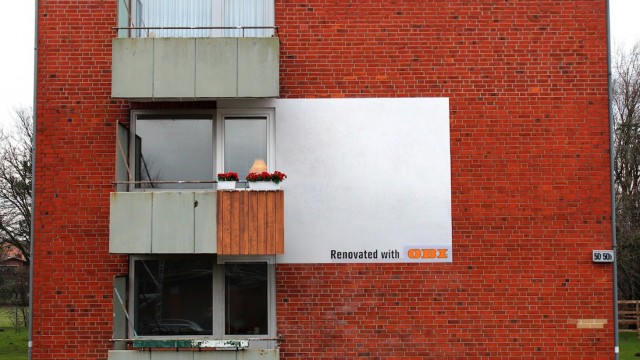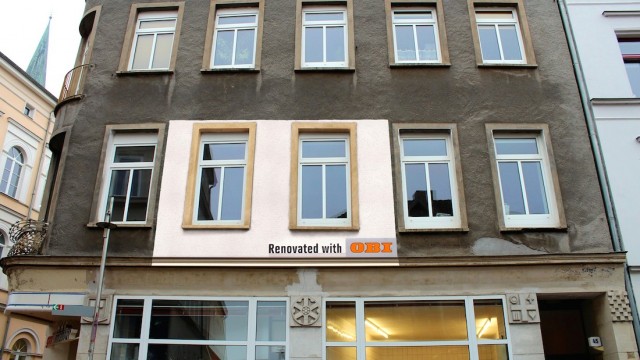 Credits
Client: OBI
Advertising Agency: Jung von Matt/Elbe
Chief Creative Officer(s): Dörte Spengler-Ahrens, Jan Rexhausen
Creative Director(s): Felix Fenz, Alexander Norvilas
Art Director(s): Michael Wilde, Max Pilwat, Michael Hess
Copywriter: Felix Fenz
Creative Team: Max Pilwat, Michael Wilde