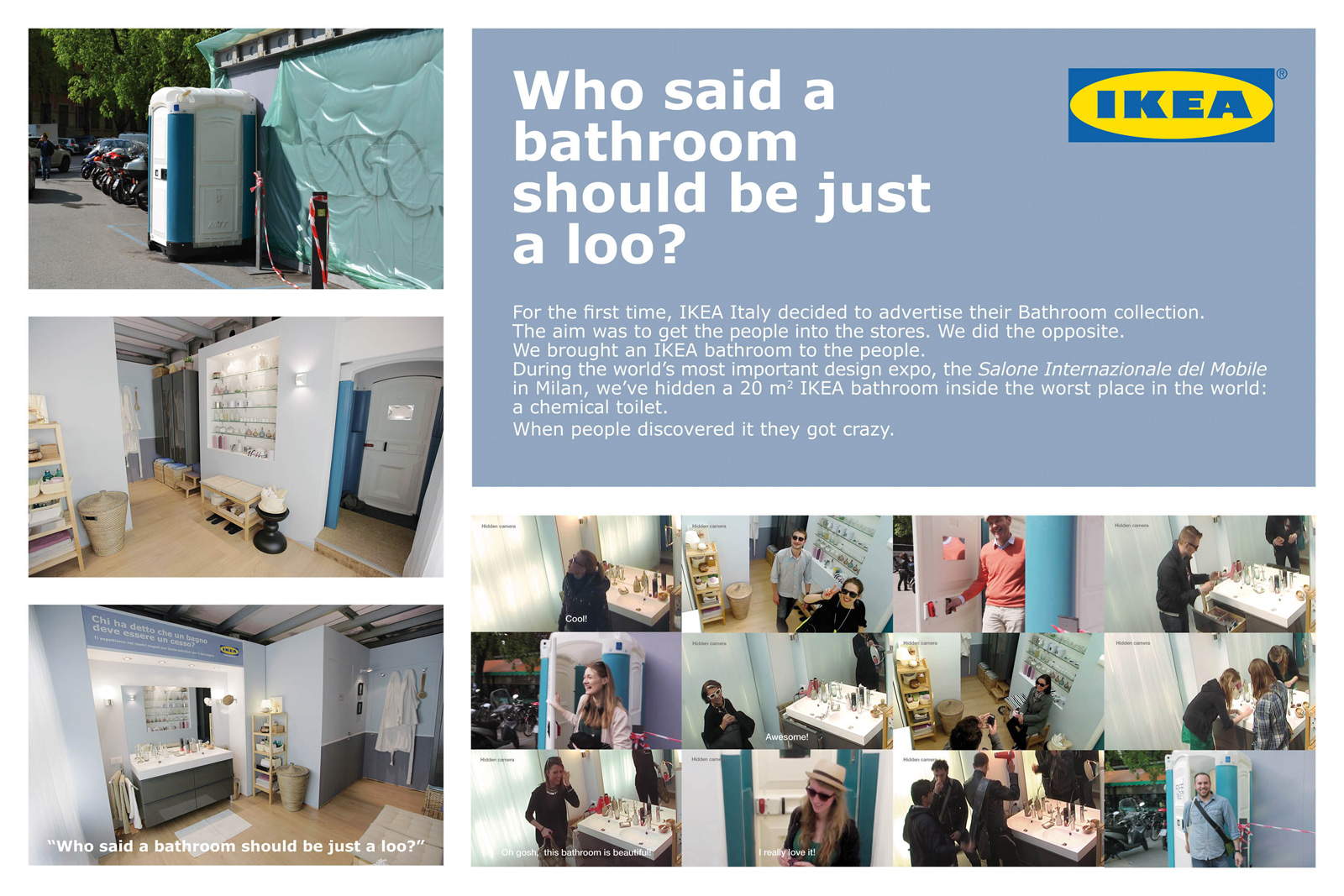 "Let them experience our product."
That's one of the most popular line you will hear from a client [and from an advertising agency]. Anyone working in the advertising industry would tell your that. They know that letting the customers try their product beats the hell out of showing hero shots accompanied with smart taglines. The problem is that it is way easier said than done.
How do you make your customers experience your product through advertising and marketing?
Ikea Proved It Is Simple
They proved that the only way to make your customers experience your products is to literally make them experience your products.
Ikea built a functioning Porta Potty in the swish Tortona zone during the Salone Internazionale del Mobile in Milan. When you look at it from the outside, it looks like an ordinary porta potty but it is actually a magic door that leads to a well-furnished 20×20 living space. There are sofas to sit on, cabinets, and other pieces of furniture which people can use.
It Seems The Opposite Of The Intention
Companies naturally want to push people to their stores where they actually sell their products. Aside from a poster that encourages people to visit their stores, the campaign seems to give the consumers what they are supposed to experience once they are already in the stores. On the onset, you'd think it goes against their strategy.
Apparently, Ikea believes in their products enough to be certain that once people experience their product, they will go out of their way to visit Ikea the next time they are in need of furniture. They believe that they don't need to trick their consumers into going to their stores.
Brand Interaction
Ikea also achieved something very few brands get to do, allow their products to actually interact with the customers. They didn't just ask the customers to watch something "amazing". They actually made their customers touch, use, and experience something amazing.
For a brand known for unapologetically mass manufacturing their products, Ikea is proving to be one non-traditional brand.
[youtube http://www.youtube.com/watch?v=5F_f2TwXvzo&w=560&h=315]
Advertising Agency:Â 1861united, Milan, Italy
Executive Creative Directors: Pino Rozzi, Roberto Battaglia
Creative Directors: Francesco Poletti, Serena di Bruno
Art Director:Â Serena di Bruno
Copywriter:Â Francesco Poletti
Account Director:Â Silvia Cazzaniga
Account Supervisor: Matilde Dettin
Published: April 2012