It wasn't too long ago when Y&R and Land Rover came up with a genius marketing concept. To promote the Land Rover, they gave away a survival book to each of Land Rover buyer. It was no ordinary book however, it was an edible book.
It is still fresh in my memory and here they are again with another simple but genius concept – the Land Rover Escape Key.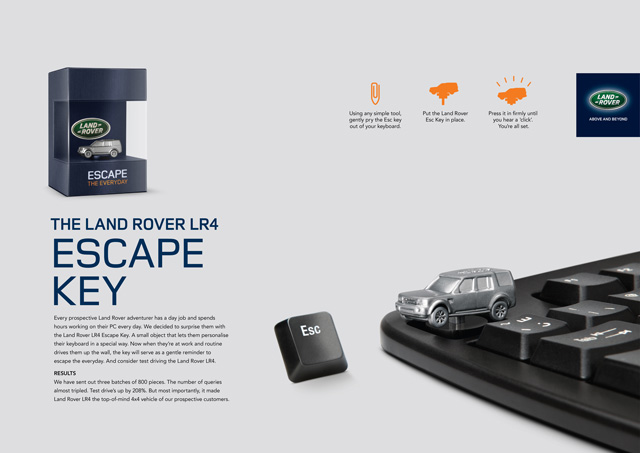 The Concept
The Land Rover Escape Key is quite literally an escape key. Made to look like an actual Land Rover, you can take your current escape key and place this one on it. The intention is to constantly remind those whose lives are  locked to the computer that there is a world out there they should explore and they could do it it with a Land Rover.
It's one of those campaigns that push marketers to think how in the world did they miss that opportunity before. It was an opportunity literally staring people in the eye.
The Genius Behind the Simplicity
The ESC key has always been placed in the same place in every computer and it is a key that people use at least once everyday.
There are so many brands that could associate with it. In fact, almost every leisure-related brand could associate with the concept of escaping but no one has thought about it before.
Then, there is the overwhelmingly simple procedure on how to use. It's easy to put and easy to take out but who wouldn't want to use it? It's a great "disruption" on the keyboard, a simple way to break the monotony of the pad. Not only is it shaped differently, it protrudes.
The Disadvantage
It's  great accessory for laptops that don't get carried around a lot but it presents a problem to laptops that are mobile. the key, as mentioned above, protrudes.
However, it's almost insignificant. The minute someone uses it and interacts with it, the jobs is pretty much done.
The Result
One good thing about the whole campaign is the realistic expectation of the client. No advertising effort can ever fully convince anyone to purchase a car. It boils down to performance. In this case, the goal was to increase test drives and inquiries. The campaign increased both by more than 200%.
That's success in my books.
Advertised brand: Land Rover
Advertising Agency: Y&R Mena