Penguin Random House Canada took to the streets of Toronto on Tuesday September 1st to promote the release of the newest edition to the Millennium Series "The Girl in the Spider's Web" by David Lagercrantz.
The first three books of the Stieg Larsson's Millennium series exploded onto the scene and in March 2015 had sold more than 80 million copies worldwide. Most people will recognize the title of the first novel in the series "The Girl with the Dragon Tattoo" which was made into a blockbuster movie starring Daniel Craig and Rooney Mara.
A group of 20 women dressed up as Lisbeth Salander and attracted bystanders by wearing matching black leather pants and jackets, black wigs, a variety of silver jewelry and of course open backed shirts to show off their matching dragon tattoos. They also had at least three black mopeds as an homage to Lisbeth Salander's motorcycle, which added to the protagonists punk rocker look.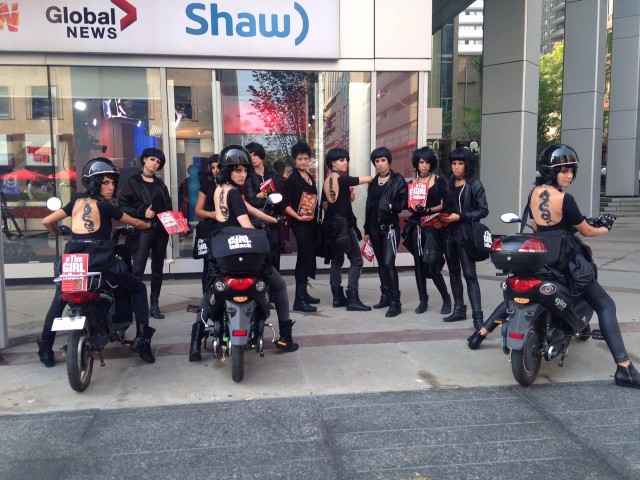 The group of 20 Lisbeth's, including one Penguin Random House Canada employee were handing out mini printed excerpts of the book to pedestrians in a variety of locations downtown Toronto. Different locations the Lisbeth's could be found included Union Station, Nathan Phillips Square, Bay and King and the Indigo bookstore at Bay and Bloor.
The campaign was supported by the Penguin Random House Canada social media accounts, including Twitter, Facebook and Instagram and utilized the hashtag #theGIRLisback.
The @PenguinCanada twitter feed was presented as having been "hacked" by the lead protagonist of the novels, Lisbeth Salander, and was followed up with tweets of where followers could find the Lisbeth Salander's in Toronto throughout the day.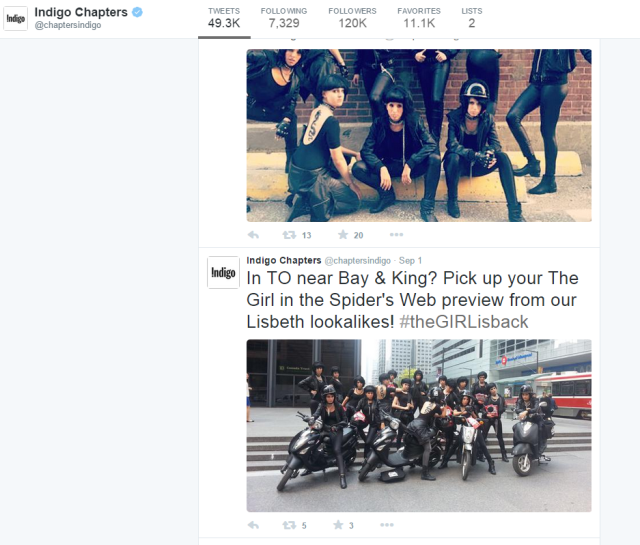 The "hack" quickly took over the @RandomHouseCA account, eventually crossing over to the @ChaptersIndigo, @indigogreenroom and @IndigoBayBloor accounts to reach a collective 220K followers.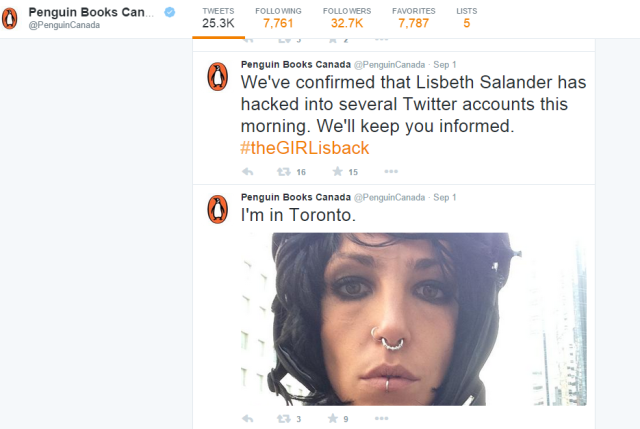 Penguin Random House Canada was able to impact a large number of readers by combining the in-person Lisbeth Salander's and printed excerpts of the book with social media. The only thing that could have made this campaign better would have been providing a digital download of the excerpt to the Twitter, Facebook and Instagram followers. Although with copyright law this may not have been an option.