When the Nike+ FuelBand SE first hit the market, it attracted a lot of attention, and it was no surprise. The innovative new fitness technology took exercise and keeping active to an entirely new level, and people were definitely interested. The band's technology tracks every movement that users make throughout the day with NikeFuel, which is designed to measure the whole-body movement of a person, regardless of their individual specifics. Initially, NikeFuel was just an interesting way of keeping track of your activity, but recently some New York City Nike users got a hint of the value of those points.
The Nike+ Vending Machine
In this campaign, Nike set up a vending machine in a secret spot in New York City where Nike FuelBand users could swap their daily NikeFuel points for free Nike products. The products could only be swapped for NikeFuel earned in the last 24 hours, making it an ideal motivator to stay moving throughout the day. But, the vending machine, which Nike called the FuelBox, didn't hang around for long, and pretty soon it was off to another mystery location. But, not before it had made ripples all over New York City, both in social media and in the press.
Mystery Campaigns – Do They Work?
After seeing a number of guerrilla marketing campaigns that rely on mystery advertising like this one, we have to say that the jury is still out on their success as a whole. Certainly, in the case of the Nike FuelBox campaign it was an overwhelming success, both locally in New York City, as well as internationally thanks to social networks. But just why did this one work, when other mystery campaigns do not?
From A Recognizable Brand: There aren't too many people who aren't aware of the Nike brand, and whether or not they're users of the Nike+ FuelBand or not, this campaign both informs about the product, and inspires about the potential.
Shows Smart Social Sharing: It might have been Nike that set the scene initially by announcing the FuelBox, but it was dedicated brand mascots that shared and loved the campaign on social media. By sharing images and clues on twitter, facebook and instagram, others users were able to participate in a mystery treasure hunt that added even more fun to an already entertaining campaign.
It Didn't Stick Around: One of the best things about the Nike FuelBox campaign, and we're happy to say one of the things that cemented its popularity, is that it didn't stick around. The vending machine was there for just a few days, before it moved on, motivating conversations about where it might be going, and who was lucky enough to catch it.
Why We Like This Campaign
Sure, there's nothing groundbreaking about the products that Nike is swapping for NikeFuel. They're socks, t-shirts, hats and other similar Nike wear, so not exactly the shoes or other technology that other might expect. But, you have to remember that this is just the beginning for Nike, and they have done something totally amazing.
Not sure what it is?
They've monetized exercise! They've taken NikeFuel, which before was nothing but a great motivator for Nike+ users to measure their exercise levels, and they've given it a monetary value. For the brand, the success of this campaign really opens up the door for endless potential involving NikeFuel being used as currency for any number of goods or services. We're certainly excited to see what happens next with Nike+ after this one.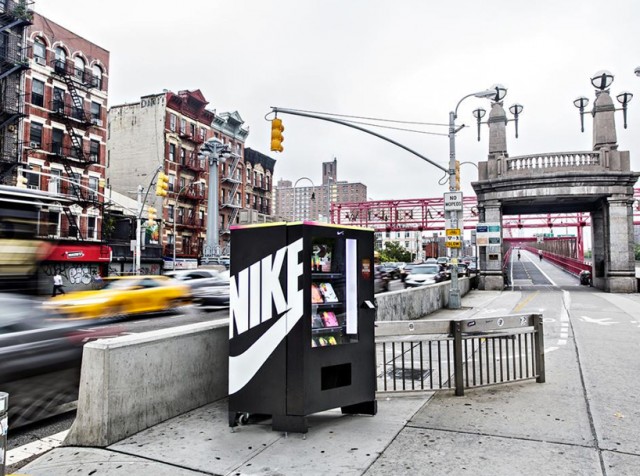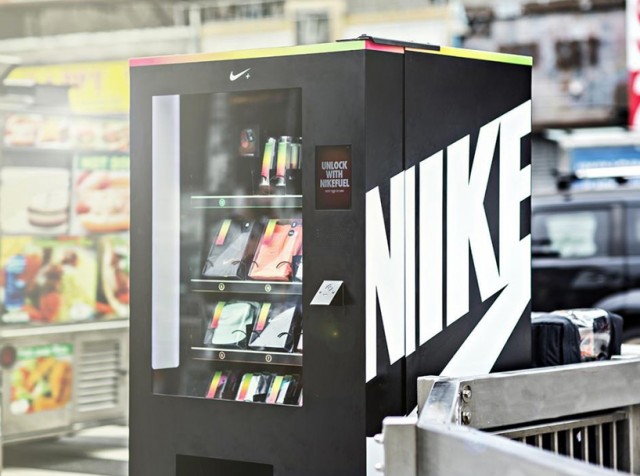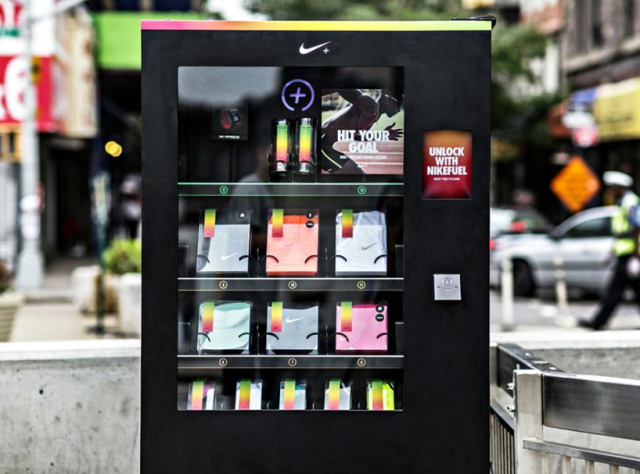 IMAGE VIA LSNGlobal & Nike