Any company who chooses a wolfdog for a Chief Marketing Officer is bound for greatness. After all, it takes a genius to realize that a dog could carry a multi-million brand like Old Spice.
Luckily, Old Spice has not yet ran out of genius and they actually got a wolfdog as their Chief Marketing Officer. With only a few days in the office, this talentless genius has posted several shamelessly ugly banner ads with horrendous graphics and worse than amateur-quality videos. He has even hosted a Google Hangout chat.
Because the Wolfdog is a genius, all his efforts have been successful. The darn campaign materials have been so bad that you just can't help but share it.


The Campaign
To promote Old Spice's new Wild Collection Cologne, Old Spice created a new brand ambassador, a Wolfdog.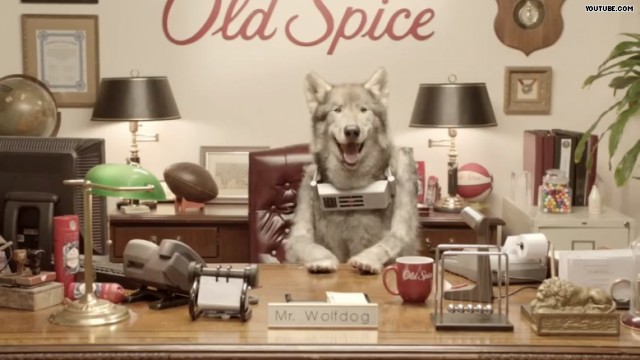 Mr. Wolfdog is a hands on chief marketing officer, conceptualizing and creating flash banner ads using his awesome photoshop skills and out of the box creative ideas. He has done everything, from banner ads to videos to live chats.
The Result
The wonderful thing about the whole thing is that criticizing it will only make you the moron because the materials were obviously made to be bad and laughed at but also pathetically old-fashion if you don't share and be amazed at the unbelievable brilliance of the Wolfdog.
What is even more important is understand what marketers can learn from Old Spice.
From the get go, Old Spice has always been the brand that takes the road less traveled. Their first effort with Isiah Mustafa proved that brands need not be serious even if they want to be taken seriously.
Humor works especially if you are marketing to men. In fact, humor works best when you marketing to men.
Humor is also a free pass to almost anything. The Old Spice viral video is hard sell, something that advertising people hate but the humor made it acceptable but not a single soul expressed hatred towards the whole blatant product display. In fact, people celebrated it. They celebrated it so well Old Spice shot up to #2 in their market in less than a month since the release of viral video from obscurity.
They are using the same strategy with Mr. Wolfdog and it's still just as effective.