"I might have told you this story, maybe not. When I was a kid my mother and I went to visit my grandmother, Marta at the diner where she worked as a waitress. She was older than the other girls who worked there and on Valentines day all the younger girls had roses and candy, but my grandmother had nothing. As you know my grandfather didn't believe in presents of any kind. He never gave my grandmother one gift, not even a card. Fifty years of marriage and seven kids she raised. I looked up at my mother and told her my wife would never feel the way my grandmother felt on that valentines day. Never." – Lonnie Anderson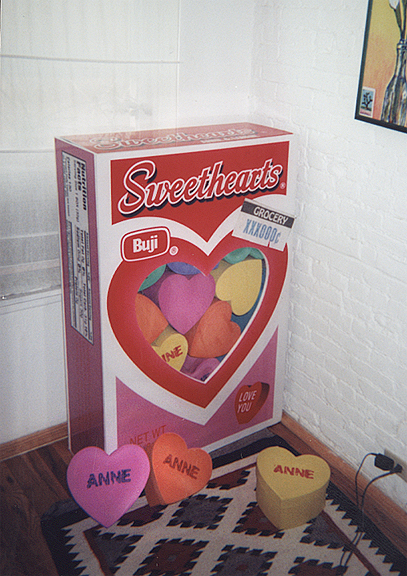 Love is in the air as we enter the month of February. It's the month where lovers are scrambling to find the perfect way to surprise that special someone with a valentine's day gift. You might assume that heart shaped chocolates and a dozen red roses will be sold worldwide in order to fulfill this need; however, for one of Creative Guerrilla Marketing's readers, flowers and chocolates is the last thing on his mind.
Lonnie Anderson, a creative director at an advertising agency, loves to put as much energy into his personal life as he does in his job.
"I feel like you have to be as creative with your life as you are with your job. I feel people get lazy and try and buy love. I spend as much time being creative on my family as I do on my job," said Lonnie.
Every year, Lonnie creatively thinks of new ways to express his love to his wife, Anne. The best part of his creations is that for the most part, anyone could do it with a little time and energy. Rather than buying objects to show his love for his wife, he most often creates unique experiences from scratch. Much like the concept of guerrilla marketing, Lonnie uses low cost materials that have high emotional impact!
Over the past couple years, Lonnie has created some very unique experiences for his wife. One year Lonnie placed signs all around his city on streets that his wife has been known to routinely travel. Each of the signs confessed his love for Anne.

What you may not have known is that Lonnie also enjoys several forms of street art. In the past, Lonnie did things like stenciling and graffiti around the city as another way to confess his love. A common concern with something like this would obviously be if there are any repercussions from the city. As guerrilla marketers, we often tread the fine line of what is ok and what isn't. When asked if he has ever gotten into trouble for one of his stunts, he replied that, "People seem to love it when someone is creative."


His greatest valentine he has ever done for his wife was the carousel. Lonnie set up a working carousel in his front lawn, all set up without his wife knowing. All of his ideas are planned several months in advanced so that it always goes over without a hitch.
It's truly an inspiration to see a man go through this much planning for one special day. It's even more inspiring for those of us who thought such things would never be possible! Perhaps this upcoming Valentine's Day, we should try something new and creative. All it takes is a little planning fueled by a lot of love and passion.
See more of his valentines creations here.
What will Lonnie do for Anne on this Valentine's Day?
**UPDATE 1/20/12Â – Here is what Lonnie did for this past valentines day!
Lonnie made his wife a queen for the day by building her a throne surrounded by jewels! See the video here.