When you're organizing a guerrilla marketing campaign, your number 1 goal is to get attention for you or your client's product. The very last thing you want is a problem that derails the entire campaign or, worse yet, attracts negative attention. For example, a campaign that failed to secure the proper permits before starting or ticks off people in authority by doing something inappropriate is doomed before it starts.
Here are three really smart guerrilla marketing campaigns that did it right, and lessons that you can take from each of them.
McDonald's Coffee Light
The shape of a streetlight inspired a great campaign from McDonald's a few years ago. It placed a coffee cup (with a note advertising free coffee) around the bottom of the light. Then it attached a faux coffee pot to the top. That made it appear as though the "coffee" (really the base of the light) was being poured into the cup.
The lesson: make a direct visual connection between the product and the offer.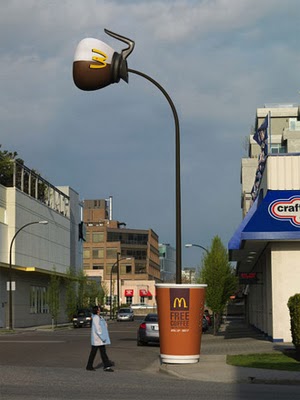 Fed Ex Kinko's Street Crossing
Fed Ex Kinko's set a super-sized (fake) bottle of white out on a corner, with the top placed next to the bottle, dripping with white-out. The bottle was located right next to a cross walk with the white stripes on it, making it appear as though the bottle had just finished painting the stripes. The bottle had a note saying "Go to Kinko's for all your office supply needs."
The lesson: look at things in a new way and you'll find inspiration for a campaign, whether it's set on a street corner or you do viral marketing like the Harlem Shake at the Dover Downs Casino.

Fitness Company Weighted Subway Grips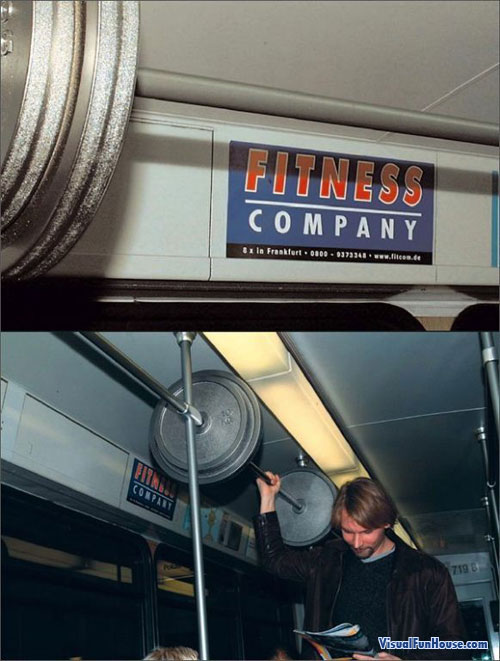 The bars at head level that riders hold onto on subway cars were transformed into weighted barbells by Fitness Company. The company placed faux weights a few feet apart on each bar. When riders clung onto the bars, it appeared that they were effortlessly lifting a very heavy weight over their heads. The Fitness Company logo was placed nearby so that it was clear who had sponsored the clever visual.
The lesson: promote results. Obviously the visual trick was meant to make it appear that when you use Fitness Company products, you become so strong that you can lift heavy dumbbells over your head with ease. It's a very effective illusion, and it definitely draws attention: the goal of any good guerrilla campaign.