The Purple People Greeter is a genius guerrilla campaign that was executed by e2 marketing. The campaign itself is much like the coca cola happiness vending machine but slightly different. In my personal opinion, I like this one better. Why? It has personality! Unlike the Coca Cola Happiness Machine, the Yahoo! Purple People Greeter was witty, friendly and unique!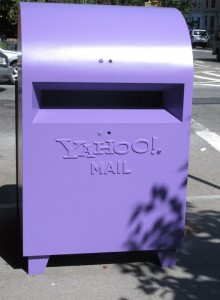 The Results
The video was viewed over 15,000 in the first weekend it was up. The Facebook fan page has over 400,000 likes and counting. We are still seeing lots of traction on video pass around and press so we are feeling really good about how much visibility it is getting.
Challenges / Details
The entire operation was covert – we had 2 "stakeout" style vans that held cameras, monitors, equipment and the voice talent. The vans were closed and parked along the streets so unsuspecting people would not have any clue that there was anything unusual going on. We had a team of 10 people but none of them were visible to consumers. We were all on radio to coordinate the logistics. The goal was to give people gifts that were personally relevant to them, so for example we had a couple who just got engaged so we gave them flowers, if we came upon Yankee fan we gave them Yankee tickets, dogs got dog bones etc. So we needed to have a system in place so that the person inside the mailbox knew what the talent ( who was in a stakeout van) wanted to give the person.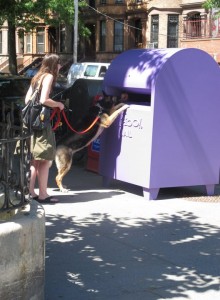 The other challenge was finding the right location: we wanted to have a steady stream of foot traffic, but in a relatively quiet location. We wanted to take people by surprise and it would have been tough to do so if there was a crowd around the mailbox at all times. Once word got out around the neighborhood and on twitter people came seeking out the mailbox. We had to strike the right balance.