Following up on our 30 Creative Facebook Timeline Cover Photos Article, we wanted to showcase some of the coolest Google+ Brand Pages we've seen since the new design.
Google+ recently got a facelift for profile/brand pages. The new Google+ design features a much larger cover photo design and rounded profile photos.
Users will also start to see larger cover photos with a better aspect ratio. Now, cover photos display 2120 pixels by 1192 pixels at a 16:9 ratio when fully expanded. "This way more images can be used as cover photos, and there's more room for your selection to shine," Google said.
If your company hasn't updated their brand page, it's time to get on it. It seems like a lot of companies have yet to update their design, so you could be one of the first to pioneer and do something creative. Keep in mind, the cover photos also allow for animated gifs. AWESOME!
The current trend seems to be using bold photography (naturally). Of course we are asking ourselves, why is no one using this for promotions? There is a lot of space to place some sort of messaging. Also, very few people are using animated gifs. This is the one instance where it could actually be very interesting to play with this large space.
Tips for Amazing Google+ Page Design
Go BIG:Â 

High-resolutions do wonders for the quality of the page. Be sure to use the exact maximum size (2120×1192).

Animate:Â Experiment using animated .gifs!
Use Type:Â Place any key messaging in the center of the design as the full image is never displayed upon landing.
No Such Thing As Pure White:Â Remember that Google+ places a black gradient at the bottom of the cover design. If you were thinking of using a mostly white minimalistic image, think again.
Crop Factor:Â The profile image comes in circular and square form. Design for both and be sure it doesn't get cropped.
Below are some great examples I've found; however, I encourage you to BE DIFFERENT and try something unconventional and unique. If you decide to take us up on our challenge, let us know by commenting below and paste a link of your Google+ Page Design!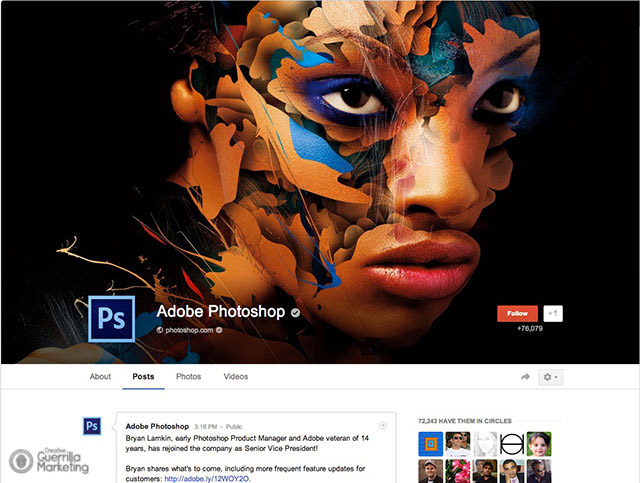 Recently Added via Reader Submission



@Blackout
Creative Guerrilla Marketing on Google+
Are you on Google+? Be sure to follow Creative Guerrilla Marketing on Google+!

If you've enjoyed this post, be sure to share it with your friends!