I remember it like it was yesterday.  Setting up my Twitter account and Tweeting that first Tweet on Twitter.  It was Friday, September 17, 2010, and it was like magic!  I had mostly ignored Twitter previous to this day, but on this day, Twitter became a part of me, and me, a part of it.  I dove in head first and was all in!
Mainly inspired by Scott Stratten of UnMarketing, my goal was modest enough, take Twitter by storm, show them who I was and become an overnight social media sensation!  Or at a minimum, grow my personal brand enough that I could start public speaking at some of the better-known SEO, SEM, and Content Marketing trade shows and get my name out there.  Maybe I was thinking I could go into consulting, and a large Twitter following would catapult me into that career along with a large client list that would be willing to spend thousands of dollars just for my opinion…HA!   
Getting Started on Twitter . . . Boy Did I Have a Lot to Learn!
Getting started was easier [and harder] than I ever thought it would be.  How in the world could anyone share coherent thoughts in 140 characters or less?  Impossible I thought to myself.  Benign, irrelevant thoughts sure, maybe, but anything meaningful?  No way.  I very quickly came to realize that this way of thinking was woefully underestimating the power of Twitter and that of a simple Tweet.  Back then [in late 2010] you did not see a lot of Twitter in the mainstream media or as part of a daily newscast.  Today, Twitter is integrated throughout almost every live new broadcast and almost every live televised event!     
The early days were filled with small victories.  Getting a Retweet, a Follow or a Mention from an influencer was the most awesome feeling in the world!  I would often share these conquests with my wife, who was less than impressed, but humored me with a nod and a smile and sometimes even a "that's great sweetie" comment.  It didn't take long at all for me to get totally hooked on this platform, and by comparison at the time, do fairly well on it.  Over the next five years or so, I remained active on Twitter and grew a nice little following of about 15,000 people.
What Was I Doing Wrong?

 

Why Only 15K Twitter Followers in 5 Years?!?!?! 
In January of 2014, I needed a break.  I had been working hard to build an enormous following on Twitter and in just under four years I had "only" gotten to 15,097 followers.  That may seem like a lot to some, but when you are trying to be impressive on social media, trying to stand out in a sea of highly qualified and influential people, 15K was a drop in the bucket.  It was just not coming fast enough for me, so I stepped away for a bit and took a break.
I Finally Figured Out What I Was Doing Wrong!
Sometime in late 2014 (October maybe November timeframe) I started lurking on Twitter again.  Not really getting back into my old routine, but rather, hanging around the influential accounts and just watching.  What were they doing?  How were they interacting?  What content were they sharing?  Who was on their lists and why?  It was not long before I had figured out where I went wrong the first time around.  For the first five years of Tweeting, it had been about me!  Nothing but me.  What was "I" up to?  What blog post had "I" written and shared?  Sure, there was the occasional Retweet for an excellent article from someone else, but rarely did I assign proper attribution or use the best Hashtag, afterall, it wasn't mine. 
What I had come to realize is that the most popular accounts that I followed were most often sharing . . . get this . . . Other people's content!  You know, the "news" worthy content of the industry.  <Light Bulb Moment>  I had to, I mean HAD TO share the latest and greatest on SEO, SEM, Social Media and Content Marketing if I was going to build a name for myself as an industry professional.  But how?  How could someone possibly share THAT much content on a daily basis?
It was not possible in my opinion.  I had (still have) a FULL Time job as a Content, SEO and Social Media Manager running a team of 4 people and a backlog of content, SEO and social media initiatives as long as I am tall (6'2" in case you are wondering).  I work on average a 50-60 hours work week and have a very active family life.  There is no way I was going to be able to share content like these other guys.  No way.
How Twibble Saved My Account and Catapulted my Success on Twitter!
I knew there had to be a way to share high quality, industry related content that my followers wanted to read, share and engage with.  So at first, I turned to WordPress.  WordPress is always a good option because the development community there is second to none.  Surely someone had figured this out already and built a plugin that I could leverage on one of my sites; surely there HAD to be something?!?!
Nope…nothing that was going to do what I needed and wanted it to do.  So, I turned to Google and commenced to doing what SEO's do . . . searching my brains out to find what I was looking for!
To my surprise and elation, the first search I did was for "auto tweet rss feeds twitter" and it returned exactly what I was looking for!

A week of free trial later and I was hooked!  Twibble.io was, and still is, the BEST way to share the quality content that I need to be sharing!  The interface allows me to add RSS feeds quickly, easily and then to customize each feed with hashtags and attribution the way "I WANT" it!
Simply put, there is no other service that does this, with this amount flexibility and customization that I need to professionally share other people's content on Twitter. 
What's the Bottom Line?

 

How Has Twibble.io Affected My Twitter Following?
Once I started sharing other people's content and assigning correct attribution and popular hashtags, the floodgates really just began to open up.  The content I was sharing was getting Retweeted, Favorited and Liked by industry novices and influencers alike!  It did not take long for me to see the benefit of this service and I immediately changed my account from a FREE trial to a paid subscription.
The flow of additional, high-quality tweets (with graphics I might add) instantly affected my follower base, and it keeps growing and scaling as I add more RSS Feeds!
Here is what my Twitter account growth looks like from September of 2010, through March 1st, 2016: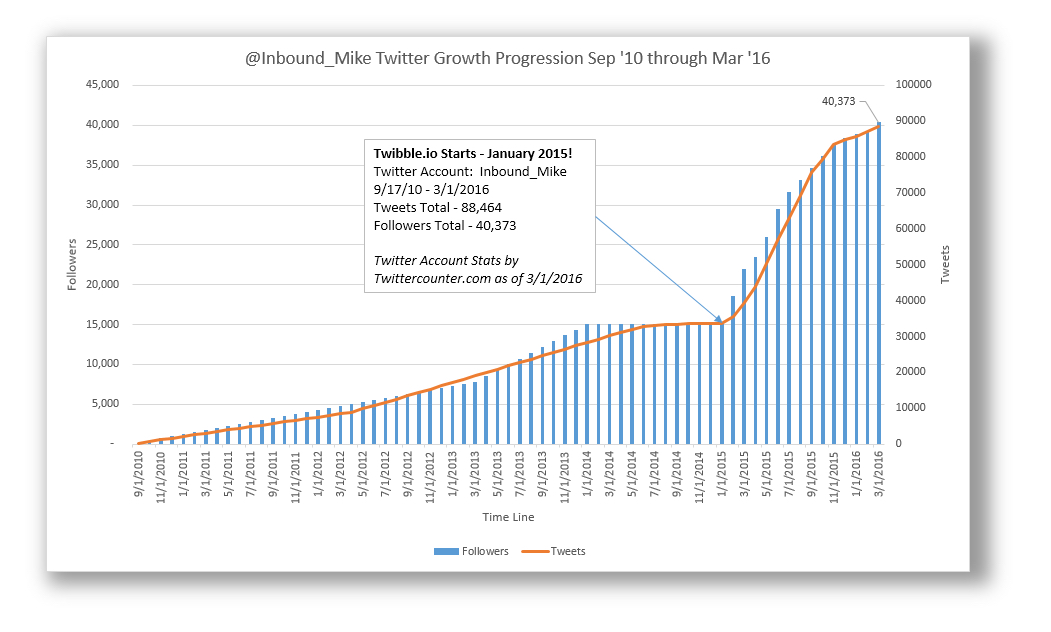 As you can see . . . It took nearly five years to go from zero to 15,000 followers.  And then, from January of 2015 to March 1st of 2016 (fourteen short months) I was able to grow my account by an amzing 167.99% to an incredible 40,373 followers!  Not just any followers mind you, these are engaged and interactive followers that appreciate me and the content that I share.
"Do you have any Fake Followers?"  – I can hear the question rambling through your head as I type this (hey, I would ask the EXACT same question).  The short answer is no!  Of course, every account has a percentage of questionable followers, but my account, to the best of my knowledge, is one of the cleaner accounts out there!  If you are curious though and want to audit my account (or your own account), please feel free to do so!  I use a tool called TwitterAudit.  Here are the results of the last audit of my account (ran on 3/7/2016):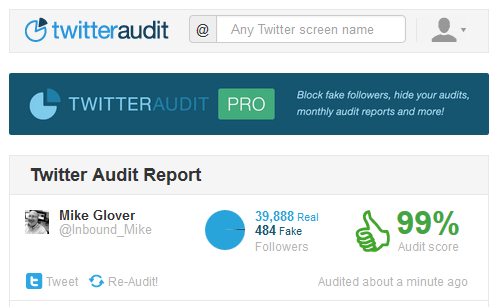 How Has Twibble Benefited My Career?
You should know that I link to my Twitter profile from every other social media profile I have.  So whenever someone "checks me out" on social media, they can find my Twitter profile very quickly.  Needless to say, I get more comments on my Twitter following than the average person!
When it comes to my work though, I can safely say "YES", it has benefited my career.  My current boss is a not only an excellent manager, but she's also a great person period!  She comes from the social media world, so she and I get along very well.  I give you her background because you should know that neither she, nor I, use the word "expert" very often whenever we talk about people in digital marketing, SEO, or social media industry.  Way too many people call themselves "experts" either in their profile or on their resume, only to disappoint their audience or employer down the road.  So when she talks to others about me both within our organization and to outside agencies and business partners and she refers to me as an expert . . .  That says it all to me!  Of course, I like to think a sustained, continuous, and outstanding performance has something to do with it as well, but the 40K followers don't hurt! 
Speaking gigs.  I have always enjoyed training, teaching and helping others.  So speaking gigs naturally appeal to me for many reasons.  Before the last 12 months, I was not even given a second look when I applied for consideration for speaking at trade shows.  Now, the invitations are coming to me.  People are finding me, reaching out and contacting me directly about speaking engagements at major trade shows.
Example email I received just a few weeks ago:

I have also been featured in several blog posts and listed as "influential" on several social media sites.  I am particularly proud of this post "Top 100 Most Followed SEO Experts On Twitter For 2016" by Josh Steimle.   His vetting process was as good as any and to be included in this post was an honor and a direct correlation to the growth I have experienced by using Twibble.io.  Also, I have also been featured on several other blogs as a guest author, contributor or been interviewed, all of which were unsolicited invitations by the authors.  I reached out to no one. 
Would I Recommend Twibble for the Average Twitter User?
Look . . . If you want to build a name for yourself as someone who shares useful, informative content in an engaging and non-intrusive manner, then Twibble.io is definitely the way to go!  The service is super easy to setup, easy to use and easy to monitor.  In addition, the support is second to NONE.  Lastly, the Twitter growth potential is astounding!  If you want to build a personal or corporate brand, start with Twibble.io.  It could save you five years of mediocre results [trust me] I know!  Best of luck either way! 
Tweet ya later!
—
This is an unsolicited guest post written by Mike Glover, Digital Marketing Strategist, who tweets about inbound marketing & SEO. He's the Content & Social Media Manager at ECPI University in Virginia, and he's Hubspot Inbound Marketing Certified. You can follow Mike on Twitter at @Inbound_Mike.