How To Use Manage Flitter To Organically Grow Your Twitter Reach
Are you struggling to grow your twitter follow? Do you want to grow your Twitter following so that your content gets more eyes?
It can certainly take awhile to grow your Twitter following and can be quite frustrating; however, Twitter is a very good social network to master as unlike Facebook, Twitter doesn't filter your content from reaching your audience. The key question is how some companies are able to build a following of several thousand and your account is stuck at a couple hundred.
Well in this article, we will discuss how you can use an amazing tool called Manage Flitter to SUPERCHARGE your Twitter following.
1) Use Power Mode Religiously
Power Mode is a great way to discover followers that are potentially interested in your topic. Power Mode gives you the power to filter through and discover connections in a breeze.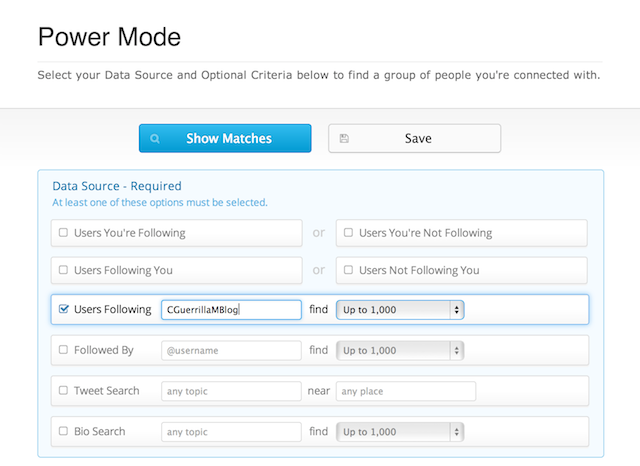 Configure the data source
Adjust the Data Source so that you only see matches from 'Users You're Not Following' and 'Users Not Following You'. This way you will only be shown users you should follow (and not users you're already following and users that are already following you).
Find users based on similar interests. You can use 'Users Following' to plug in another person's account and find users that might also like your content. For example, if you're a sport clothing retailer, you can plug in a company such as Nike or Adidas and find users who like the similar type of content. If they like those brands, perhaps they will like yours!
Filter by #hashtag if you want to find other Twitter users that are talking about the same industry as you. Â For example, you can plug in #marketing to find users who are tweeting about subject and would be more likely to follow your content as well.
Find industry leaders by their bio. If you want to only find influencers in your industry, you can filter by the content of a Twitter user's bio. For example, if I wanted to find marketing leaders, I could add the filter "Marketing director,  Vice President or Marketing manager". This way I can find users in the positions that would be more influential.
 Set optional criteria
When creating a filter, I always check the following settings to make sure I'm shown only people who are active on Twitter:
Active
Talkative
Not Quiet
Profile Image
Not Verified (usually verified 'celebrities' don't follow back)
English (or Non-English depending on your Twitter account language)
Unprotected
Now you can get a little more specific and find people with a certain following. I usually filter by people who have over a certain number of following as I perhaps don't want to see people who have a following of 24 people when I can see people that would have around 1,000-5,000 followers. I also always filter by followers/following ratio so that you'll be shown people who are more likely to follow you. I set it around 0.7 – 2.5. The closer a person is to 1, the better. 1 means for every follower, the person is following back (usually).
I'll also filter by time since last tweet. I do think because if a person just tweeted about #marketing and get a follow from a marketing agency or company, they will be more likely to follow. It also shows that if the time since last tweet is less than a couple of days, they are obviously more active on the platform.
2) To unfollow or to not unfollow
Sometimes I'll go in and unfollow those people who have little influence and are not following back. It's a way to keep my following/follower ratio in tact. Lets just put it this way, if you saw a twitter account that was following 10,000 people but only had 637 followers, wouldn't that look strange? Why are people not following this person back? Is it spammy?

Although I'm not saying to bulk unfollow every single person that doesn't follow you back, I am saying that you should be aware of this ratio. Generally speaking, it's better to have more followers than you are following.
3) Following back
You can also search your following. If you have a couple thousand followers, this tool allows you to sort through your list and discover which ones are definitely worth following back. I generally sort by influence, activity and following.
Conclusion
Manage Flitter is a great tool to discover Twitter users who are interested in your industry topic. Growing your following can be quite difficult, but with this tool, it can be a little easier. Keep in mind, you'll still need to provide great content, re-tweet and engage. This goes without saying.
Make sure you've got the basics down, then I'd recommend checking out this tool to start growing your following.
The best part? Manage Flitter is FREE to get started. They have paid options as well for as little as $12 a month. I think it's totally worth it.
>> Get Started with Manage Flitter *
What do you think? What's been your biggest challenge with getting exposure on Twitter? Do you have other tools or tricks you can recommend? Let us know in the comments.
Oh yea, be sure to follow us on Twitter at @CGuerrillaMBlog for more great tips!
*Yes, it's an affiliate link. No we were not paid to write this post. We generally actually do LOVE the product!