Non-profits often use 'shock tactics' in their marketing campaigns. Think of starving children, depressed animals or for example, a former cancer patient dying after choking at a barbecue because no one around him knew first aid.
For this video below that's supposed to raise funds to purchase jackets for freezing children in Syria, you would think they'd incorporate the same kinds of tactics, but not the SOS Children's villages fund based out of Norway.
The Low-Down
What the video does so well is that it captures your attention from the first five seconds, the most crucial time to engage a YouTube audience. 11-year-old Johannes sits cold and shivering at an Oslo bus stop after someone stole his jacket. The viewer is asked "What would you do if you see a freezing child?"
As the first minute progresses you wonder what will happen. A few people interact and have a conversation with him as his teeth chatter from the bitter cold. You sit feeling helpless, and wait… will these people give their jacket to Johannes?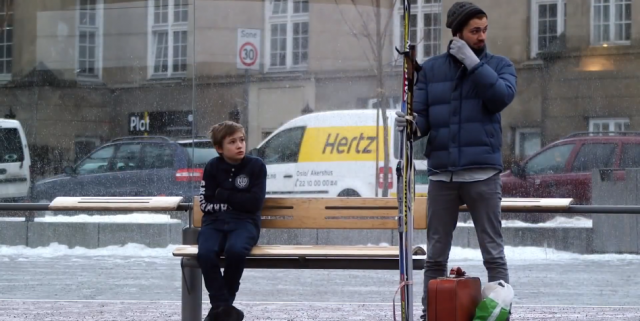 In this hidden camera set-up we're not seeing another bus-stop prankvertising initiative, instead we see nothing short of heartwarming acts of kindness, from not just one person, but several. These citizens are men and women both young and old (and not to mention good looking too. If this is really a true reflection of Norwegian society, please someone sponsor my visa or introduce me to a Norwegian female, preferably single and between the ages of 22-25, thank you).
Of course, when they share their pieces of clothing with him (cue uplifting music), his cute little face brightens up and consequently, so does the person viewing.
The last question, "Are you a person who would act when you see someone who needs help?
Now that's a question that hits the soul and ta-daa! In that moment the necessary calls of action appear.
Why did it go Viral?
When we watch videos like these, don't you just want to smile? Don't you get that warm fuzzy feeling pouring through the depths of your chest? Those feelings you have are exactly why this particular campaign went viral, because naturally, you want to share your feelings of happiness with others.
On the contrary, who wants to share something that makes people sad? Shock tactics don't work in social. The last thing you want to do is make someones day worse, and who will get likes or retweets for doing that?
Furthermore, because SOS used your typical looking Norwegian kid, there was more impact. A feeling of greater closeness to the protagonist. More feelings of empathy than sympathy, because Johannes looked like that sweet little youngster from your neighborhood block. If the protagonist had featured a war-torn Syrian child in Syria, there just wouldn't be the same effect because the understanding is not there.
The Results
At the time of writing, the SOS Barnebyer group have raised 2.3 million kroner ($380,000 USD) in a little under six days.
They've received over 12 million views on the video, just a few million short of the total number of views that the nine year-old UNICEF YouTube channel has received in it's entire lifetime.
Non-profits should take the route of SOS more. We can change the world with the power of social media, we just need to understand what connects.
Meanwhile, after trying to get in contact with SOS's PR manager, their automatic response email replied that their email volumes were unusually high. I wonder why?
Not bad for an hours work and a camera, huh.