Nike's three-minute "Write the Future" epic, starring soccer superstars Didier Drogba, Wayne Rooney and Cristiano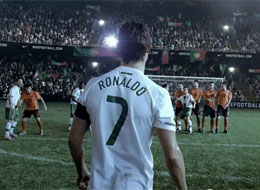 Ronaldo, set a new record for most views of a viral video ad in its debut week, according to web video analytics companyVisible Measures.
It beat the previous record holder, another Nike ad called "Earl and Tiger" featuring golfer Tiger Woods after his heavily publicized return to the sport.
Ad agency Wieden+Kennedy produced the ad, which was directed by illustrious Mexican filmmaker Alejandro González Iñárritu, who is best known for the critically-acclaimed film Babel. Nike VP Trevor Edwards was quoted inAdvertising Age saying the ad is "among the best we've ever done."
"Earl and Tiger" reached 6.3 million views in its first week and "Write the Future" achieved 7.8 million. The fact that "Write the Future" beat "Earl and Tiger" is even more impressive considering the fact that the latter hit the web amidst the Tiger Woods scandal. The current count for this new video on YouTube is 9.4 million.
The FIFA World Cup begins next month, and Nike's advertising is capitalizing on the frenzy around the event. This video depicts soccer stars whose astounding athletic accomplishments and failures send waves through society, affecting world events and changing their own lives.
Credit: Mashable.com