Nike has created a brand new campaign named #betterforit and addresses women that need a boost while working out. This time Nike is not just focusing on athletes, but inspires women from all the fitness levels, encouraging them to keep up their athletic journey.
Nike uses the slogan: "If you're brave enough to try, you're strong enough to finish" and it's the perfect way to show their change of focus in advertising, targeting women from all levels, not just athletes and pros, reminding them that a problem always has a solution, provided that you're willing to find it.
The #BetterForIt campaign started with a 60-second ad, which already airs globally and aims to spread Nike's new message all over the world.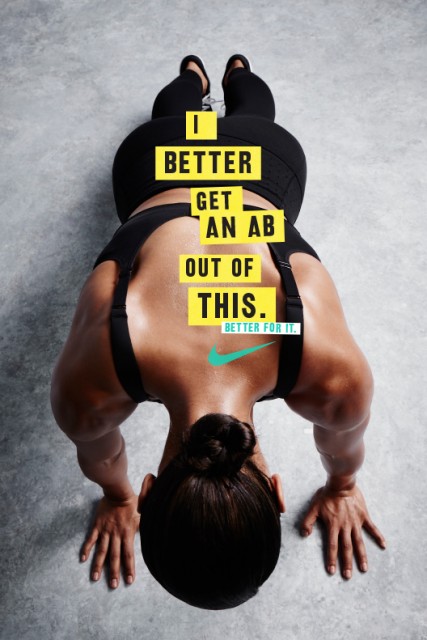 The ad that was created by Wieden+Kennedy is called "Inner Thoughts" and shows a woman during a spin class, a runner of a half-marathon and another woman trying out yoga. The ad tries to appeal to all the women's thoughts and insecurities while working out, turning more personal than ever.
Nike seems to value female customers and that's why they place them on the frontline of their attention, boosting their women's line from the current $5 billion to another $2 billion sum by 2017. They decided to develop products and services that address their needs and desires and this campaign will be the beginning.
#BetterForIt campaign seems clearly different from the "Just Do It" campaign and the message they were spreading before, but it's part of an attempt to reach a wider audience, trying to remind to every single woman that there is no perfect exercise, no athlete without insecurities and that everyone needs an extra boost of motivation.
That's why Nike also launched the "90-day better for it challenge", combining exercises and workouts from both the Nike+ Training Club app and the Nike+ Running App. What's more,
they decided to encourage women to share their experiences online by using the #BetterForIt hashtag, in order to discuss their worries with more women that mutually understand each other while exercising.
According to Nike's press release:
"#betterforit is more than just a hashtag. It's a call to action to share, promote and embrace women's fitness and sports. With this rallying cry, Nike invites a global community of athletes to push themselves further, whether it's a personal best in their latest marathon or a weekend run. #betterforit offers athletes collective inspiration to reach new heights and a place to share their experience."
Learn more and watch all the short videos here.
[youtube http://www.youtube.com/watch?v=zzbjEMaDjrk]
CREDITS
Client: Sony
Agency: FCB Auckland, New Zealand
Regional Executive Creative Director: James Mok
Executive Creative Directors: Tony Clewett, Regan Grafton
Writer: Peter Vegas
Art Directors: Leisa Wall, Christiaan Van Noppen
Head of Content, Executive Producer: Pip Mayne
Head of Art: Nick Smith
Director, Director of Photography: Michael Braid
Group Account Director: Toby Sellers
Account Director: Hannah Downes
Account Executive: Laura Little
Lead Behaviourist, Animals on Q: Mark Vette
Assistant Handlers, Animals on Q: Jazmin Vette dal Bello, Rosie Miles
Curator, Kelly Tarlton's Sea Life Aquarium: Andrew Christie
Marketing Manager, Kelly Tarlton's Sea Life Aquarium: Claire Wheeler
Rig Developers, Harrison & Watkins Ltd.: Harry Harrison, Blair Muchamp
Director of Photography, Event Coverage, Traction Films: Nic Fay
Editor, 6Twenty: Simon Wade
Editor, FCB: Grant Nicholson
Media Director: Rachel Leyland
Media Planner, Buyer: Erin McCaughley
General Manager, Public Relations: Angela Spain
Senior Account Director, Public Relations: Kimberley Kastelan
Digital Director: Kate Grigg
Customer Experiences Director: Ele Quigan
Music Composer: Peter van der Fluit
Music Composition: Liquid Studios
Studio Producer: Sarah Yetton