If anything else, marketing and technology do not mess around.
Year after year, more and more tech innovations are being popped out at such an alarmingly fast pace, one would think they are trying to win a death race. Being practically intertwined with tech, marketing has no intention of lagging behind. In fact, tech and marketing innovations have been going hand in hand for the last 20 years.
The reason is pretty straightforward and complicated at the same time – consumers. Their needs, demands and behavior change drastically year after year, which forces businesses to strive to keep up. If you want to keep your business up and running, you need to stay on top of your game in terms of tech, innovation and annual marketing trends. To shed some light on what exactly you should be aiming for in 2016, here is a short list of online marketing techniques that you are highly recommended to follow:
Mobile first, everything else second
Ever since mobile web traffic overtook desktop in May 2015, it was pretty clear that mobile is here to stay, and not simply stay, but also grow its importance in the future. According to research, mobile traffic tripled in the past 7 years.

This essentially means that customers are willing to spend less and less time browsing for the products/services they need and require faster solutions. Having a mobile responsive design should be your top priority in 2016, especially if you consider that Google prioritizes mobile friendly websites over the rest in SERPs.
Long form content is your best friend
While there has been a lot of debate around short vs. long forms of content and which of those attracts readers better, longer content generally beats its shorter counterpart on almost every level, as mentioned by many famous content marketers.
Everything in the online world has shifted from promotional company value towards customer centric informational value. Longer content offers an opportunity to give out detailed information about a certain topic and offer much more value to readers.
It's important to note that you shouldn't try to cover everything in a single post: better focus on one aspect and go deep than try to cover everything and end up having superficial information. Plus, Google prioritizes long content over short and you can see in on the first page of SERPs.

Leverage visual content
Besides the fact that an image is processed x60 times faster than text, images and illustrations also boost your engagement rates. For instance, tweets containing a simple, matching image receive 34% more engagement that those without.
A study has revealed that 46% of marketers find visual content essential for their marketing strategies.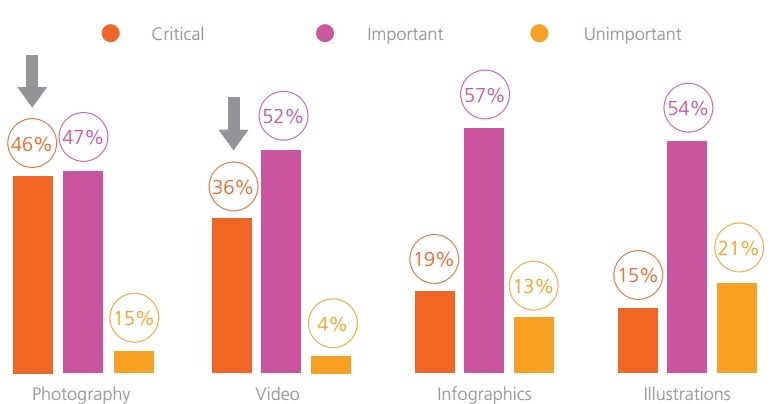 Visuals help picture and understand whatever you are trying to tell your audience in a faster, clearer way. When reading a plain text, information processing and understanding relies on just two regions of our brain, which makes it difficult to remember anything for a long time. Images engage our brain on more sensory levels (visual and olfactory), making it easier to retain information.
In fact, less than 10% of people remember text-based information after three days. But try adding a relevant image to your content and a surprising 65% of users will recall it after those same three days period.
Insane popularity of video
As we already covered, consumers value their time a lot. They demand the best content in the least amount of time possible. Well, if one picture is worth a thousand words, one minute video is worth 1.8 million words. There is no surprise video has become so popular and will continue to dominate the web in 2016, especially video streaming.
Experts predict that around 80% of web traffic will be acquired from videos by 2019. YouTube reports a mind- blowing 4 billion video views daily. 40% consumers say that video content increases the chances of purchase. X4 as many consumers claim that they prefer to watch a video about a product over reading about it. This list goes on and on… and on.
It might take a bit more resources and effort to create video content compared to text, but the ROI is well worth your hustle. Plus, the sooner you start with this, the better off you will be in the future. Video is not going anywhere and will definitely continue to get even stronger year after year.

Marketing is an ever-evolving environment that is very hard to keep track of. If you are not careful, you will risk losing on brilliant opportunities or facing unnecessary risks that could have been avoided otherwise.
We can't be absolutely sure what the future holds, but there is definitely one thing at the core of every successful marketing strategy: consumers. Keeping consumers at the core of your marketing strategy is, and always will be your best bet in the complex world of online marketing.
—
Vlad Rascanu is a seasoned online marketer, specializing in enterprise level SEO. Vlad is the founder of 80 Proof Digital, a digital marketing agency in Toronto, Canada. Over the past 10 years, he has helped dozens of businesses grow their sales, revenue and customer base with the help of outstanding SEO strategies. Follow Vlad on Twitter, Google+ and LinkedIn.