Sony has decided to take creativity to the next level by training the first octopus to become a photographer. It was Sony New Zealand along with FCB Auckland that decided to train a female octopus named Rambo, teaching her how to use a Sony TX30 compact camera, in order to start taking pictures.
The project was named "The Octographer" and it featured a one-minute video, showing Rambo's photography skills, along with the training process. The idea of this campaign was both to promote the Cyber Shot TX30 camera, but also to prove the intelligence of octopuses and it seems that both goals have been achieved.
The biggest challenge was to find a way to place the camera on Rambo's tank, while training her to follow a series of steps to take a photo. Although the Cyber Shot TX30 camera is both water and shock resistant, it was still placed in a waterproof box inside Rambo's tank, along with a red shutter  extension. What's impressive is that it took only three attempts for Rambo to understand her training process, completing successfully her two-month training and taking photos with no problem. According to her training, all she had to do was to approach the camera box, use her tentacle, press the shutter and take a photo.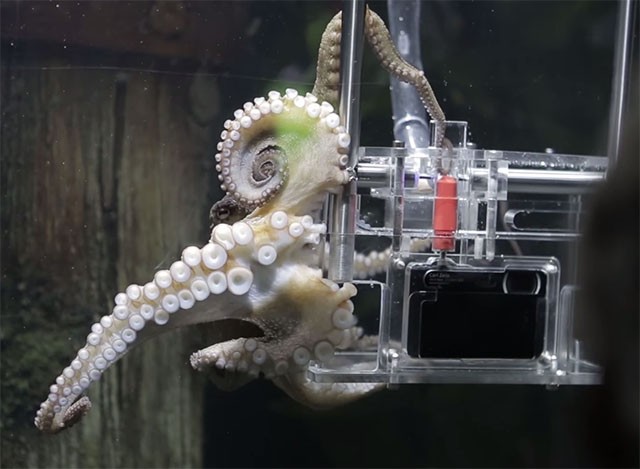 Despite the several broken cameras during the process, the result was impressive, with children visiting Rambo, asking her to take a photo. Suddenly her tank at Kelly Tarlton's Sea Life Aquarium in New Zealand has become an attraction for visitors, especially the younger ones, promoting Rambo as the first octopus that was trained as a photographer.
Moreover, the "Octographer" ad met similar reactions online, combining surprise with interest, leading to 400.000 Youtube views in the first week of the video's launch and an encouraging media coverage!
Online users have decided to take the ad a step further with their (funny) thoughts:
-This octopus is better than me at taking pictures.

-I wonder if the Octographer can claim copywrite on the photos.

-Sony continues to innovate in the camera world. This time they have a octographer! I'm out of a job then………
The aquarium has decided to charge $2 for every photo that Rambo takes, hoping to raise a significant amount, supporting their conservation programs.
The creativity of the campaign was to think of an interesting ad, succeeding in training an octopus as a photographer for the first time, combining the promotion of the Cyber Shot TX30 camera, while they were also raising awareness about how intelligent an octopus may be.
Here are some of the pictures that Rambo took from her tank:
[youtube http://www.youtube.com/watch?v=rI9tP3mZfxM]
Behind the scenes:
[youtube http://www.youtube.com/watch?v=vNX-3_3590U]
The world's first snaps taken by our resident Octopus! We hope our lucky guests enjoyed it as much as we did -… http://t.co/PE2Bb2tMN9

— Kelly Tarlton's (@Kelly_Tarltons) April 12, 2015
CREDITS
Client: Sony
Agency: FCB Auckland, New Zealand
Regional Executive Creative Director: James Mok
Executive Creative Directors: Tony Clewett, Regan Grafton
Writer: Peter Vegas
Art Directors: Leisa Wall, Christiaan Van Noppen
Head of Content, Executive Producer: Pip Mayne
Head of Art: Nick Smith
Director, Director of Photography: Michael Braid
Group Account Director: Toby Sellers
Account Director: Hannah Downes
Account Executive: Laura Little
Lead Behaviourist, Animals on Q: Mark Vette
Assistant Handlers, Animals on Q: Jazmin Vette dal Bello, Rosie Miles
Curator, Kelly Tarlton's Sea Life Aquarium: Andrew Christie
Marketing Manager, Kelly Tarlton's Sea Life Aquarium: Claire Wheeler
Rig Developers, Harrison & Watkins Ltd.: Harry Harrison, Blair Muchamp
Director of Photography, Event Coverage, Traction Films: Nic Fay
Editor, 6Twenty: Simon Wade
Editor, FCB: Grant Nicholson
Media Director: Rachel Leyland
Media Planner, Buyer: Erin McCaughley
General Manager, Public Relations: Angela Spain
Senior Account Director, Public Relations: Kimberley Kastelan
Digital Director: Kate Grigg
Customer Experiences Director: Ele Quigan
Music Composer: Peter van der Fluit
Music Composition: Liquid Studios
Studio Producer: Sarah Yetton