Industry trade shows can be an excellent way to present a new side of your organization directly to a market of interested consumers. By participating as a vendor at a trade show, you are often given the opportunity to display your company and its offerings with a unique trade show booth. This is not something to take lightly. How you present your business to others at trade shows can make or break even the best marketing campaigns.
To help you put your best business foot forward at upcoming trade shows this year, here are the top trade show booth designs of 2012 as voted by several trade and event show associations around the world.
Taking visual impact to new heights. In 2012, Exhibitor Magazine voted the trade show booth design of Brunner GmbH, a German chair designer, as their top award winning trade show booth display; this was based on their clever use of height to make an impact on visitors. As part of their booth, they suspended colorful plastic chairs on wires to make an arrangement high overhead their booth, which provided a wildly artistic impact based on the proverb of "When fortune calls, offer her a chair".
Giving back to the earth in green trade show booth designs, the 2012Â EXCITEÂ award winner in the Environmental Category went to Navistar, a manufacturer of industrial vehicles and engines from Illinois, at the Mid-America Truck Show (MAPS). By displaying their commitment to eco-friendly technology and design, they went over and beyond what their competitors are doing.
Integrating technology with the human element in trade show booth design is what elevated Visio, a consumer electronics manufacturer, to the top of their category to win the 2012 Event Design Award. By creating actual full size representations of business meeting rooms for guests to experience in person, they tapped into the essential need for humans to interact not only with each other, but also by using the latest in technology tools.
While these are just a handful of the top trade show booth designs for 2012, there were several winning elements that set the stage for the best trade show displays and booth design overall. These elements should not surprise you, but here is a rundown to help you launch your own trade show booth design for the coming year.
Colorful and clean graphics with a modern, yet classic tone that brands the company effectively.
Hands on interactivity between trade show visitors and technology to encourage a level of comfort.
Reactive trade show booths that respond to the movements of consumers.
Integrated social media allowing visitors to share their favorite trade show vendors.
The use of impactful imagery and lighting to draw the eyes up to ceiling displays.
Real world scenarios displayed prominently for the benefit of consumers to try before buying.
Inviting displays that encourage onlookers to enter trade show booths and participate in hands on activities.
For your next trade show, take clues from the award winning trade show booth designs of 2012, and be sure to locate a qualified trade show booth design group to aid you in the branding of your organization on the trade show floor.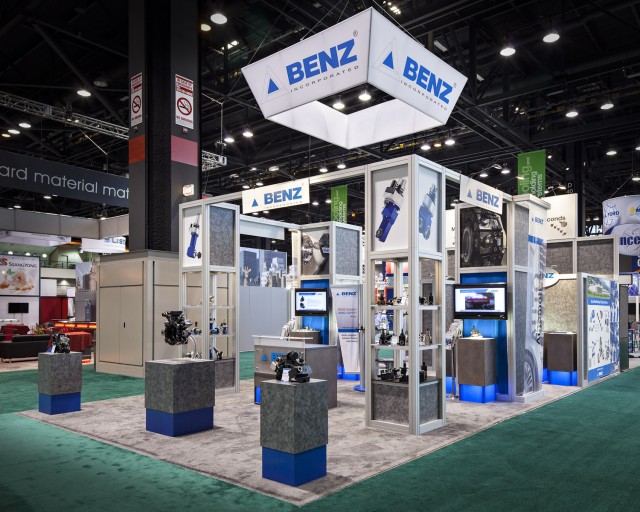 —
Paul Russo has been writing about trade show topics, including those like Nimlok's tabletop trade show displays for more than 15 years. When not writing, you can find Paul at home with his family, or out on the Golf course trying hard to lower his handicap.