Long sunny days can be ideal for a visit to the beach, especially during summer. Beachgoers love the sun and they sometimes get exposed to its rays for several hours. Not everyone seems to listen to the experts' warnings about the dangerous sun exposure, which creates the need for a new approach to the issue.
How about enticing the 'lovers of the sun' with another passion they possibly have that probably love it even more? Happiness Brussels has finally found a reason to keep the beachgoers in the shadow and it's called 'Shadow Wi-Fi'.
'Shadow Wi-Fi' is an innovative Wi-Fi network that works close to a wall, providing Internet access to the users that remain under the wall's shadow! Hyper-connected users feel isolated from the digital world while on the beach, and despite their love for the sun, a stable Internet connection is probably more important to them. That's how Happiness Brussels came up with this creative idea, starting with Playa Agua Dulce in Peru, placing a wall on the beach.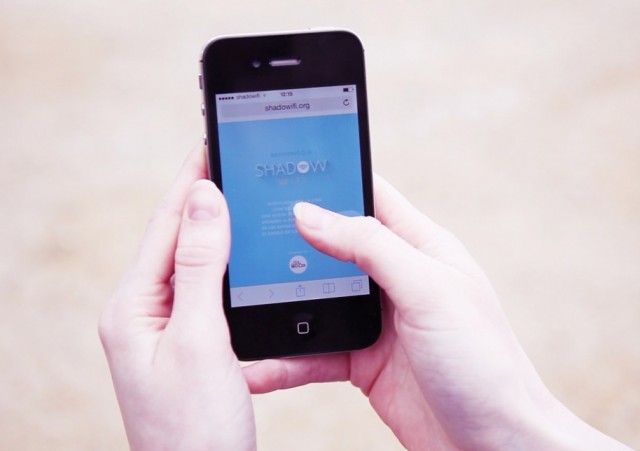 Supported by Liga Contra el Cancer (League Against Cancer), Happiness Brussels aims to raise awareness about skin cancer, one of the fastest forms of cancer during the past years. According to Skin Cancer Foundation, almost 5 million people are treated for skin cancer every year in US, while one in five Americans will develop skin cancer in the course of a lifetime. 'Shadow Wi-Fi' works as an ideal way to help people change habits, even with the presence of this huge wall on the beach, with Happiness Brussels expanding the project to New Zealand and San Francisco, hoping to reach more beaches in the future, scaling into a worldwide project.
How does the 'Shadow Wi-Fi' work?
'Shadow Wi-Fi' relies on a directional Wi-Fi antenna that is placed on the wall, along with a sensor that tracks the movement of the sun. This way, it enables the connection only to users that remain on the shadow of the wall, with the network having a capacity of up to 250 active users. While the sun moves during the day, the sensor spots its movement, also changing the direction of the antenna. This means that you have to move (and remain in the shadow), if you want to stay connected!
How does this raise awareness about skin cancer?
'Shadow Wi-Fi' is hoping to educate people about the right protection from the dangerous rays of the sun, leading to an increased awareness about the issue. Beachgoers that want to connect are asked to sign up online, also reading all the prevention information needed, while they also receive a confirmation mail about their registration, which includes even more information with useful tips.
Happiness Brussels proves through this ambitious project that creativity leads faster to the desired goals, achieving both protection and education for the targeted audience!
Credits
Advertising Agency: Happiness, Brussels, Belgium
CEO: Karen Corrigan
Chief Creative Officer: Geoffrey Hantson
Creative director: Philippe Fass
Chief Innovation Officer: Kris Hoet
Concept Provider: Laurie Lacourt, Catherine Hermans
Creative producer: Dominique Van Doormaal
Graphic designers: Gregory Ellinger, Laurie Lacourt
Account Management: Pascal Kemajou
Agency producer: Bart Vande Maele
WiFi Hardware Specialist: Ward Van Ooteghem
Production company: Maneki Studio
Post Production company: Moxy