If the high price tag to Hawaii is holding you back, fear not, Marriott hotels has you covered with their new virtual-reality Teleporter. Marriott teamed up with Relevant and Framestore to develop the Teleporter, a part of their  their 'Travel Brilliantly' campaign.
The 'Teleporter' is a virtual-reality booth that Marriott created to to offer people a quick look into their hotel lobby, and take people on a short vacation in a virtual world. Hotel guests and members of the public are encouraged to step inside and place the headphones and goggles on and be transported to a virtual vacation spot.
Each trip in the virtual reality Transporter begins in a virtual version of the Marriotts Greatroom Lobby. From the Greatroom visitors are transported to one of two virtual locations, Tower 42 in London, or black sand beach in Hawaii. The Teleporter is more than just seeing the locations, or hearing them with the headphones; the experience also includes 4-D elements in the form of heat, wind and mist and engages visitors sense of smell with lush palm trees, coconut oil and salty sea air, so visitors feel as though they are physically on vacation.
The 'Travel Brilliantly' campaign is targeted toward a younger market; the 'next-generation' of guests and is focused on creating user engagement for the improvement of Marriott services to enhance visitors travel experiences. The introduction of the virtual-reality Transporter will is a fun, interactive way to engage current Marriott guests and the general public.
The Marriott Teleporter will be travelling to variety of US cities over the next few weeks. Dates of the Transporter locations are listed below.
September 19-23, 2014
New York Marriott Marquis
September 26-29, 2014
Boston Marriott Cambridge
October 2-5, 2014
Marriott Marquis Washington DC
October 9-12, 2014
Atlanta Marriott Marquis
October 17-20, 2014
Dallas Marriott City Center
October 24-27, 2014
San Diego Marriott Marquis
November 6-9, 2014
San Jose Marriott
November 13-16, 2014
San Francisco Marriott Marquis
Behind the Scenes Video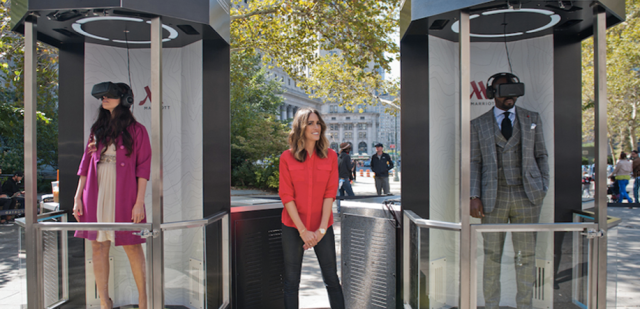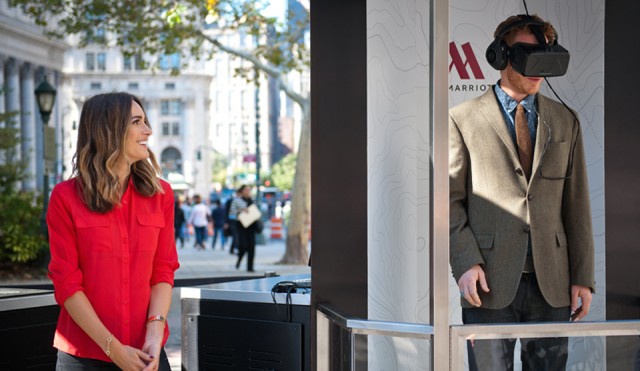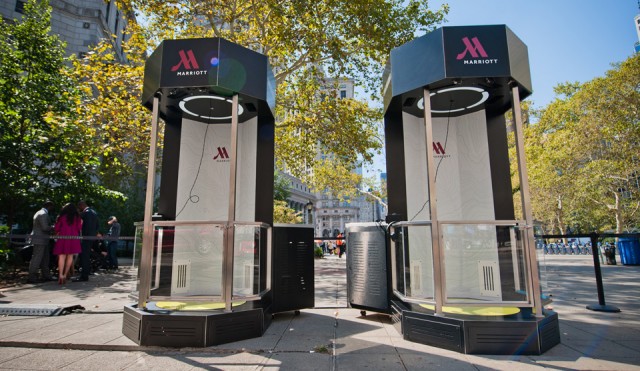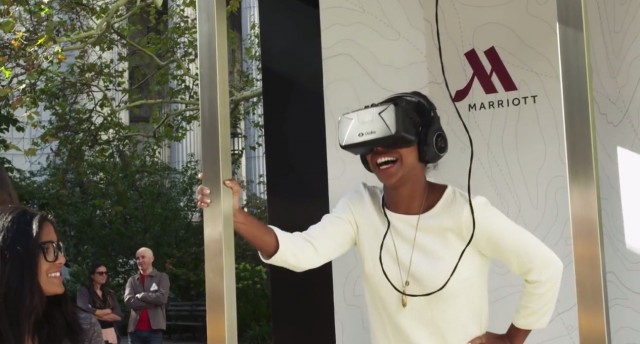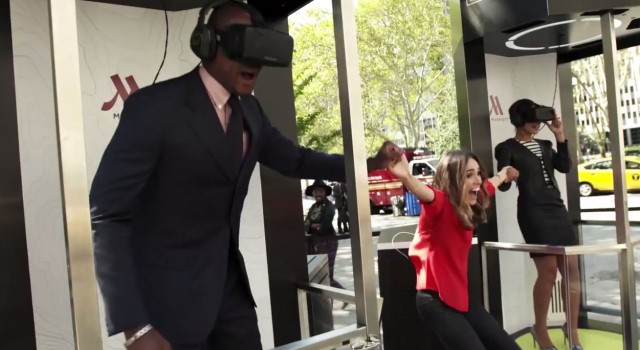 Photos courtesy of Marriott Hotels