Adam Salacuse's company ALT TERRAIN serves advertising, public relations, media planning and event marketing agencies as the industry's premier resource for Alternative Outdoor Advertising, Street Media Campaigns, and Influencer Marketing. ALT TERRAIN is dedicated to creating nontraditional media that truly connects with people and makes an impact on their lives. Through ALT TERRAIN, he has contributed to the rise of world-class brands such as Microsoft, Disney, Motorola, EA Games, Converse and VH1.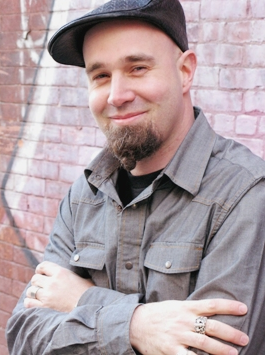 Raised in Brooklyn, New York during the 80's and 90's, Adam has taken all he has learned about people, culture, and street credibility and applied them to the world of marketing. Growing up, he took note that radio ads, TV commercials, and outdoor billboards had a minimal effect on his or his friends' choices in clothes, cars, foods, music or lifestyle habits. It always seemed to be friends, family, but more importantly the power of metro market street culture (e.g. diversity, music, street trends, DJs, graffiti artists, Hip-Hop, city sports, etc.) that created the most impact on his life choices.
That is not to say that he wasn't business-minded from the start, as he had a subscription to Ad Week in high school and graduated from Babson College with an undergraduate degree in Marketing and Entrepreneurial Studies in 1991.
Adam spent 8 years in the beverage industry working for start-up soda companies to microbreweries, but broke out on his own in 1999 with an idea to create advertising media that has a function (such as coffee sleeve ads), to advertising offerings that people enjoy and embrace (such as public space brand installations). Most recently he has been focusing on advertising that makes a positive impact on people and society.
How did you get started in guerrilla marketing?
The building blocks of a guerilla marketing career were forming way before I got started in the industry.  Back in the 80s/90s my graffiti and street art activities in New York City hardwired my mind to the nuances of creativity on the street, strategic placement and influence. Then once I went out of business school and worked with a several small brands, that didn't have big marketing budgets, the dots started connecting. I realized that Brand Creativity + Street Culture = Consumer Influence, or in other words guerilla marketing. [pullquote_right]I realized that Brand Creativity + Street Culture = Consumer Influence, or in other words guerilla marketing.[/pullquote_right]
Could you tell us a little about your company, Alt Terrain?
ALT TERRAIN (www.altterrain.com) is unique as we specialize in helping agencies (e.g. advertising, PR, marketing, etc.) bring creative media and marketing ideas to life on the streets of metro markets. It is usually a collaborative effort with agencies providing the brand strategy, messaging, and visuals and ALT TERRAIN providing the insight, mechanics, and logistics. Â It could be as simple as a poster or as complicated as freezing items in clear blocks of ice, but the desired result is primarily ideas that people embrace and achieve objectives.
Where do you gain inspiration for your strategy and ideas?
Life in general, but to be more specific; art, film, books, nature, design, interviews with artists and street culture.
What are the challenges of doing guerrilla marketing?
The overall guerilla marketing challenge, as we see it, is; ideas that people embrace, achieve business objectives, and don't disturb property owners or city municipalities.
What was the most interesting campaign you worked on and why?
That changes day-to-day, especially when I look back at all the campaigns that people enjoyed over the years. I'd much rather know which ones your readers find most interesting. They can check out ALT's most recent work here and your readers can send their opinions and/or questions to [email protected].
Which form of marketing is your personal favorite and why?
My favorites are those that are not preset in nature, but marketing efforts that are custom-tailored to the message and environment. We've found that people tend to gravitate to concepts that are contextualized to the streetscape and that consumers have not encountered before.
Is there a specific service that your clients tend to gravitate towards?
Not really, it always is a constant mix, but I can tell you when a brand implements two or three street marketing offerings simultaneously they tend to amplify the effect.
A lot of our readers are active job hunters or individuals looking to get involved at a guerrilla marketing agency. What do you look for in job applicants or what advice would you give to these individuals?
The best advice is to work your way into an internship, even if unpaid, at an agency you admire. Familiarity with a person is often half the battle in gaining a position. And, if a position does not materialize at least a you'll have a recommendation from that respected agency to allow you gain a foothold at another.