Mango Moose Media is a guerrilla advertising agency that has served Canadian businesses since 2001. They have succeeded in executing campaigns for clients such as Nike, Levi's, Warner Brothers, Proctor & Gamble, and Alexander Keith's. You can learn more about the company and its services via their website at www.mangomoose.ca.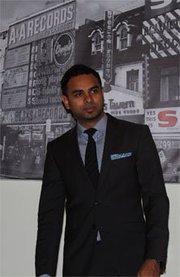 Now meet Ray Wali. Ray is your quintessential entrepreneur, who launched his first business (CarWraps.ca) at the age of 21. His love of start-ups and business model innovation has led to the successful launch of a series of new products, brands and ventures.
With over 12 years of experience behind him, He has developed a unique skill set that spans every area of business with core strengths in Marketing, Management, Strategy, Creative, & Innovation.
How did you get started in guerrilla / experimental (experiential) marketing?
We started in 2001 focusing on Car Wraps (www.CarWraps.ca) exclusively and we quickly found our clients were asking for more turn-key street level campaigns. In 2004 we spun off a new venture called Mango Moose Media which allowed us to add a broader range of non-traditional products. We still run Car Wraps as a separate but related venture.
Could you tell us a little more about your company Mango Moose Media?
We specialize in creating and executing creative brand experiences using non-traditional forms of media. Our 4 core services are Campaign Creation, Guerrilla & Ambient Campaigns, Production & Street Teams. We positions ourselves as the "Go To Guys" when you want add something different to your traditional advertising campaign. You can see some of our past campaigns on our blog www.guerrillaadvertising.ca.
What advice could you give to someone who is looking to get started in the industry?
I would recommend they read blogs like Creative Guerrilla Marketing to get a feel for trends and the type of campaigns that worked and why. When people hear guerrilla marketing they think of someone running across a baseball field naked with a logo on their back. They tend to discount the strategy that needs to be in place to effectively tie-in the experiential to the brand.
What would you say contributed to your success?
My team and I are not afraid to roll-up our sleeves to get sh*t done. Guerrilla Marketing is a very hands on type of business, It's chaotic at times but we enjoy what we do here and that is the most significant factor to Mango Moose's successes over the years. There is also a trend now from major brands who see the value in dedicating a percentage of their overall ad buy to street level campaigns. This is our niche.
Do you have a favorite form of non-traditional marketing? If so, what is it and why?
When done right experiential should support traditional media and vice versa. Besides our staple Car Wraps and Street Teams I am a big fan of brand installations. These creative spaces provide great engagement opportunities as well as a great viral effect. When done right experiential should support traditional media and vice versa.
Could you speak to some of the results of doing this form of non-traditional marketing?
Since Car Wraps is what we founded this company on it is integrated in to a lot of our campaigns. It is an extremely effective guerrilla marketing tool with a great ROI. A Street Team will reach 10% to 30% of attendees at an event but a Car Wrap is seen by everyone. The combination of the two create a great can't miss experiential initiative.