If you really want to make an impact, guerrilla marketing could be the best way to go. It's one of the most popular marketing techniques out there, and if your guerrilla ad works it could just give your brand the interest it needs.
Everything from flash mobs to sticker bombing stunts has been carried out before, and guerrilla marketing is getting more and more daring by the day.
If you're thinking about orchestrating a guerrilla ad, why not take inspiration from some of the greats?
Here are four of the best guerrilla ads for you to analyse:
1) Nivea's Ultimate Stress Test
Earlier in February 2013 Nivea decided to advertise its new product, Stress Protect Deos. This new deodorant is supposed to protect you from sweating when under stress, and the ingenious guerrilla ad that went with it certainly highlighted why you need Stress Protect Deos in your life.
Filmed at an airport by the agency Felix & Lamberti, the stars of the video were made to think the police were after them. They saw their pictures on the front page of the newspaper and on the news, and their appearance is described over the intercom. Just when they're really starting to get flustered, men dressed in police uniforms emerged only to open a briefcase containing a free bottle of Stress Protect Deos.
2) Tic Tac's Fainting Flash Mob
Tic Tac decided to highlight its breath freshening qualities by performing a deceptively simple flash mob campaign. Set in locations around Paris and orchestrated by the French Ogilvy & Mather agency, a number of people are casually approached by actors that ask them for directions.
When the people go to reply, the actors – and every single person around them – faint. The people's reactions are priceless – one guy simply ups and runs away, and you really can't blame him.
Still incredibly confused by what's going on, the people are then handed a packet of Tic Tacs by one of the supposedly-passed-out actors, revealing that it was all just a prank.
3) WWF's Papier-mâché Pandas
This guerrilla ad by the World Wildlife Foundation (WWF) was designed to highlight the fact that there are barely any pandas left in the wild. It was carried out back in 2008, when official figures showed that there were just 1,600 wild pandas left.
To make people sit up and take action, the WWF created 1,600 pandas made from papier-mâché and then placed them throughout Paris. While it looked funny, the message was actually a very serious one and people quickly realised that 1,600 really isn't that big a number.
Today, there are still around 1,600 pandas left. You can look on this in one of two ways – either it's good that there hasn't been another dip in panda numbers, or it's bad that they haven't increased. The guerrilla campaign definitely helped to raise awareness though, which was its main aim.
4) IKEA's Bondi Beach Bookshelf
When IKEA conducted a little bit of research into Australian reading habits, they found that one in three Australians would spend an extra hour in the day reading a good book. So, in honour of the 30th anniversary of the company's most popular bookshelf (the BILLY), IKEA decided to set up the world's largest outdoor library on Bondi Beach using its best bookshelf.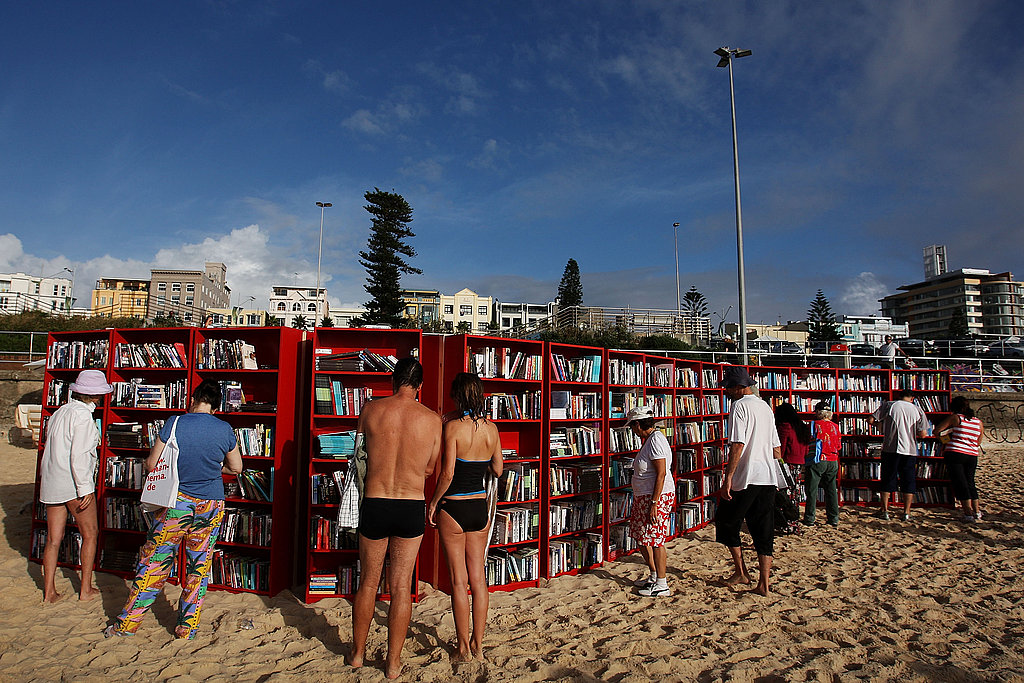 The bookshelves were lined up on the beach and filled with around 6,000 books. If people wanted to take one of the books, they could either swap it for one of their own or donate some money to the Australian Literacy & Numeracy Foundation. So, not only did people get some great new reading material, but they were also helping an excellent charity.


Image courtesy of Casa Sugar.
These guerrilla ads have become some of the best in the business. Do you think you could come up with something better?
—
This article was written by Aurora Johnson on behalf of Display Wizard, a company specialising in trade show and exhibition equipment such as custom outdoor banner stands and portable display boards.