Retailers are always looking for new ways to market their product. Welcome Bagvertising. This form of marketing has been around for several years and is based around the idea of using the bag as an opportunity to market to new potential customers and set up ambient advertising.
Below are some really creative ambient advertising examples where advertisers have actually thought outside the bag and utilized the whole object. The beauty of this form of advertising is that it's free mobile ambient advertising! Unlike billboards, creative stickers or other forms of ads, these bags travel and have a wide audience.
Let us know which one is your favorite by commenting below!
Lipton Clear Green Tea bag: Carry Bag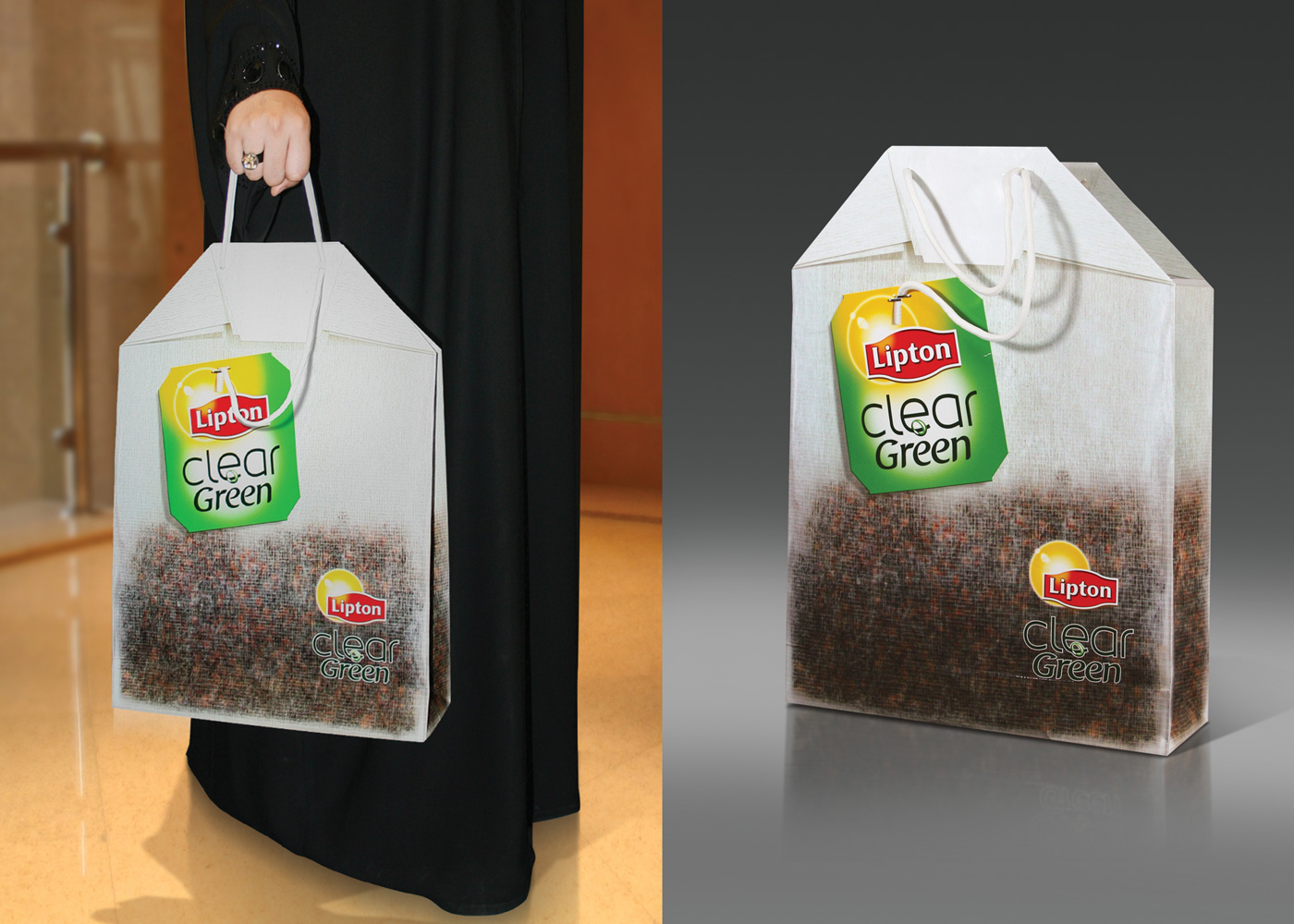 The carry bag was designed in a form of an actual lipton clear green tea bag. A pack of lipton clear green tea was kept in it with hoola hoop and was handed to the ladies in the malls as a giveaway. Advertising Agency:Â DDB Integrated, Jeddah, Saudi Arabia Art Director:Â Imtiyaz Khan Illustrator:Â Vijay Nethala Photographer:Â Vijay Nethala Published: May 2010
Die Arche Berlin Bagvertisement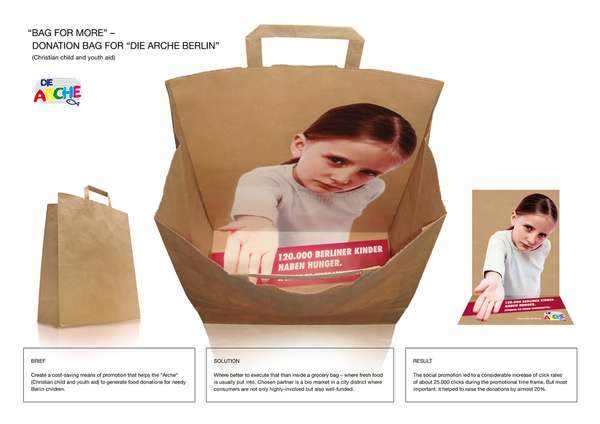 Canon EOS Digital Camera Creative Bagvertising

Creative Hanger Bagvertising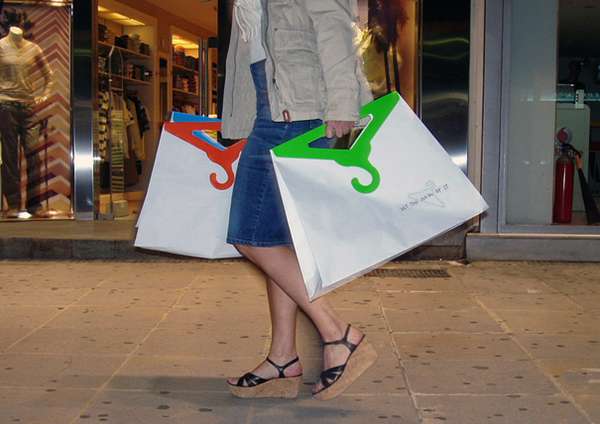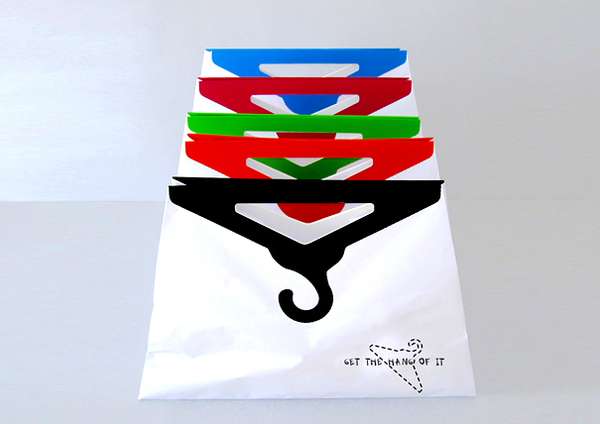 LG Electronics: Laundry Bag Takeover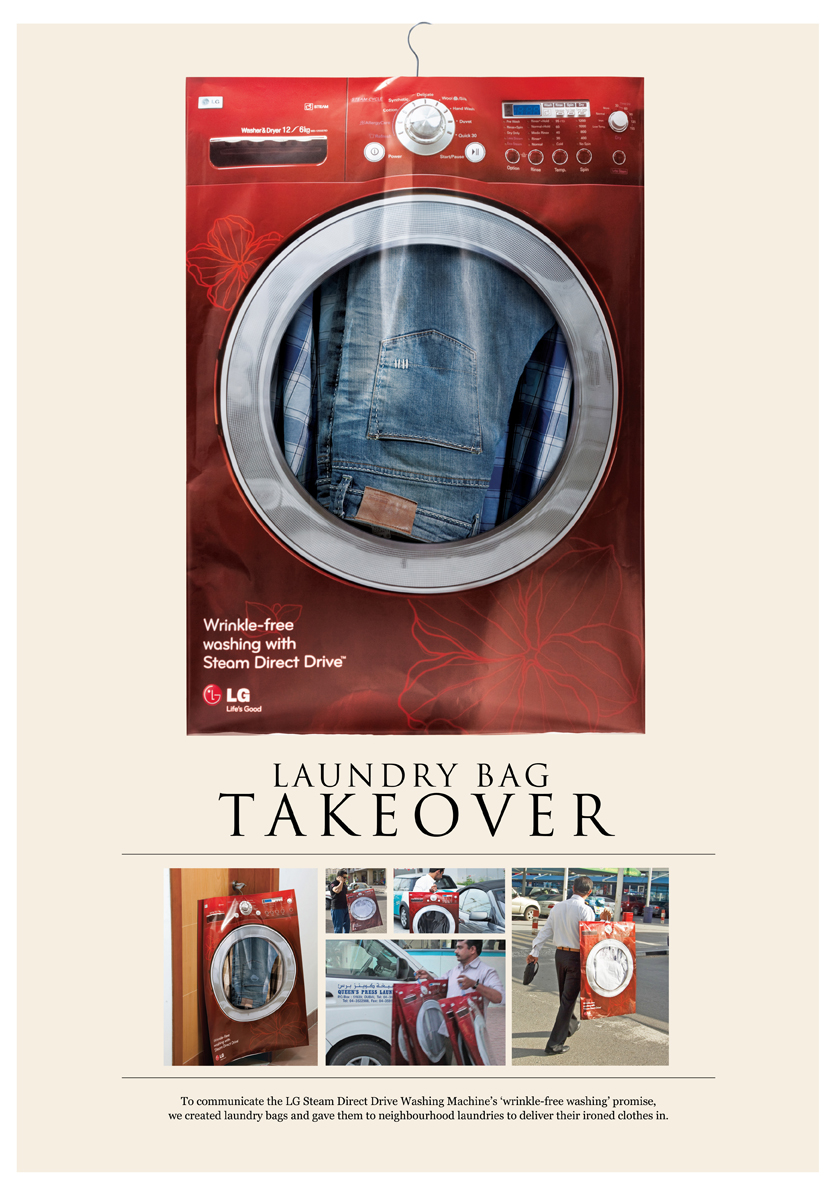 Advertising Agency:Â Y&R, Dubai, UAE Chief Creative Officer:Â Shahir Zag Creative Director:Â Shahir Zag Creative Director / Art director:Â Husen Baba Associate CD / Copywriter:Â Ash Chagla Account manager: George Ninan Account Director:Â Uday Desai Planner: Nadine ghossoub
Botanique Slimming Cream: Before/After bag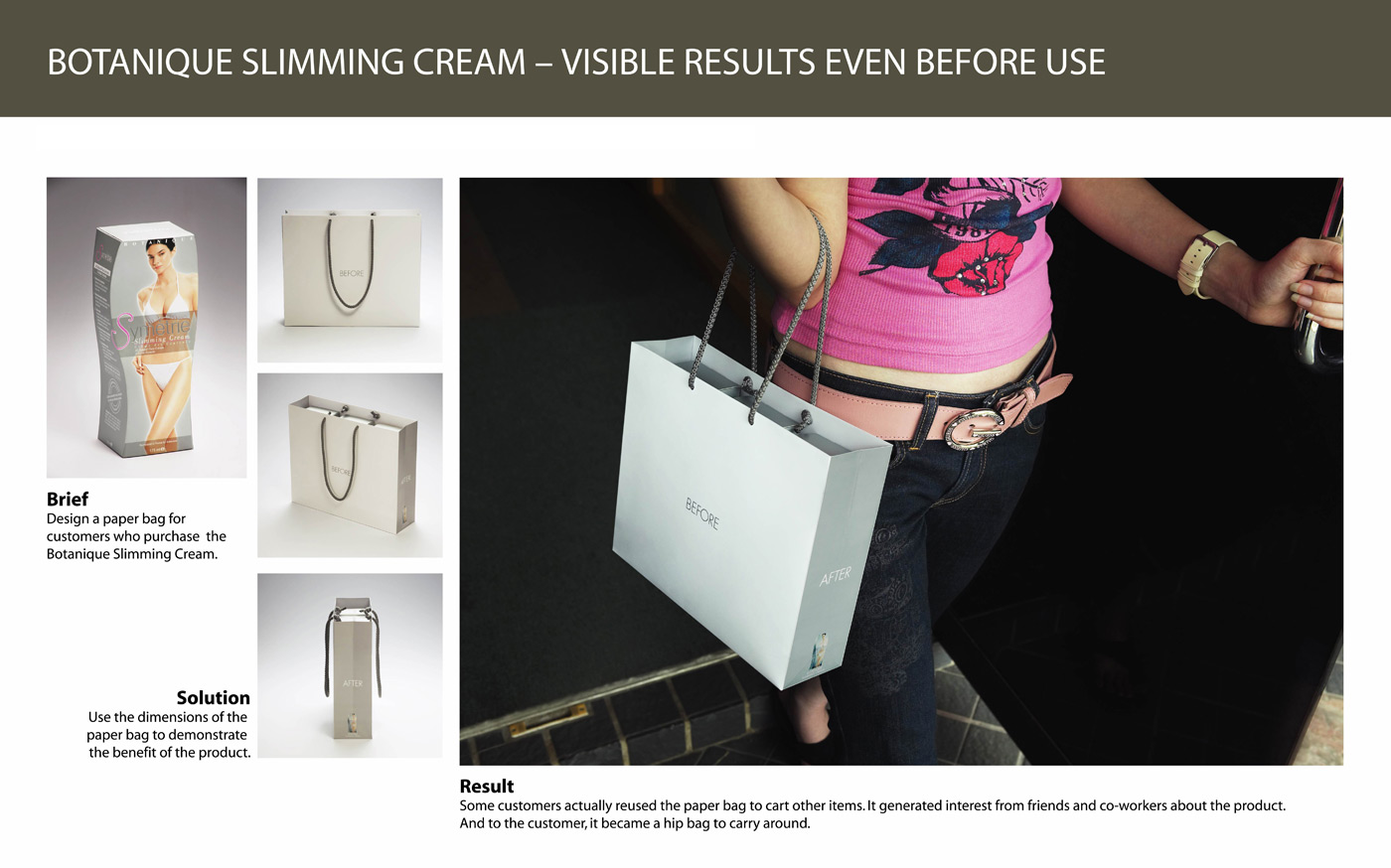 Advertising Agency:Â M&C Saatchi, Malaysia Executive Creative Director:Â Anthony Wong Art Director:Â Danny Chng Copywriter:Â Ezra Foo Photographer:Â Untold-Lai
ASPE Crime Stories Bag Guerilla Marketing Example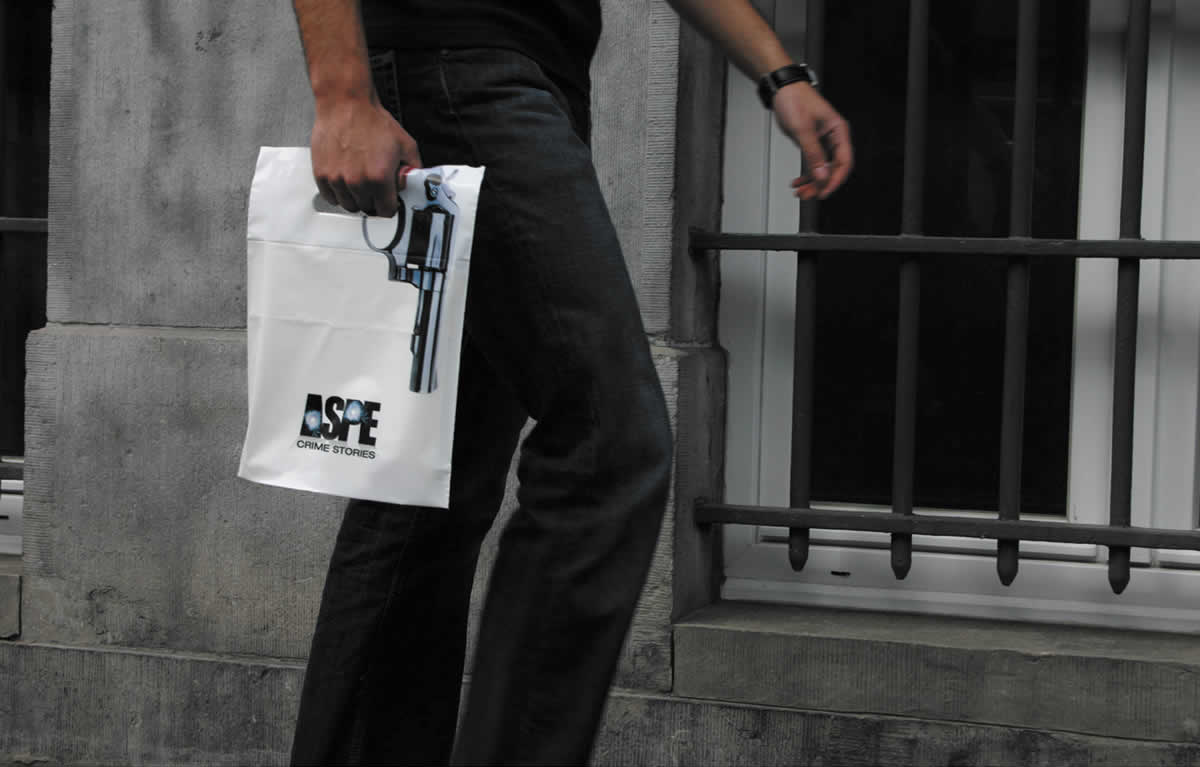 This bag was given when you bought a book by Belgium's most famous crime-writer.
Ann Summers – Kinky Whip Guerilla Marketing Example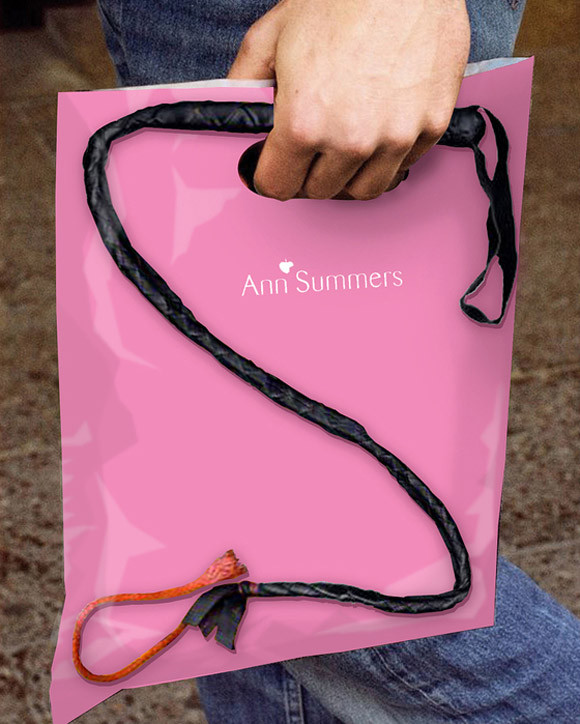 Shumensko Beer Crate Guerilla Marketing Examples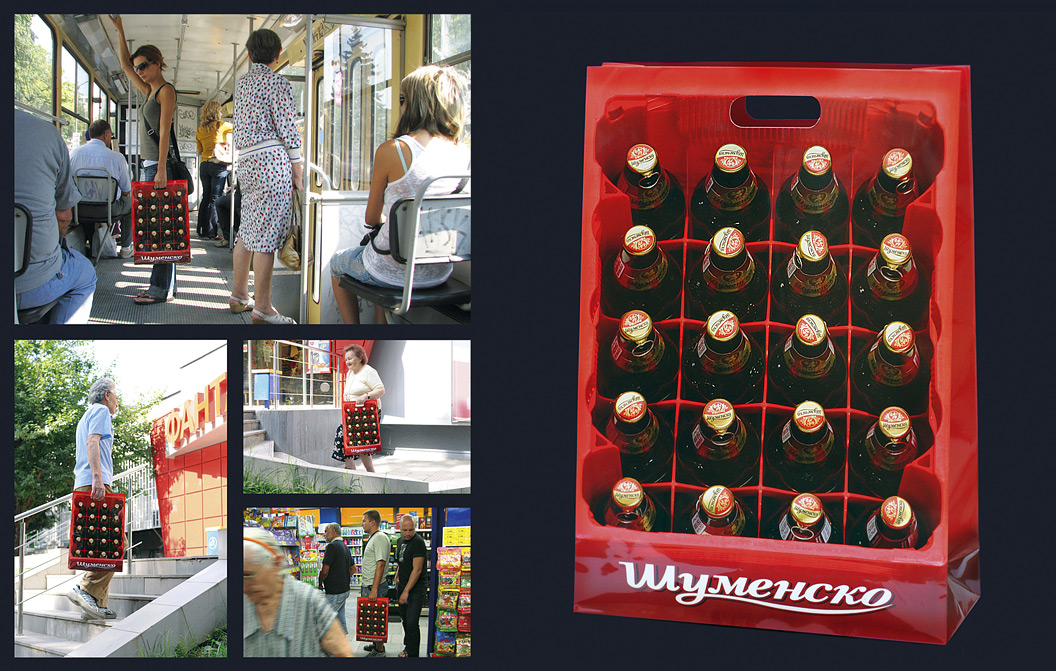 Through a small investment of paper bags distributed in stores pedestrians were turned into free outdoor advertisements for Shumensko Beer. Advertising School:Â Miami Ad School, Europe Art Director:Â George Kasabov Via:Â newcreatives
Volkswagen Golf GTI Bag Guerilla Marketing Example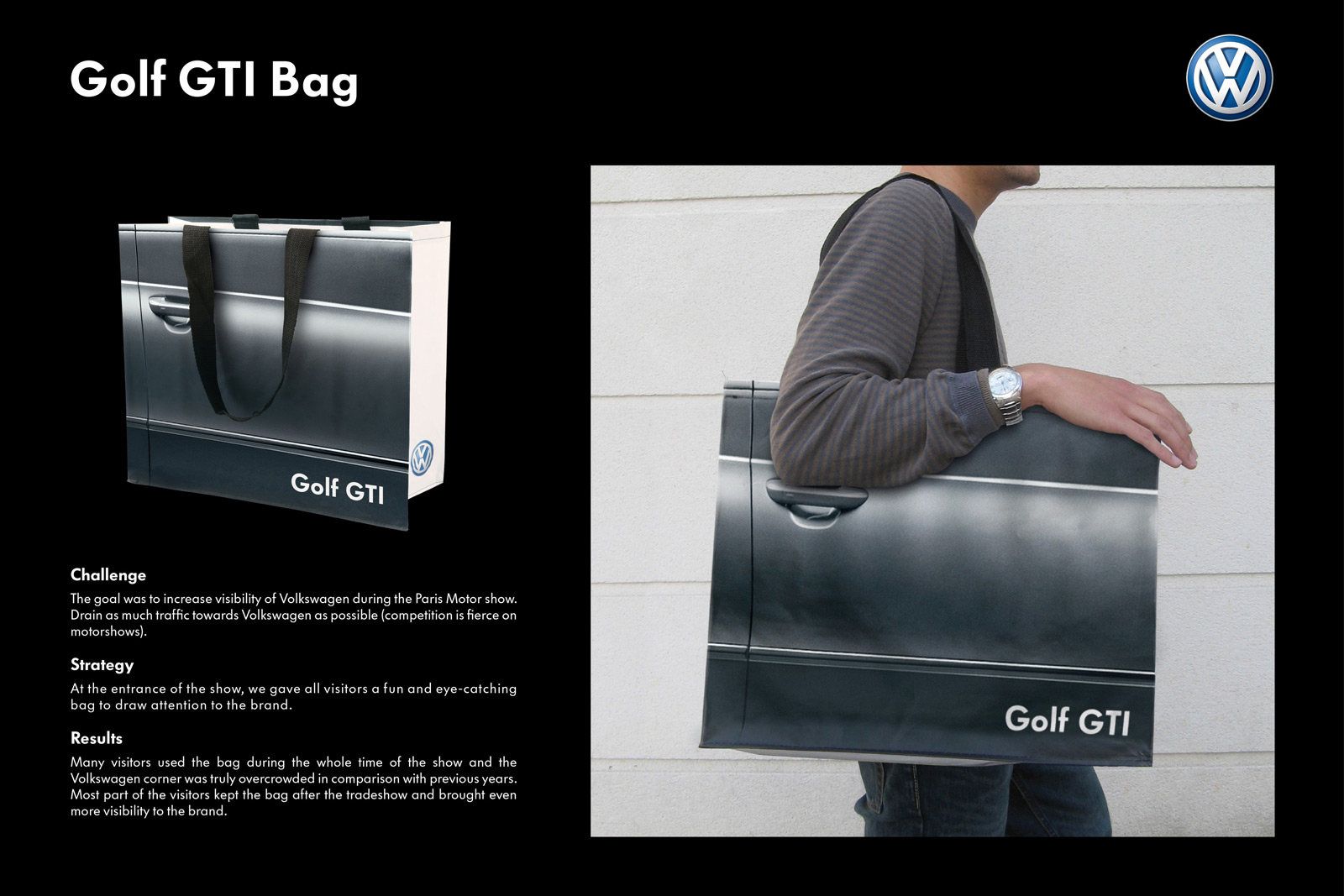 Challenge: The goal was to increase visibility of Volkswagen during the Paris Motor show. Drain as much traffic towards Volkswagen as possible (competition is fierce on motorshows).
Strategy: At the entrance of the show, we gave all visitors a fun and eye-catching bag to draw attention to the brand.
Result: Many visitors used the bag during the whole time of the show and the Volkswagen corner was truly overcrowded in comparison with previous years. Most part of the visitors kept the bag after the tradeshow and brought even more visibility to the brand. Advertising Agency:Â Agence V, Paris, France Creative Director:Â Christian Vince Art Director:Â Guillaume Meriaux Copywriter:Â Adrien Plouard Released: October 2008
Meralco: Unplug to Save Guerilla Marketing Examples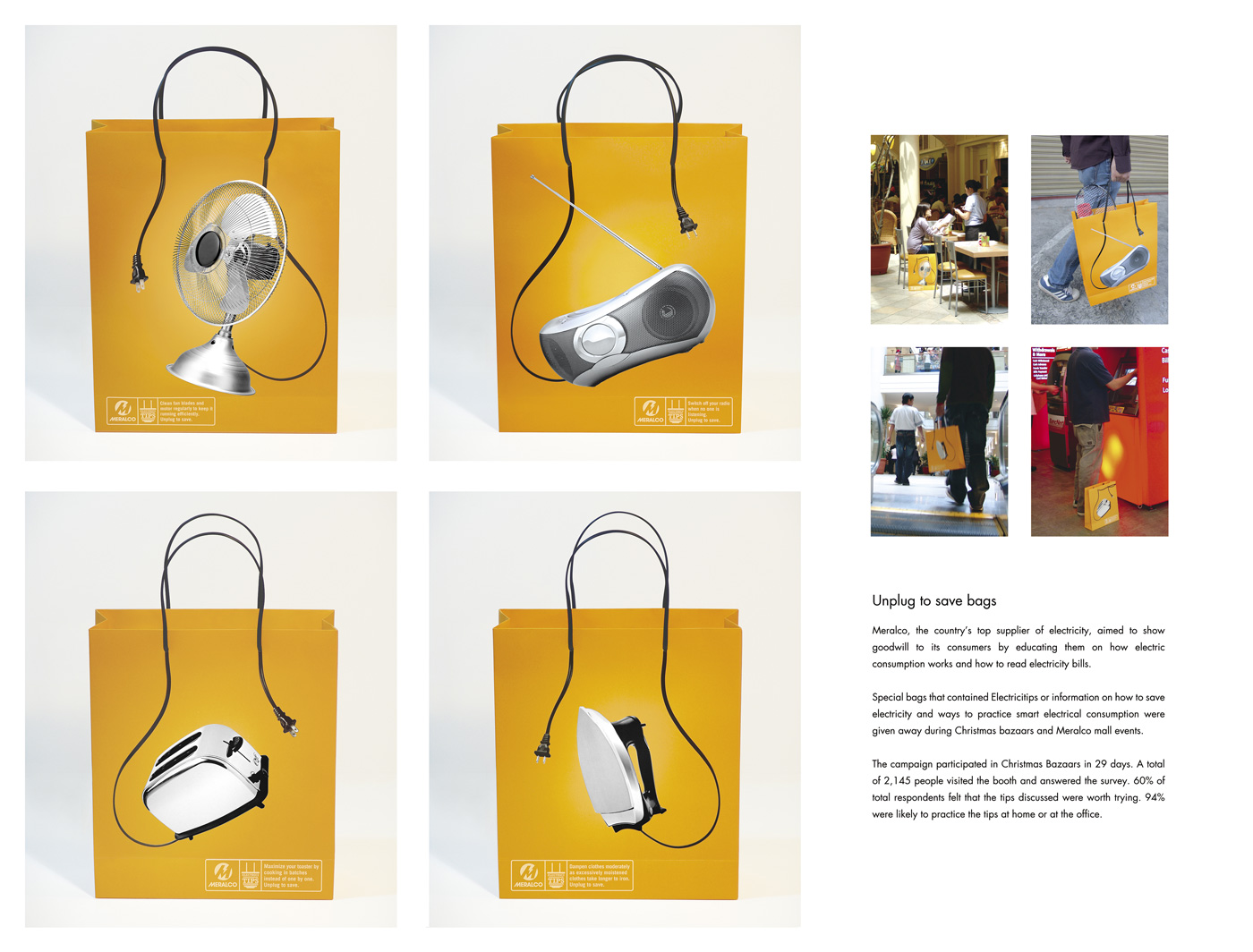 Unplug to save bags Meralco, the Philippines' top supplier of electricity, aimed to show goodwill to its customers by educating them on how electric consumption works and how to read electricity bills. Special bags that combined Electricitips or information on how to save electricity and ways to practice smart electrical consumption were given away during Christmas bazaars and Meralco mall events. The campaign participated in Christmas Bazaars in 29 days. A total of 2,145 people visited the booth and answered the survey. 60% of total respondents felt that the tips discussed were worth trying. 94% were likely to practice the tips at home or at the office. Advertising Agency: TBWA, Philippines
Greenpeace – Give Me Your Hand Guerilla Marketing Examples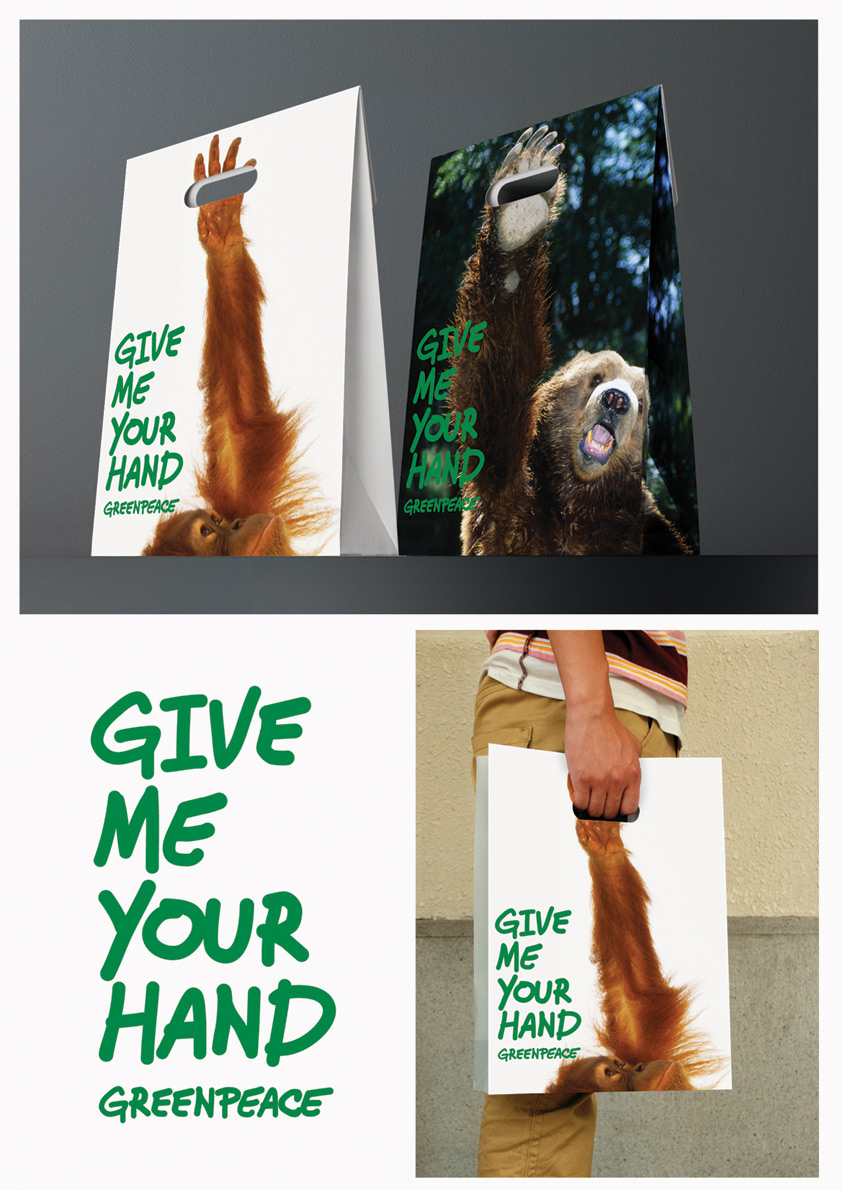 Children with Autism Guerilla Marketing Examples

Art director: Yosef Khouwes Copywriter: Bipin Jacob
Stop'n grow: Nailbiter Guerilla Marketing Examples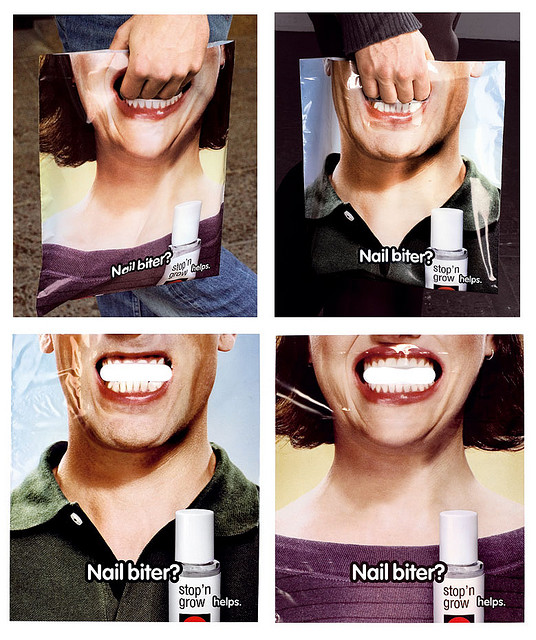 Panadol Guerilla Marketing Examples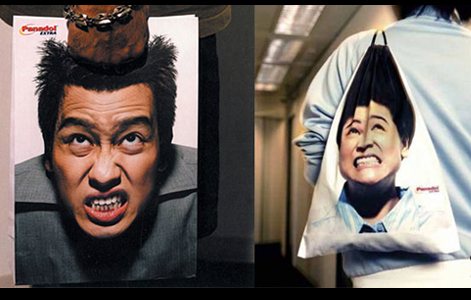 Shopping bag designed to promote pain reliever and fever reducer tablets.
Daihatsu Guerilla Marketing Examples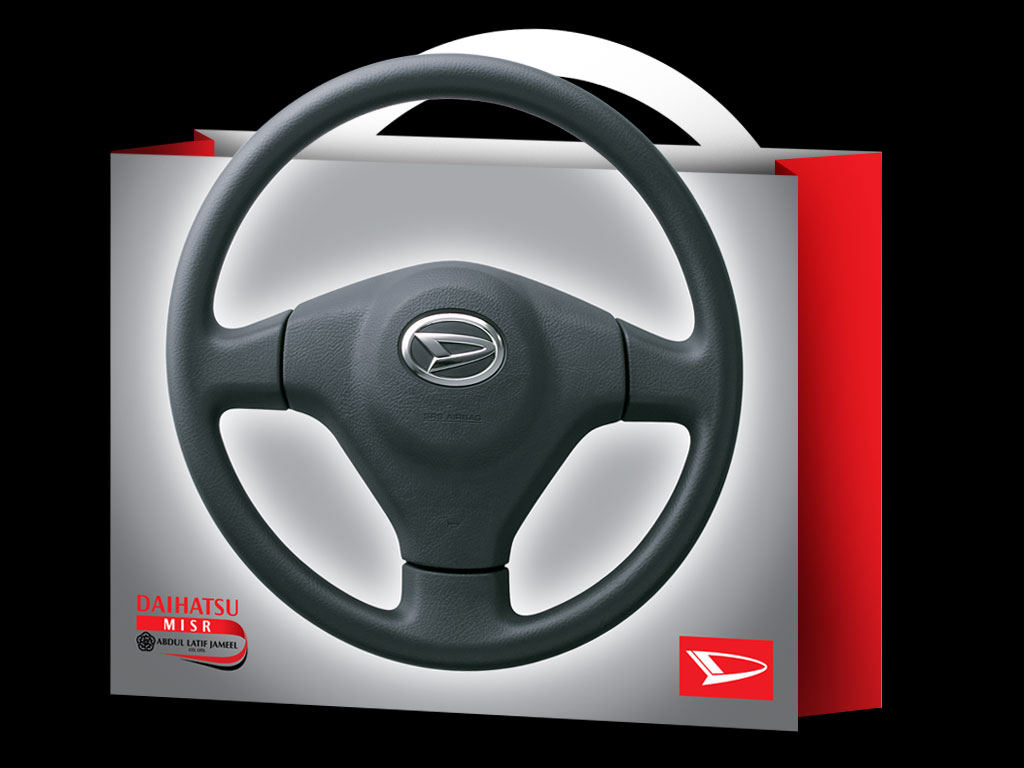 DAIHATSU Bag Agency: Creative Lab, Cairo, Egypt Art Director: Walid Abd Rabo
Red Cross – Volunteers Needed Guerilla Marketing Examples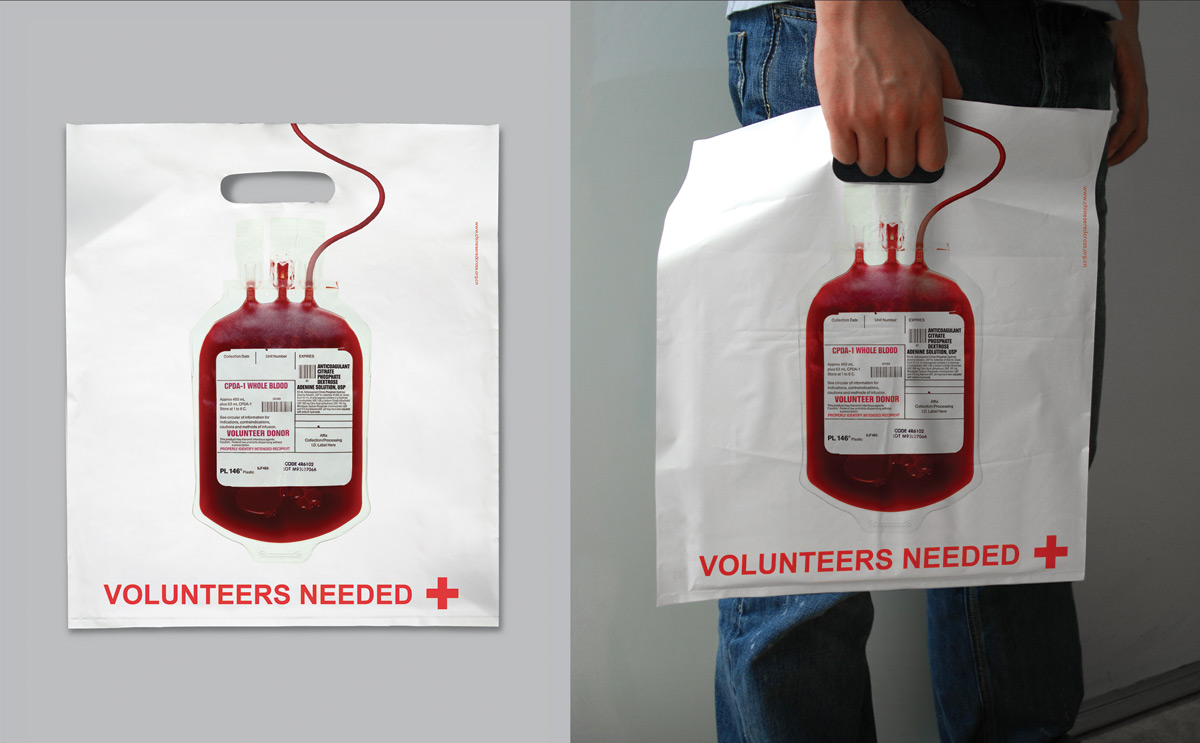 Advertising Agency: Lem, Shanghai, China Creative Director / Copywriter:Â Michael Cheung Art Director:Â Vivo Published: May 2007
Gaia: Animals Torture Guerrilla Marketing Example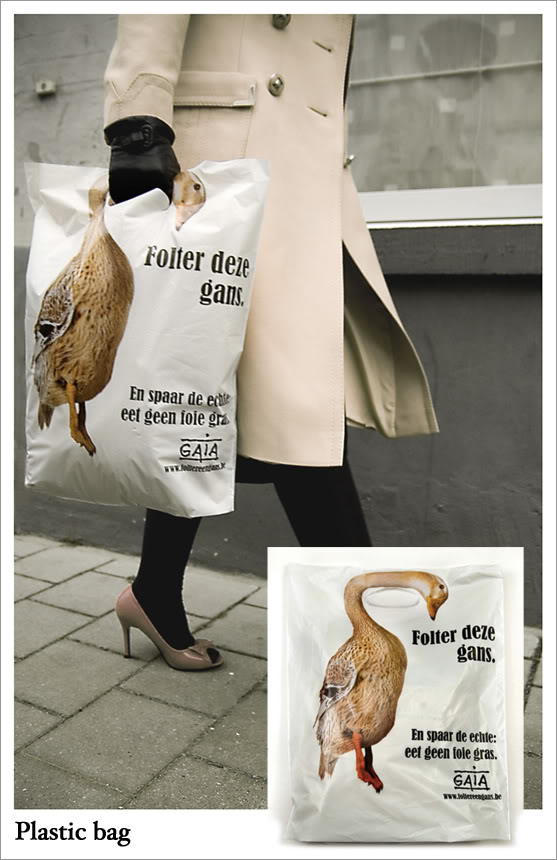 Sawney Bean – Cannibal of Scotland Guerrilla Marketing Example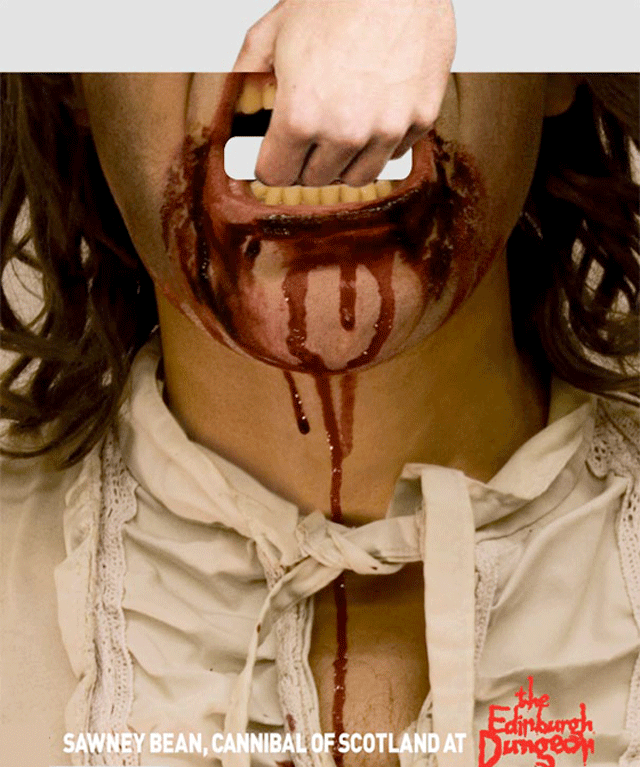 ReVital Guerrila Marketing Examples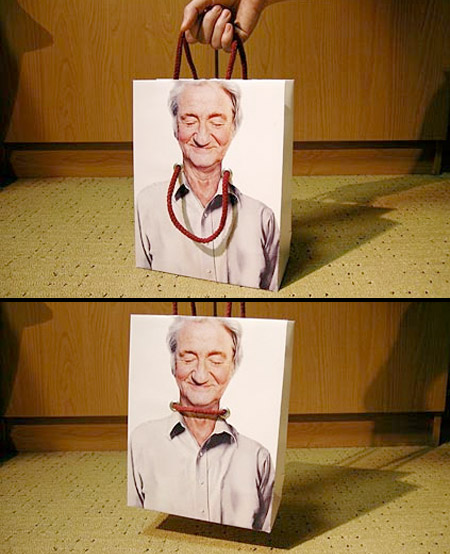 Muse Bags Guerrilla Marketing Examples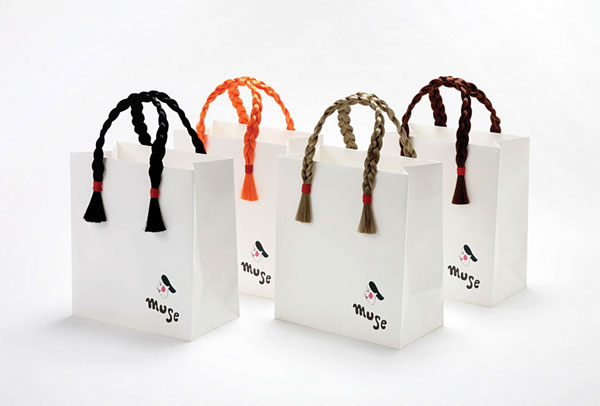 Agency: Tokyu Agency Inc., Tokyo These bags were designed as color samples of hair extensions for distribution to visitors to a party at muse, beauty salon. So, hair extensions were attached to bags as handles.
Yulia Tymoshenko Guerrilla Marketing Examples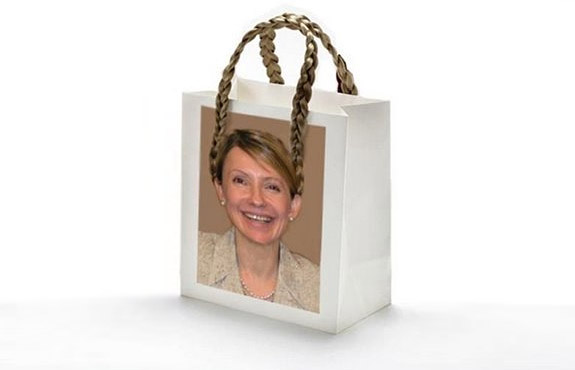 YKM Shopping Bag: Jump Rope Guerrilla Marketing Examples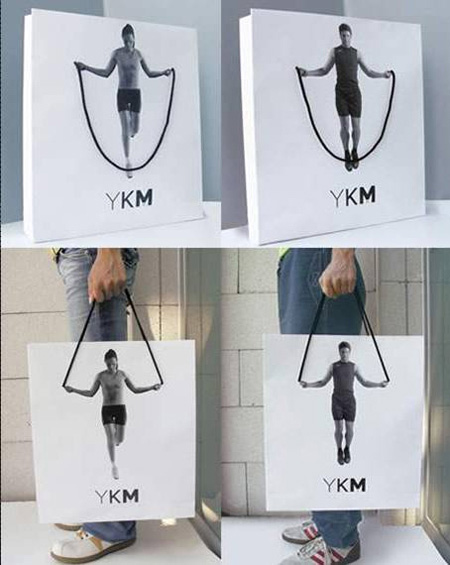 Agency: TBWA, Istanbul
Fitness Guerilla Marketing Example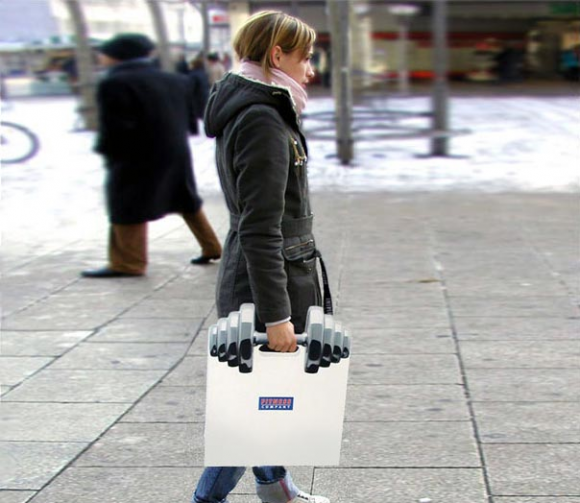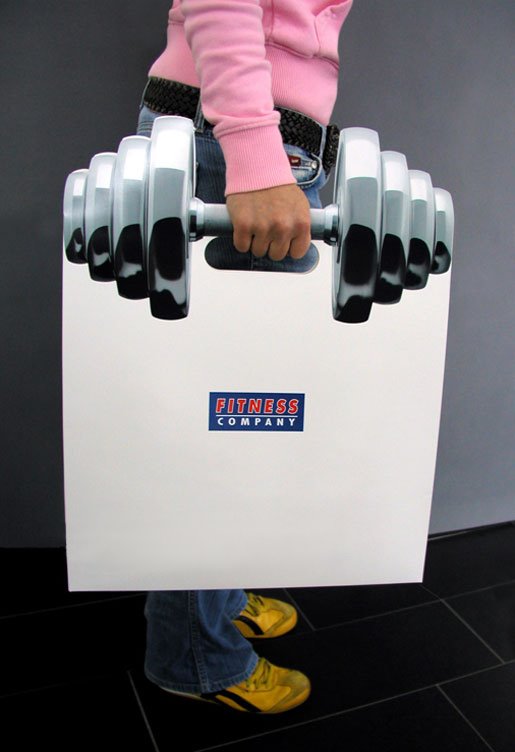 Publicis Frankfurt | Creative Direction: Gert Maehnicke
Clothes in Closets: Knucle Bag Guerilla Marketing Example

Advertising Agency: Leo Burnett Lisbon, Portugal Creative Director:Â Chacho Puebla Art Director:Â Luciana Cani Copywriter:Â Pedro Ribeiro Account director:Â Paula Lopes Account executive: Raquel Pinheiro Released: January 2009
Blush Lingerie: X-Ray Bag Guerilla Marketing Example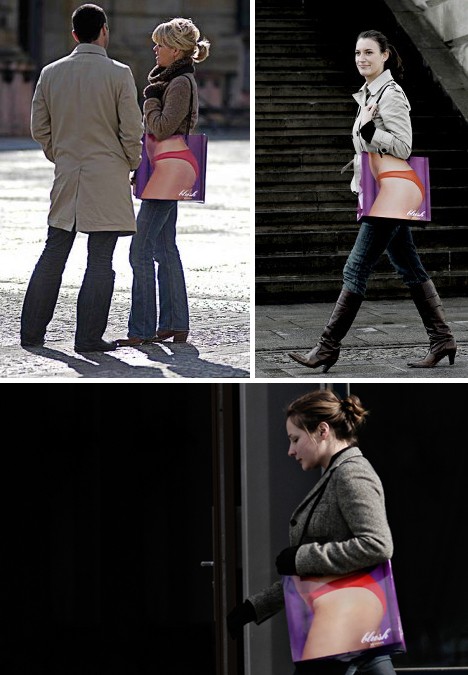 Agency: BBDO Berlin
Floating Magic-i Bag Guerilla Marketing Example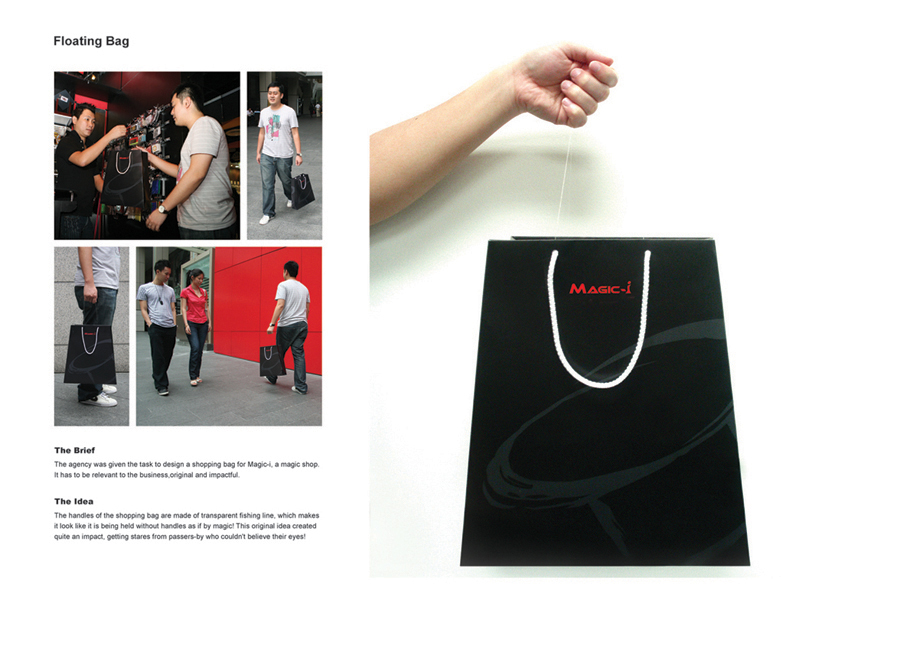 Advertising Agency: Grey Kuala Lumpur, Malaysia The brief: The agency was given the task to design a shopping bag for Magic-i, a magic shop. The idea: the handles of the shopping bag are made of transparent fishing line, which makes it look like it is being held without handles as if by magic.
Wheaties Shopping Bag Guerrilla Marketing Example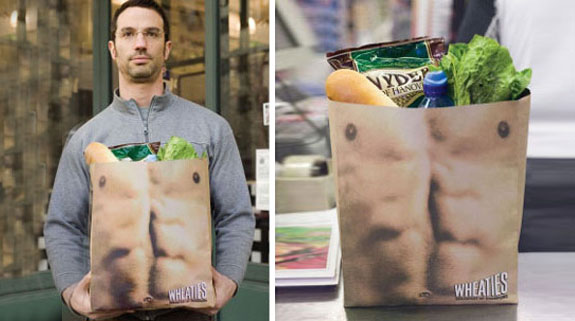 Clever shopping bag that will either inspire you to get in shape, or inspire you to carry a bag in front of you wherever you go.
Alinna Necklace Bag Guerrilla Marketing Example

Book Guerrilla Marketing Example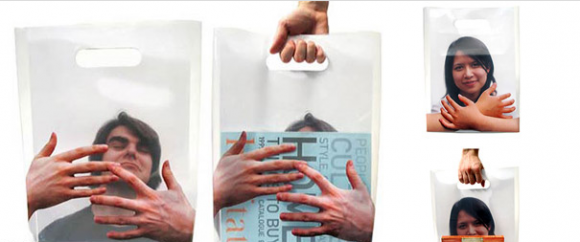 Headhunting Agency Shopping Bag Guerrilla Marketing Example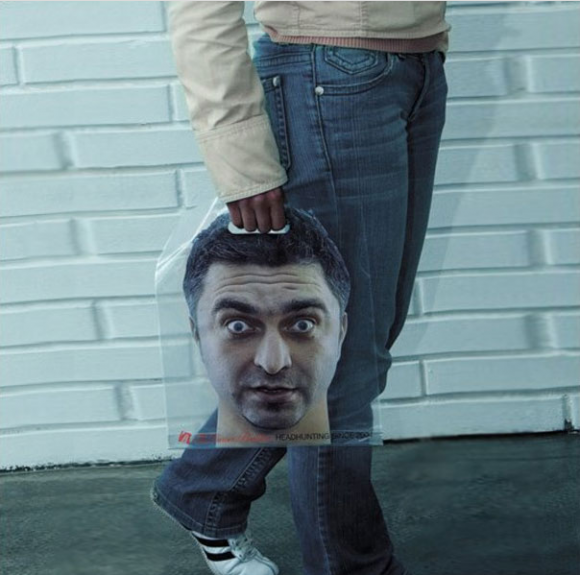 Karl Lagerfeld Shopping Bag Guerrilla Marketing Example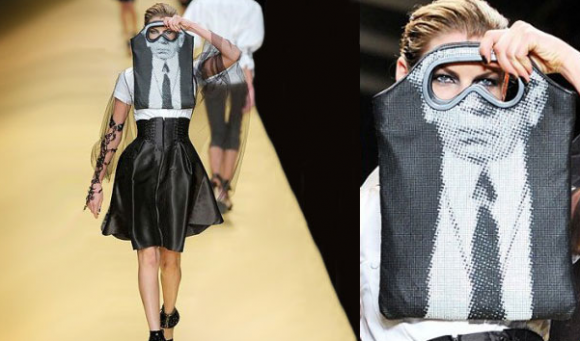 Olympic Shopping Bag Guerilla Marketing Examples

Tao Ma Design. All rights reserved.
Tom of Finland Shopping Bag Guerrilla Marketing Examples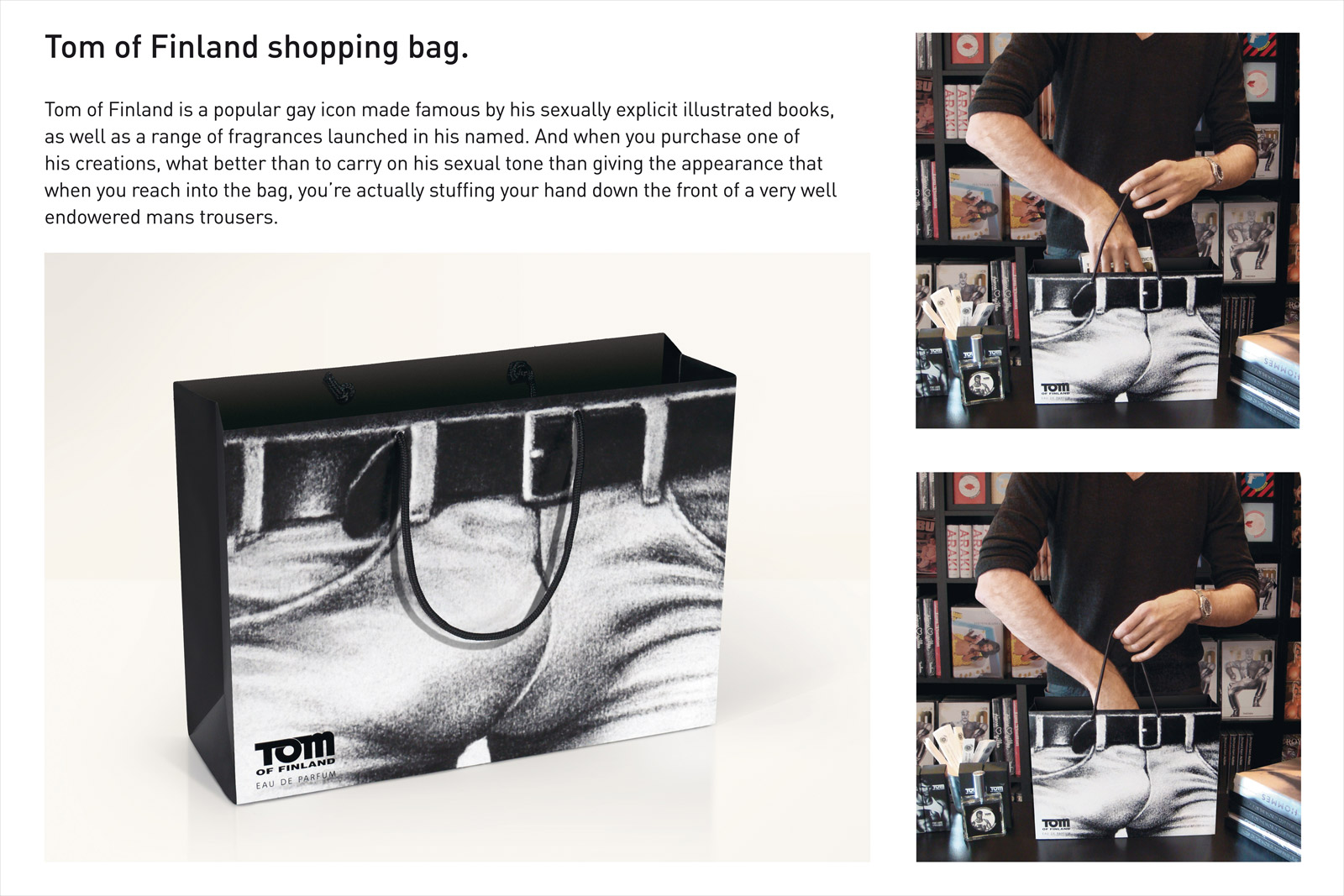 Samsung TV Bag Guerilla Marketing Examples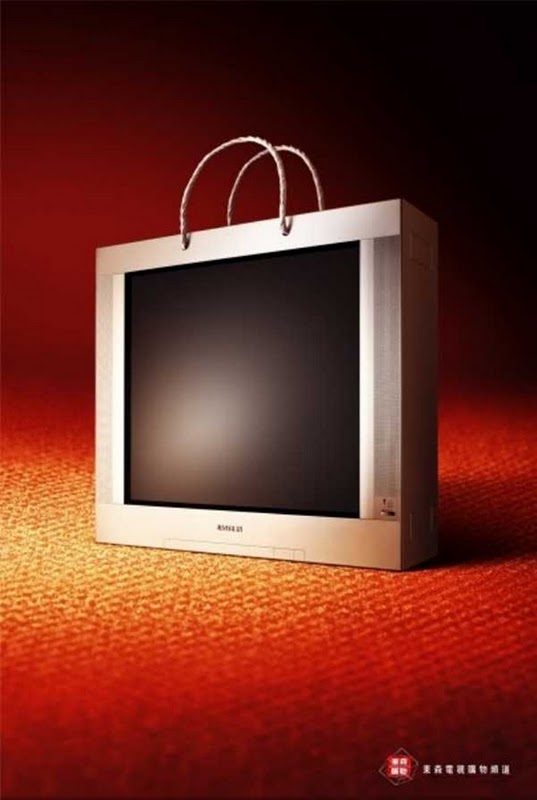 Kong Shoes Creative Bagvertising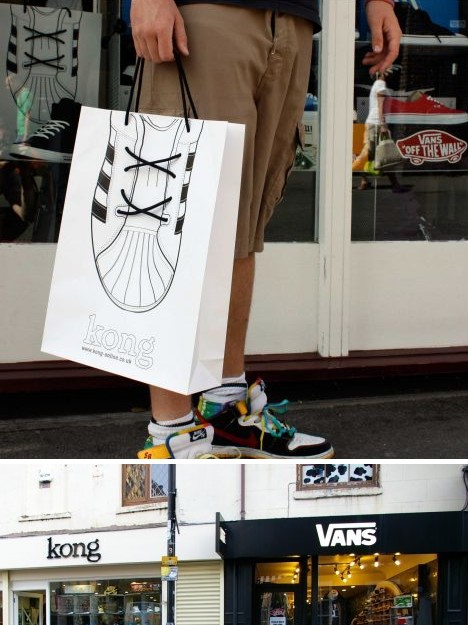 Kong is a chain of street/skate wear shops specializing in limited & collectable trainers. The handle of the bags makes the lace of the trainer. Advertising Agency:Â Rave Communications, Birmingham, UK Creative Director:Â Jamie Buckingham Illustrator:Â Terry Dean Published: September 2010
Max Factor Creative Eye Bagvertising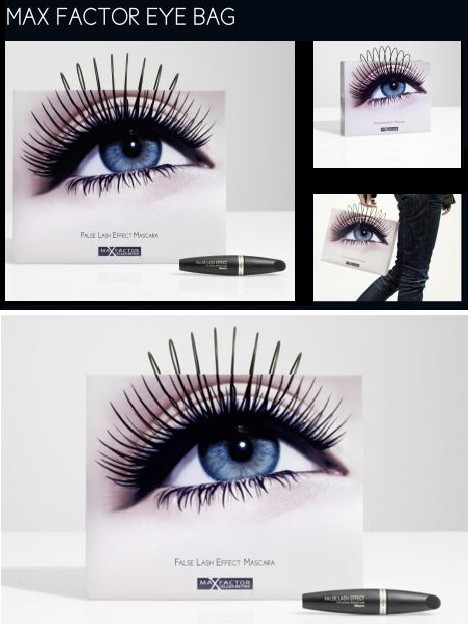 GNC Burn 60 Creative Bagvertising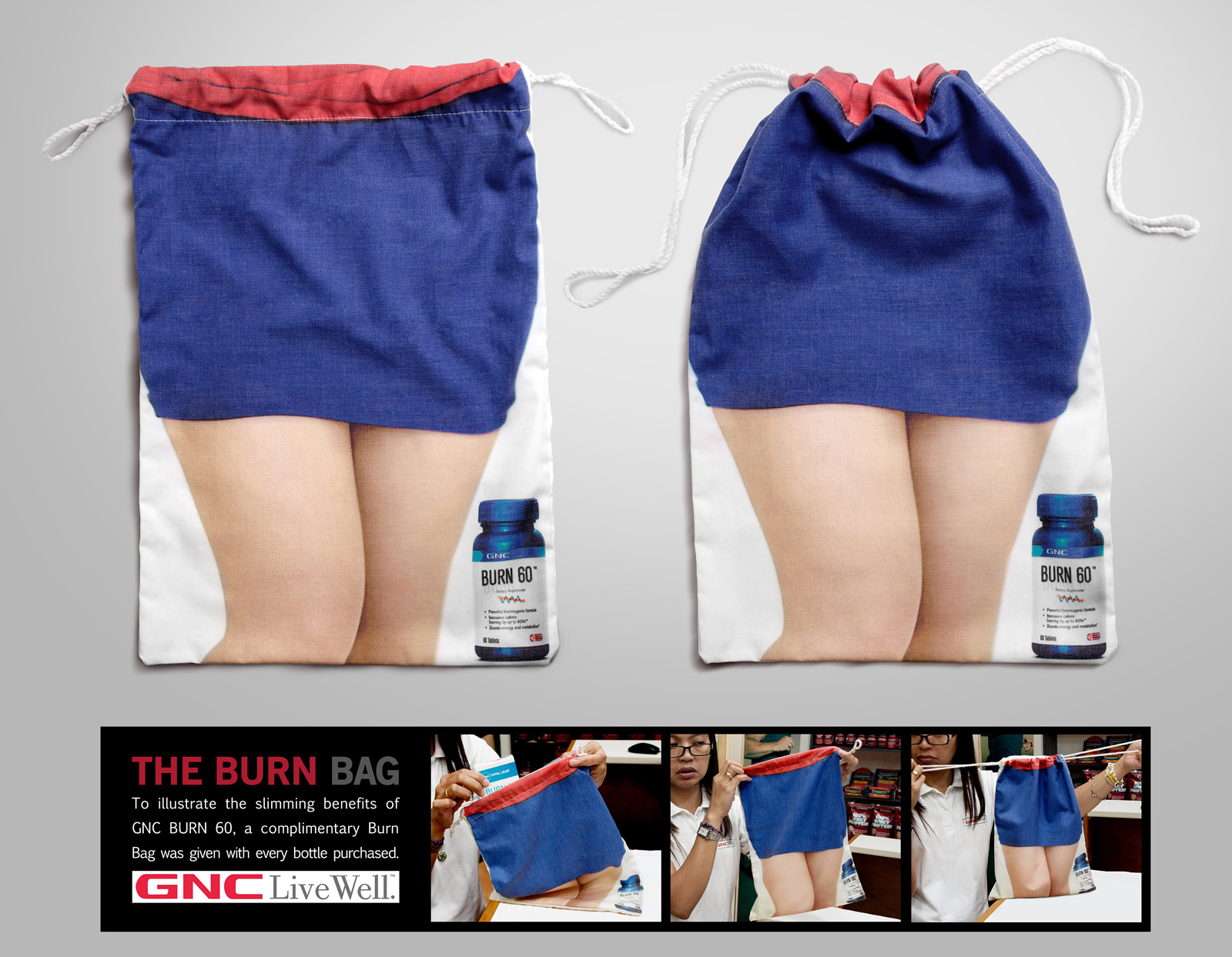 Advertising Agency: DDB DM9JaymeSyfu, Manila, Philippines Executive Creative Directors: Merlee Jayme, Eugene Demata Creative: Allan Montayre Assoc Creative Director / Art Director: Gogie Sinson Copywriter: Biba Cabuquit Photographer: Mark Nicdao
Condomi Erotic Shopping Bag Guerilla Marketing Examples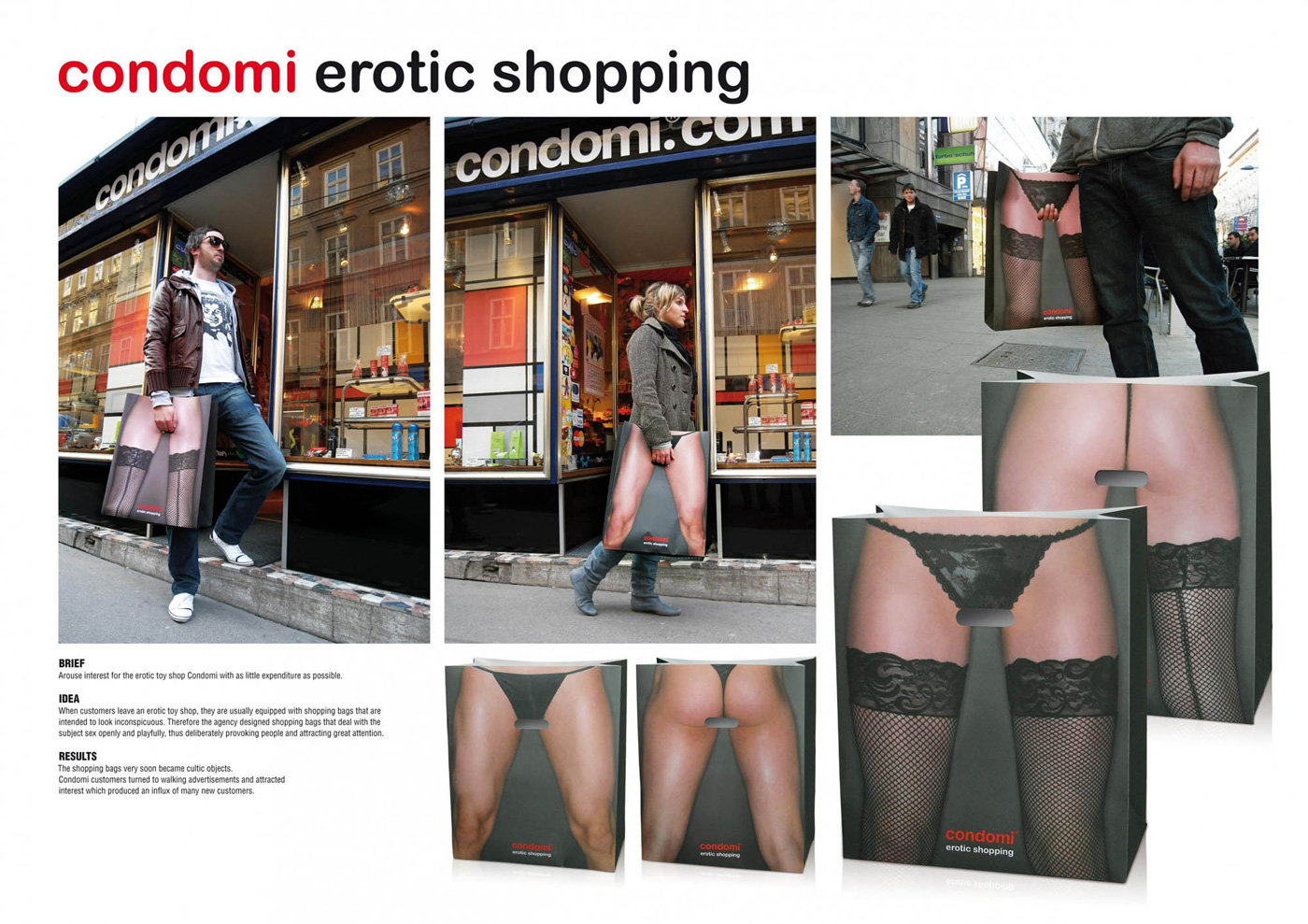 Advertising Agency: Draft FCB Kobza, Vienna, Austria Creative Directors: Patrik Partl, Andreas Gesierich Art Driectors: Andreas Gesierich, Roman Steiner Jr. Art Director: Daniel Senitschnig Copywriter: Florian Schwab Account Director: Carola Krempler-Hurnaus
LIFE (Or Other Magazines) Behind The Burka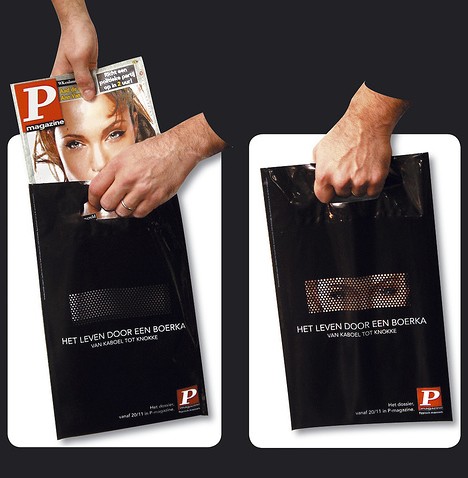 Hurriyetoto.com Wheel Shopping Bag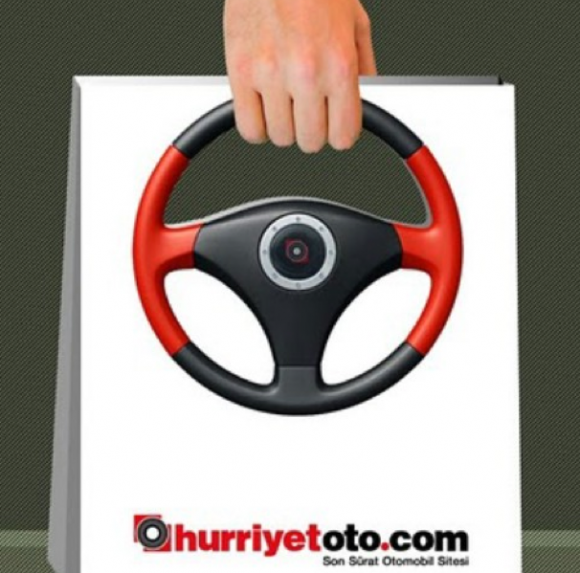 Xposed Creative Bag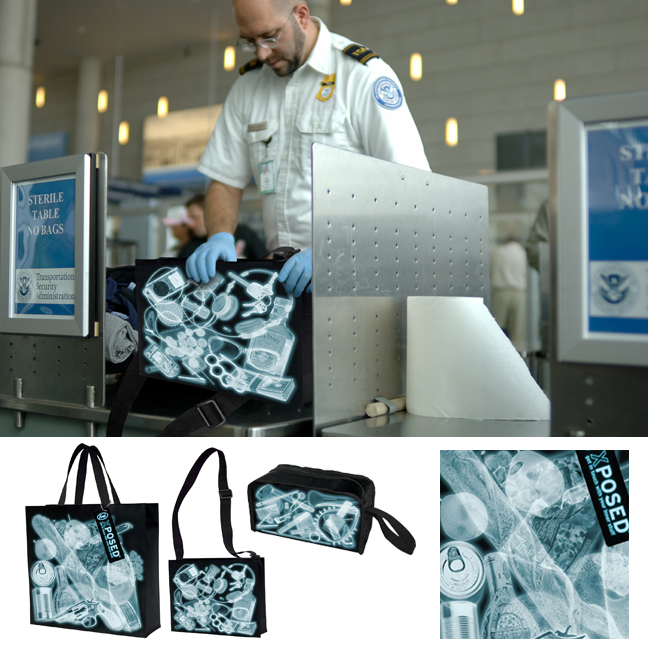 The Xposed bag by Fred doesn't really help you find your cell phone more easily in your bag. It just looks that way. [via Yanko Design] XPOSED! Get in touch with your inner stuff Here's a subvervise new line of bags that subtly reveals the real you, as well as your spiked collar, Jack Daniels, and snub-nose revolver. Xposed comes in three styles – a handy zip-close cosmetic bag, a shoulder bag for your everyday stuff, and a grocery tote. Durable non-woven plastic fiber.
Baga Design Ecofriendly Bag Design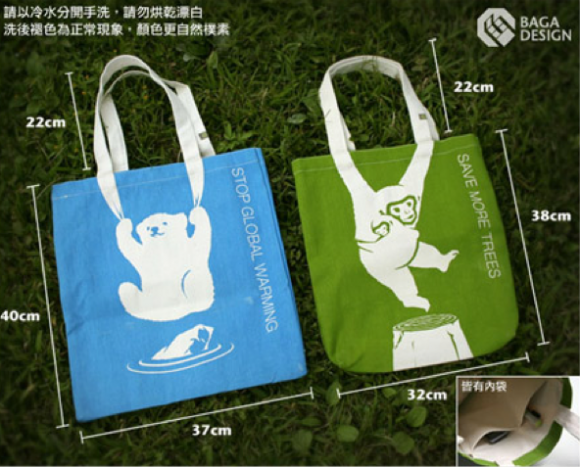 Easy Learning Center Creative Guerilla Marketing Example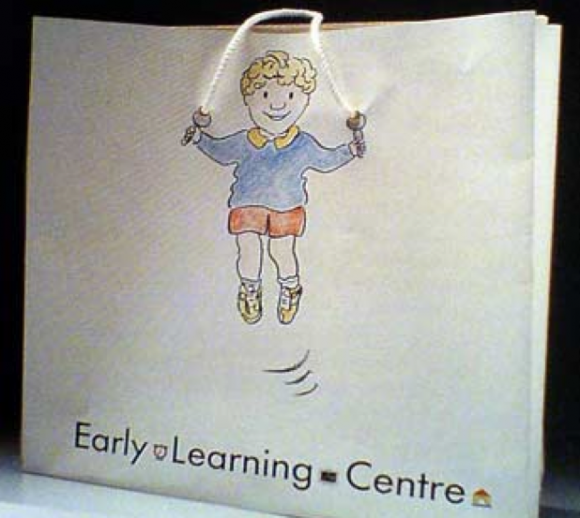 Dastoff Shopping Bag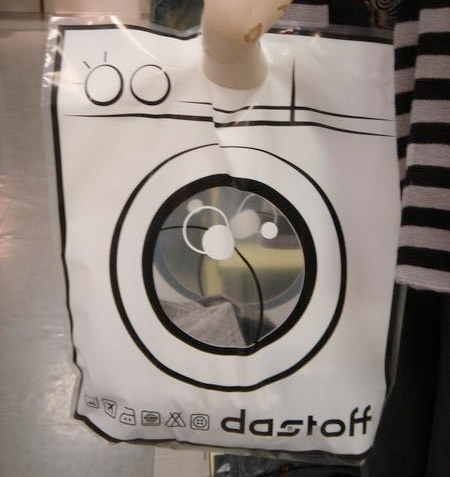 This article was revised 6/6/11. Do you enjoy these Guerilla Marketing Examples? Share it with your friends!