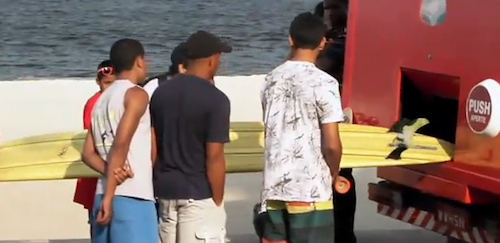 Coca-Cola just ran a new campaign as a sequel to their famous Happiness Machine that generated over 3 million views. The new Coca-Cola "Happiness Truck" takes on a more international approach as it drives and spreads happiness in Rio de Janeiro in which the truck gives out free Cokes, soccer balls, t-shirts and other free gifts to all those who press the large button on the truck. The Coca-Cola company just launched their new video on its Facebook Page today.
Coca-Cola, whose Happiness Machine video became a feel-good hit for the brand last year with 3 million views, is back with a sequel that offers more of an international flavor.
Allen Adamson, managing director of Landor Associates, says "Happiness Machine" was "brilliant" and fits in well with the brand's image. "It was an unexpected moment of joy and surprise around one of the most mundane touch points there is — a vending machine." Adamson favorably compared the viral videos with Coke's Super Bowl spots, which he said were good, but didn't get the water cooler buzz of, say, VW's "The Force." – via Mashable.com
This marketing stunt is simply brilliant as it associates the brand with spreading happiness. Although it's not quite guerrilla marketing, it is still a very effective marketing campaign that I felt needed to be shared. Let us know what you think by commenting and spreading the word!
Coca-Cola Happiness Truck Guerrilla Marketing
The Coca-Cola Philippines Happiness Truck
The Old Happiness Machine