Coffee seems to bring people together and that's how Nescafe thought to turn this idea into a whole new campaign! "Instant Connections" was created by Nescafe along with OglivyOne in Frankfurt, in a way to combine coffee with personal connections, even while passing by a road.
It was another typical morning in Berlin, with hundreds of commuters waiting for the traffic light to turn green to cross the road. That's when they noticed a new box added by Nescafe on the pavement, inviting them to push the button. Nothing was happening when they did so, not at least the commuters that were on the other side of the road press the same button, right across the street. It was when they both pressed the button that a coffee machine showed up, treating them both with a hot cup of Nescafe coffee.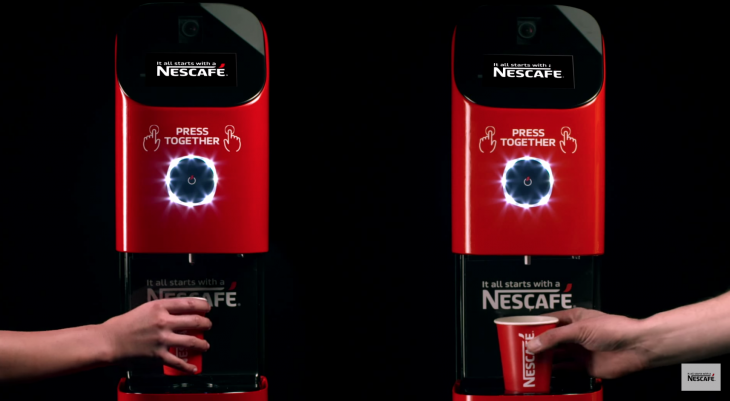 The concept was rather simple, but effective. We all love coffee and we'd love to have a cup before going to work. Imagine a person's surprise when offered this cup right on the street, also adding to that a brief encounter with the person that is 'responsible' for this cup, the one on the other side of the road. Just like that, people of all ages exchanged a greeting, a smile, a handshake, enjoying their cup of coffee and starting the day with the smile.
SEE ALSO: Contagious Billboard Makes You Yawn to Promote Coffee
Nescafe wanted to remind us that coffee brings us together, creating "instant connections", as the name of the campaign indicates. The campaign did not focus on the actual promotion of the product, neither on his taste, nor of its quality. Nescafe seems confident enough about these, but they seemed to prefer to emphasise on the human element, the human connection that we all can relate to.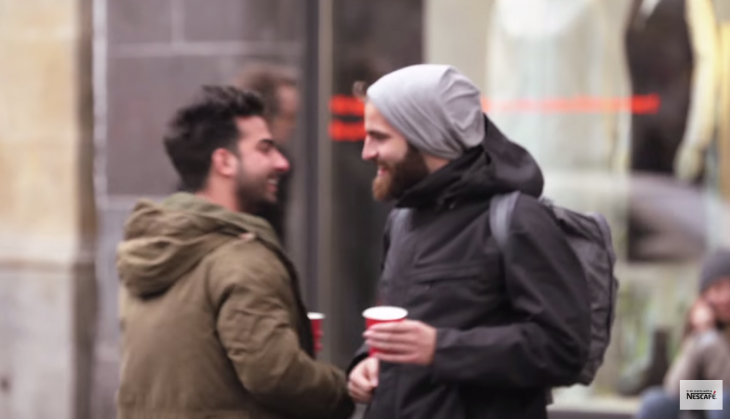 Nescafe's marketing stunt is another successful case of ambient advertising, the one that seems to be effective, just because it was conceived and implemented in a creative way, comparing to the ones we'd usually expect. Apart from that, experiential marketing is always welcome from customers, linking a brand with an emotional appeal, connecting it with the feeling they experienced at the moment of the campaign. It's not the promotion that counts in this case, but the actual experience that stays. Thus, such an ad manages to connect the customers both with each other on the road, but also with the brand, creating indeed "instant connections."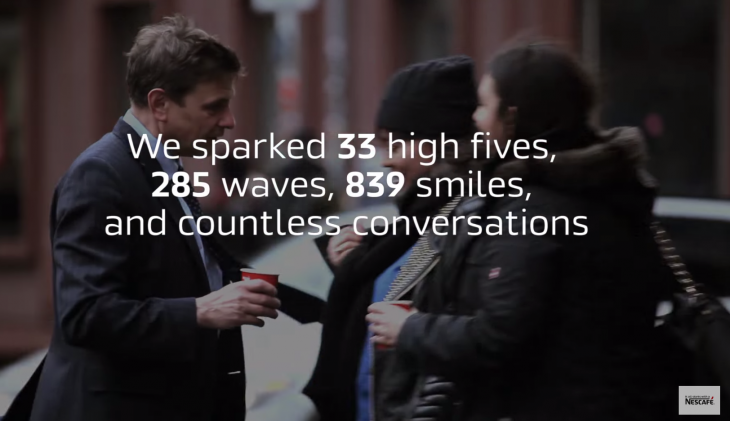 During the day of the filming, Nescafe was happy to count 33 high fives, 285 waves, 839 smiles and "countless" conversations between the users that enjoyed their free beverage. In just one day, they inspired 318 nescafe coffee connections and that's why they end up their campaign with:
"It all starts with a Nescafe" completing the instant connection, both with the brand, but also with other customers!
CREDITS
Advertising Agency: OgilvyOne, Frankfurt, Germany
Chief Creative Officer: Michael Kutschinski
Art Director: Garth Gericke, Klaus-Martin Michaelis
Junior Art Director: Yahao Wu
Copywriter: Hayley Chappell
Account Supervisor: Jonas Bailly
Account Director: Felix Rompis
Additional credits: Dropout Films
Published: March 2015