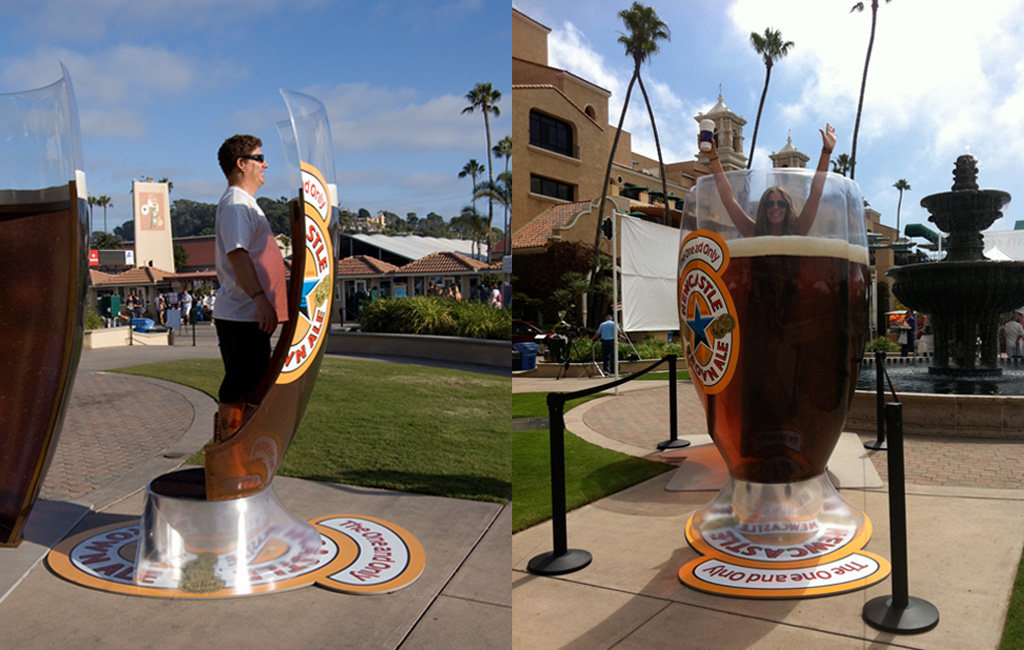 VITRO, the agency behind the recent Alpina Wishes for Women campaign, is at it again with their latest creative campaign for Newcastle Brown Ale. This campaign is everything a creative could hope for: it's funny, it's interactive and it's effective! Here are three creative marketing campaigns the agency has done for Newcastle Brown Ale. Let us know what you think by commenting below!
(New York, NY) Newcastle Brown Ale announces today an out of home advertising campaign so innovative that it truly lives up to the beer's nickname: "The One and Only." Building on Newcastle's highly successful appeal to "Taste the Lighter Side of Dark," three branded public art projects will debut this summer in San Diego – all designed to get people talking, texting, posting and "checking in," as they check out what Newcastle has to offer. The curtain lifts on the first project "Trapped in a Schooner" at the historic Del Mar Racetrack in time for opening day, July 20th.
Newcastle: Trapped in a Schooner
"Trapped in a Schooner" will entertain race fans through an optical illusion.  One person stands in a special location, while another climbs inside a larger than life replica of Newcastle's traditional glass, the Geordie Schooner. The effect: it looks like they are trapped in a giant pint of Newcastle Brown Ale (what a pity).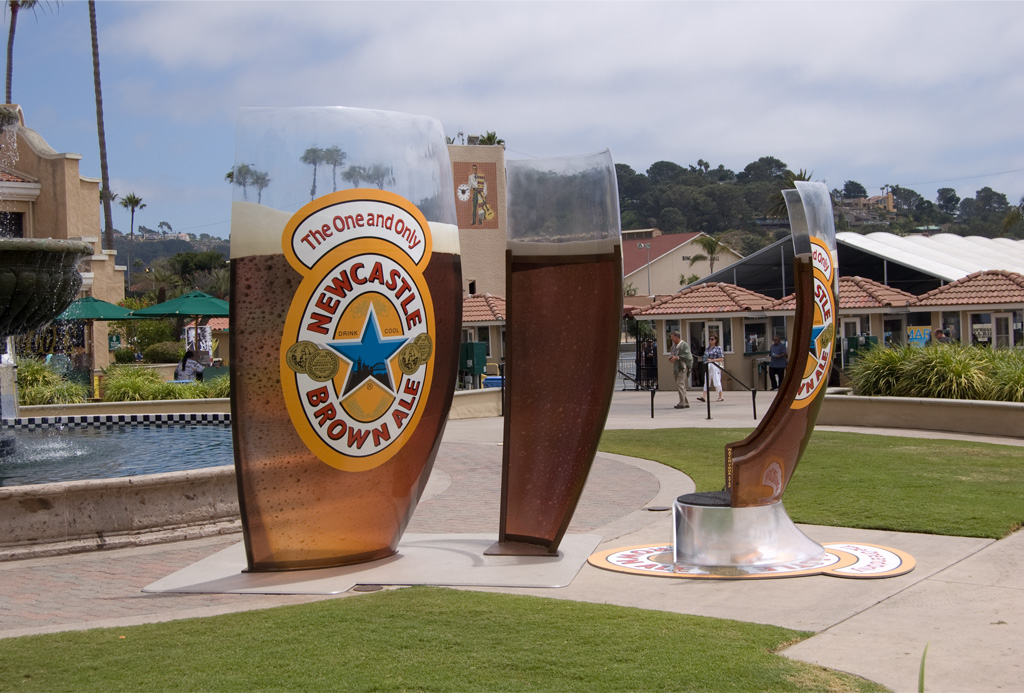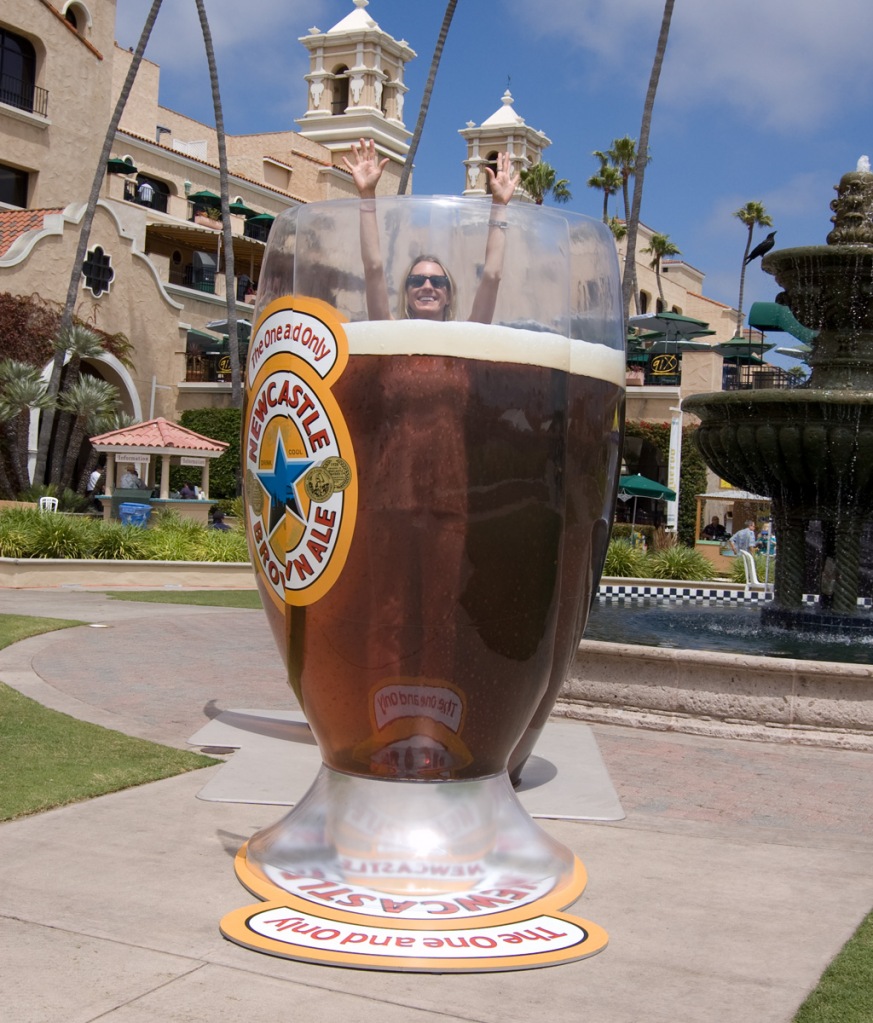 >> Read more about this campaign
Newcastle: Shadow Art
"Shadow Art" will debut August 1, amazing pub crawlers San Diego's night life hub, the Gas Lamp district. Using only a single light source and dozens of real-life Newcastle Brown Ale bottle caps, two well-known New York shadow artists have partnered with Newcastle to bring to life a 128 square foot shadow sculpture reaching for a pint of Newcastle.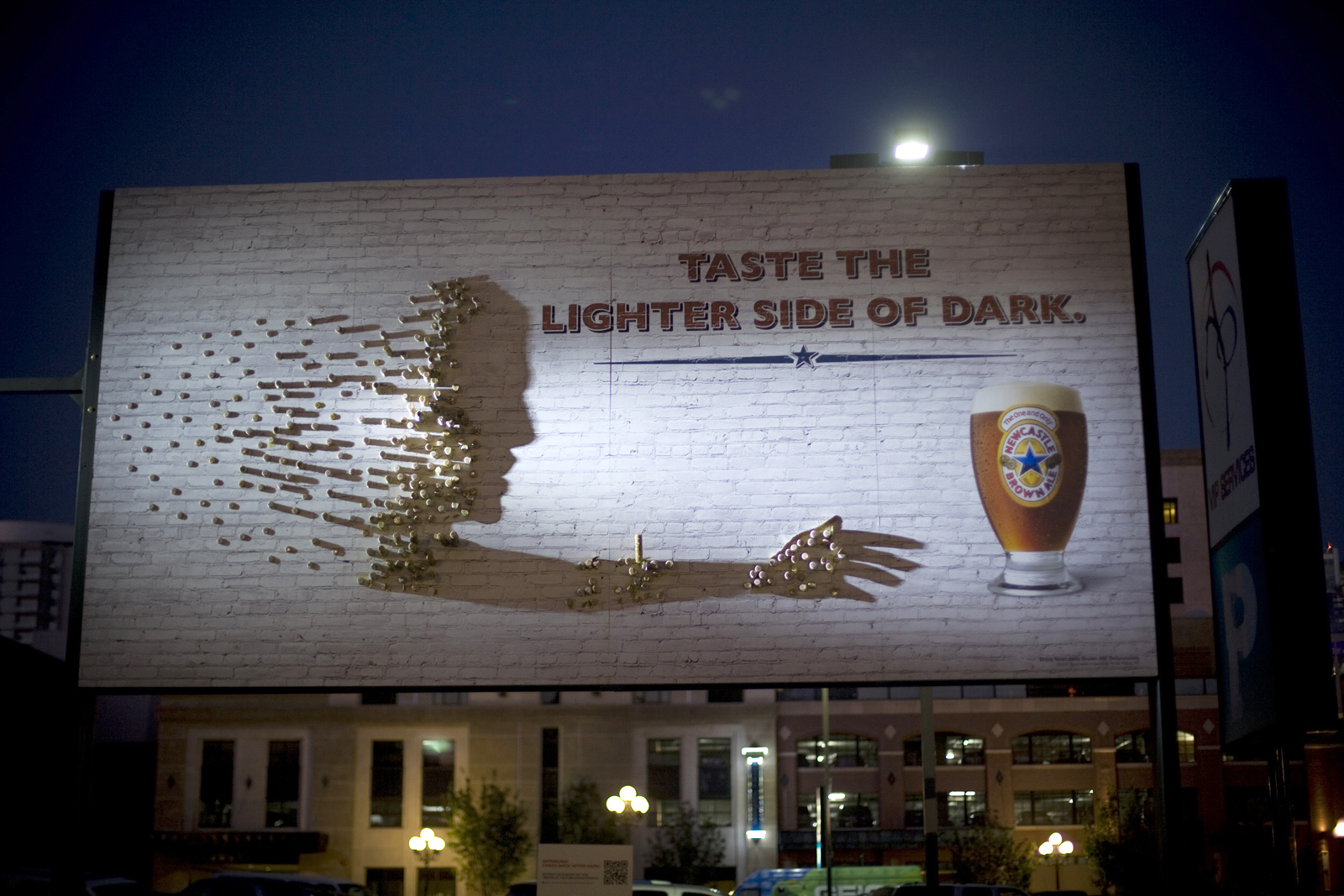 >> Read more about this campaign
Newcastle: Human Installations
"Human Installations" will make customers look twice at some of San Diego's top on-premise locations. No, it's not a beer robbery in progress. It's a series of ingeniously installed human forms apparently trying to steal a keg of the "Lighter Side of Dark," on display between July and September.
"Newcastle Brown Ale is all about breaking conventions. It's a dark beer that's surprisingly easy to drink. And this campaign is all about doing something that goes way beyond conventional advertising," says Charles Van Es, Director for Newcastle Brown Ale. "Our drinkers won't settle for an ordinary ale, and we wanted to give them something extraordinary this summer, with these engaging, one of a kind projects."
From the race track to the pubs, Newcastle Brown Ale will be encouraging fans and friends to post pictures of the Summer Spectaculars to their personal social media networks. Foursquare check-ins at the Schooner installation will also be rewarded with special Newcastle Brown Ale merchandise, furthering the buzz and word of mouth value of these projects.
"We think the guys who drink Newcastle, are a bit different. As a discovery brand, the consumers who order a Newcastle make a conscious choice to stand apart from the perceptions that most domestic beers thrive upon, so it was important for our out-of-home to reflect the sense surprise people have when they try our ale…in other words "it's not what you might have first thought", adds John Vitro, Executive Creative Director. "By getting people to engage and participate in the marketing we have the chance to express the wit, intelligence and wry smile that could only come from a British import like Newcastle."


To see Newcastle's Summer Spectaculars for yourself, visit our Facebook Page or YouTube channel
Credits
Executive Creative Director: John Vitro
Creative Director: KT Thayer
Copywriters: Schuyler Vanden Bergh, Amanda Abrams, Pam Frasier
Art Directors: Paul Lambert, Kevin Lukens, John Leon
Agency Producer: Mickey Strider
Account Director: Ben Feeney
Account Supervisor: Whitney Milne
About VITRO
VITRO is a full service creative agency located in San Diego, CA, known for stealing share through great work for our clients around the world including: ASICS, Newcastle Brown Ale, Bollé sunglasses, and PF Chang's among others.
via Vitro