In this video, we can see that British agency AMV BBDO installed an unusual Pepsi vending machine vending machine geared towards the NFL match held in London's Wembley Stadium. Instead of paying with coins, cash or credit card, here you pay by showing your enthusiasm as the machine asks you to scream "there is no party like an NFL party" while dancing, jumping up and down or tackling the machine. There are different ways to get the Pepsi Max can, but all involve being excited about the game the vending machine was installed for. As the video shows, many people approach it and once they pass the test they get a free Pepsi Max can.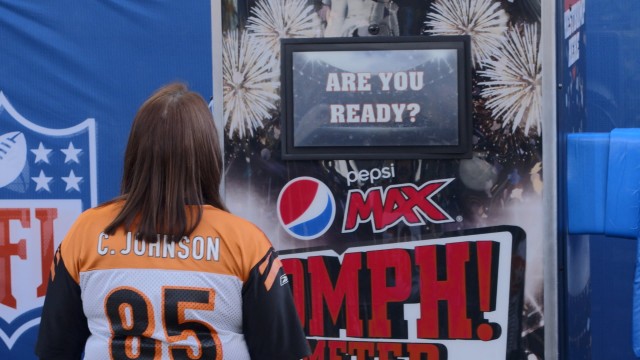 Active branding
Throughout the advertisement, just like in any other other Pepsi Max ad we can see the logo very vividly and throughout the video's duration, which is a good thing as you have to remind customers of the product and never leave the audience wondering what the product is. It also raises the chances of people buying their products, just like seeing the ad over and over again (unless the exposure reaches annoying levels, of course).
The idea itself is very good as it is greatly linked to PepsiCo's main product via the vending machine through which you can usually get a Pepsi Max can. People will always pay attention to vending machines if they are interested in buying a soft drink, so it only attracts more attention. If to evaluate the advertising method, giving away free stuff is always a bonus as long as the company can afford to do so, which in Pepsi's case they most surely can.
Give, and you shall receive
It's a great bonus to advertise with freebies because people love free items, as they don't have to pay to be exposed to your campaign and then they will surely give their entire attention to the product. Pepsi is quite a known brand, so it's most that the people there have tried Pepsi but after seeing the advertisement they will choose it over any other soft drink because they have just had one and might be feeling like more throughout the game through the simple mechanism of wanting more after having one nice refreshing can.
The advertisement is also effective because it will leave the customers satisfied by having this unique interaction and people are more likely to discuss campaigns which are fun, unique and catch their eye, so this one will also get the royal treatment of word of mouth. By and large there are no flaws in this campaign – it is creative, straight-forward, free to experience and attention-grabbing from what we see on the video. There you have a huge amount of people approaching the vending machine and participating for their free Pepsi can.
The Pepsi brand itself is associated with its great adverts, and this is another example of how good their marketing agency selection is – props to AMV BBDO!
Credits
Advertising Agency: AMV BBDO, London, UK