In the video above (created by the coincidentally named agency webguerillas based in Zürich, Switzerland) we see people going about their daily lives, busy with their usual tasks before they see a group carrying signs with clouds on them among other things. That causes their activities to be disrupted, as people get curious over what they are seeing. Then more people begin to pay attention as the small show unfolds, revealing an aircraft's wing, it is revealed that this actually is not just a regular street show, but an advertisement inviting people to become cabin crew members for Swiss International Airlines. The message is that they work above the clouds, and the airline shows that with the help of the signs.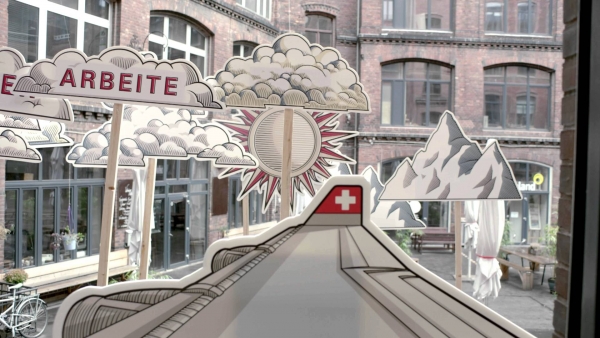 High Standards
Like every single advertisement campaign it has its ups and downs. The upside would be that it's quite a creative and unique way to show everything as a small play, by doing it in a rather artistic way. That's how it attracts people's attention to check what's going on and get them curious, because to get someone to focus they have to be curious over what's going on. That's one of the keys to making a successful ad: capturing the viewer's attention for more than a few seconds so that the ad becomes a longer thought in their brain, and making sure the message will be remembered later.
Another positive thing is the message itself and how webguerillas stuck to the recognizable things about flying – clouds and wings – so they did an excellent play on association as people will think of those two things together and the message is very clear and easy to understand.
The idea of showing the signs inside office buildings deserves credit too, as statistically people who are already employed are very likely to take on a job offer they feel suits them better than their current position, and office workers are often looking for excitement – something a job flying around the world is sure to bring.
Sky-High Nitpicking
When it comes to the negative aspects of the campaign there are very few to mention. They showed in the end that this was an airline job advertisement, which they perhaps could've done in the beginning, but at the same time leaving suspense is sometimes also essential as this will entice people making them curious about what is going on and keeping their attention on the campaign, something this advertisement has done well this time.
The Swissair campaign was only in German which can be seen as a downside at least when the agency's video is promoted, but it was catered for a German speaking audience who would possibly be interested in working for the airline so on the opposite the choice of language doesn't alienate the locals whom the ad was made for or the chosen city where the advertisement took place. Also, the campaign's signs group could have walked around the city longer and shown different places since they had already done all the project, but that could be seen more of a suggestion than criticism.
Credits
Advertising Agency: webguerillas, Zürich, Switzerland
Creative Director: Ryan Daynes
Copywriter: Daniel Gremli
Designer: Natalie Kauer
Social Media: Simon Keller
CEO: Dino Ceccato
Account Manager: Gianluca Pirrera