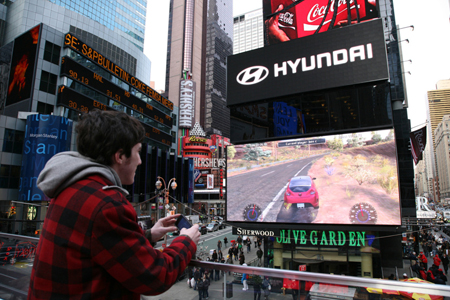 Hyundai have created the world's largest iPhone controlled racing game in New York's Times Square. The billboard can be controlled via an iPhone after they register with the "Hyundai Race" and download the app. Once controlled, the user can steer the Velostar hatchback car by tilting their phone left and right. Movement is then detected by iPhone's built-in accelerometer.
Users also have to connect to the Hyundai WiFi network in Times Square to connect their phone with the game. Once they complete the race, the gamer can find his or her score on the massive billboard along with other racers' scores.
Because the screen is so massive, it undoubtedly captures the attention of the massive crowds in New York's Time Square. It's definitely an interesting concept that would begs to have more social network connectivity. I'm sure we'll all see some more exciting guerrilla campaigns in 2012!