Audi wanted to encourage people to explore further than ever before. They saw that people on Instagram keep posting the same old photos of the same old boring destinations. With the help of Swedish agency Åkestam Holst, they created a microsite that showed where the most Instagram photos were being taken in Sweden. They then encouraged Instagram users to explore more of the unknown and capture these amazing places using the #Catchtheunseen hashtag.
By uploading a photo with #CatchTheUnseen and @AudiSweden, the algorithm could find the nearest geotagged photo and reveal the distance to it. The winner was the one with the furthest distance.
The campaign was a huge success as it helped Audi reach more than 500,000 Instagram users. The winner captured an amazing photo where the next nearest photo was over 8 miles away. The winner received a brand new Audi Q7.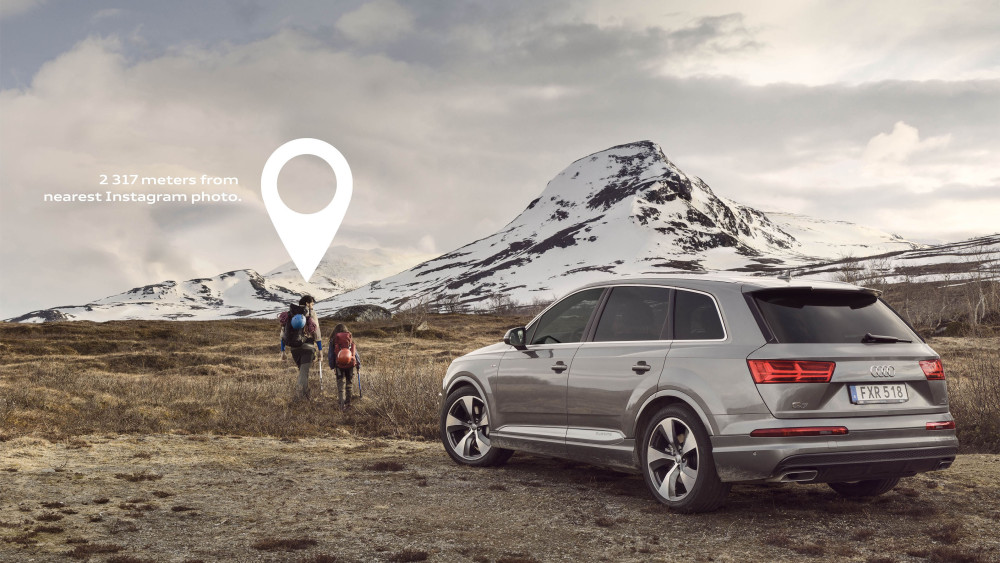 Credits
Agency: Ã…kestam Holst
Andreas Ullenius – Creative Director
Michal Sitkiewicz – Art Director
Eva Wallmark – Art Director
Rickard Beskow – Copywriter
Tom Hedström – Business Director
Johan Eklund – Producer
Jennie Strinnhed & Mirja Hjelm – Account Manager
Jerker Winter – Planner
Kalle Peterz – Web Developer
Nisse Axman – Motion Director
Eric Karlsson – Motion Designer
Torbjörn Krantz – Graphic Designer
Production companies
Photo & Film – C2 with photographer Petrus Olsson.
Web production – More