Love is a very important feeling in our lives and we have special days and moments along the way. One of them is proposing to the person we love. In the video above organized by DoubleYou for Danish jewelry giant Pandora, subject of love was very widely discussed. Two women who work in the Pandora marketing team start talking mysteriously about love, and that a gesture like that done just for you is beautiful indeed.
Then we are introduced to Andres, a man in love who decided to contact Pandora for help. Back to the marketing team, they start talking about different ideas which they started having to help Andres give something unforgettable to his girlfriend.
We see throughout the whole video how they put make-up on Andres in order to prepare him for the filming of a video, making him look much older than he actually is. The idea was this: a video send 'from the future', where Andres tells Ana that many days are important, such as this one. Andres takes his girlfriend to the location where the video is shown on a big screen. They watch it together and finally, Andres asks Ana to marry him.
Pulling all the right heart-strings
The advertisement is of course very striking and plays a lot on people's emotions. It is very hard not to feel tender or even cry a bit due to the campaign, because it is so powerful. The fact that it's striking is great because that means that it will remain for a very long time in people's memory.
The video was also shown to many people and a whole crowd gathered to see the event, so it becomes a fond memory for those people as people always tell around that they saw a couple get engaged, since it is always a big deal. Much like seeing a wedding, you'll talk about the married couple you saw walking by.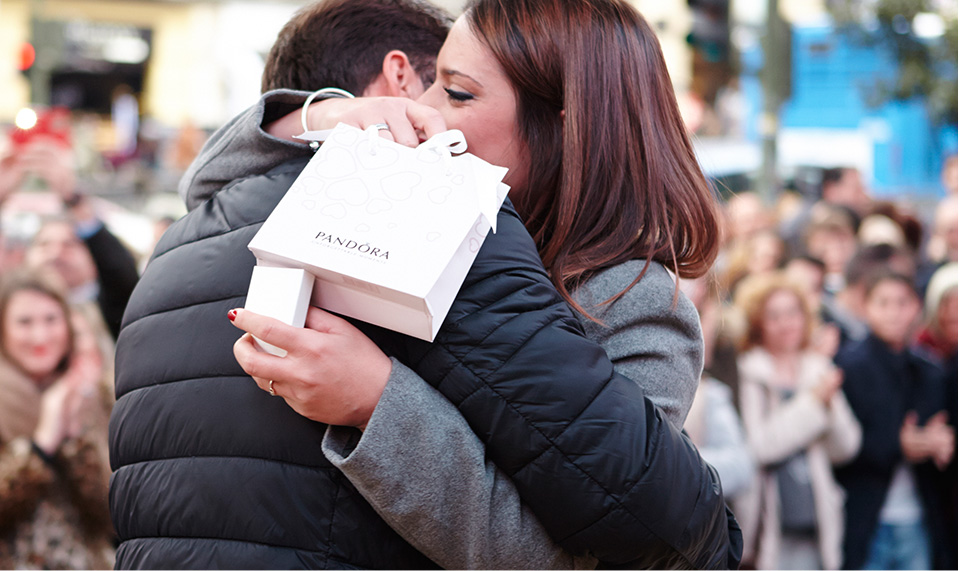 The Pandora brand is consistently seen throughout the whole video, an even stronger factor since they are the brand behind the wedding ring, the pinnacle of the event. The brand chose how to market their products very well, as they do cater to a wide audience of engagement rings. It's important to choose a field where to advertise which will show where the product is used, and this was a perfect choice.
Attention to detail
Also, there was a subtle hint at other items as we could see a woman trying on a Pandora bracelet. Some could see that as a negative as it could've diverted the focus of the engagement rings, but on the other hand, it seemed well placed and was a great nudge to the rest of the Pandora product range.
The campaign is very strong as it plays deeply on emotions which will make it more memorable, and the brand is well identifiable throughout the whole advertisement, which doesn't give any confusion to the viewer on what it is about. Everything was done very well, and the execution was flawless.
Credits
Advertising Agency: DoubleYou