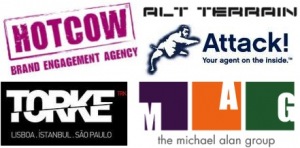 Say we have a creative idea. After a thorough and team based analysis, we consider it clearly, relevantly and freshly communicate the message we want our target audience to take away (plus it has great online viral potential!). Now what? Can we pull it off on our own or do we need a partner?


Execution is a  key aspect to all marketing campaigns and specially those stunts that are closer to our target audience. Thus, this post is dedicated to aid in your decision in finding the appropriate communication partner to help you execute complex guerrilla marketing communication campaigns and achieve your brand objectives. For this purpose, we have chosen to highlight 5 great unconventional marketing communication agencies highly experienced and specialized in guerrilla, experience and ambient marketing*. We trust that these partners can help you bring your creative idea to live in a flawless and creative fashion to achieve your marketing objectives.
#1. HotCow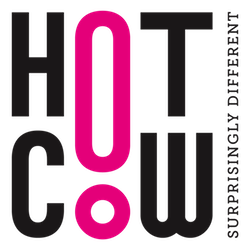 "We are a herd of experienced left brain thinkers that love what we do. We help clients gain more customers by implementing non-traditional, high impact, highly targeted alternative marketing solutions"

Founded in the city of London on January 2006, Hotcow marketing agency will prepare an unconventional marketing plan "you cannot resist" and implement it flawlessly. These guys will help create, plan and implement all sorts of unconventional marketing campaigns we can think of. Another important point for Hotcow is that they clearly link marketing outdoor actions to mobile marketing, viral and social media creating a brand ecosystem that gets added customer exposure and brand value. Check out more at www.hotcow.co.uk
#2. Alt Terrain


"We help agencies bring guerrilla marketing, street team, experiential, wild posting, pop-up event marketing, video projection and ambient outdoor advertising ideas to life that achieve brand objectives"
Alt Terrain is a highly specialized guerilla marketing execution partner to communication agencies covering most of the United States of America.  They present themselves as a true agency partner as they work really hard on creating nontraditional media and marketing resource exclusively dedicated to the needs of advertising, event, media and PR agencies. Alt Terrain is a great fit for collaborative work between agencies for complex guerrilla marketing campaigns in the U.S. Check out more at www.altterrain.com
#3. Attack Marketing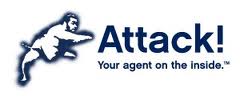 "Since 2001, we've delivered the industry's best experiential marketing services, field support and event staffing. Learn more about the Attack! story and let us show you how we can be Your Agent on the Insideâ"¢"
Multiple prizes winners, the Attack Marketing guys own the streets. With offices in Los Angeles, San Francisco, Chicago and New York, they will design and deliver creative experiential marketing initiatives for your brand or product. Their major expertise is in executing creative, experiential and nontraditional marketing communication campaigns for the U.S. market. Learn more at http://attackmarketing.net/
#4. Torke

"Brands need to be continuously challenged. Consumers are increasingly more demanding and it is essential to constantly think of new platforms, new media, test other paths, have other ideas"
Torke is another great expositor of guerrilla, ambient and brand experience communication agency in Europe. Innovative from its founding in 2005, Torke has entitled itself as "the 1st guerrilla marketing agency in Portugal". Awarded with Best agency of the year at Clube Criativos de Portugal, Torke presents to its clients ground breaking ideas and superb execution of creative guerrilla marketing communication campaigns in the streets. Torke marketing agency holds a valuable network of partners (including Alt Terrain, Billy the Group, Jack Liberties, Tribeca and Sponge) and it is present in Lisboa, Istanbul and Sao Paulo. Torke represents a great alternative for brands in Europe looking for some "different" thinking and street stage masters. Learn more at: www.torke.pt
And last but not least…
#5. The Michael Alan Group (MAG)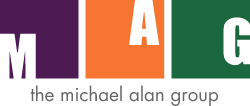 "Whether it's a targeted street team in Chicago or headline-grabbing publicity stunts in Times Square, we pride ourselves on finding new and exciting ways to connect brands with consumers"
This New York firm is a non-traditional marketing and event production company with an impressive count of over 2.000 marketing events per year. Their challenge is to capture the attention, imagination and brand allegiance of even the most ad-saturated customers. The Michael Alan Group (MAG) develops experiential connections through the "staging" of direct, guerrilla and buzz-worthy marketing productions in the U.S. Learn more at:Â www.michael-alan.com/
Other great experience and guerrilla marketing communication agencies include Mango Moose Media and Brand Marketers.
These specialized guerrilla marketing communication agencies have been developing great alternative, creative and unconventional marketing campaigns that deliver results for brands and help them achieve their set objectives.
So, would you dare to plan, develop and implement your next ambient, guerrilla or experience marketing action "solo" or by the hand of a specialized communications agency? 
*The selection process has been done using the Guerrilla Advertising book by Gavin Lucas and Michael Dorrian, the selection of guerrillafreelancing.com and considering recognized marketing prizes (Cannes,etc).
Sources:
http://www.guerrillafreelancing.com/25-kick-ass-guerrilla-marketing-agencies/